Long-haul flights are tough. Whether it's the discomfort of spending hours in a cramped seat or dealing with days of jet lag when you arrive at your destination, it's clear that looking for the best travel accessories for long flights will help you deal with it!
If you've been wondering what to take on long-haul flights or are simply in a rush to purchase some last-minute gadgets to help make your flight smoother then read on to see what we think are some of the best long flight accessories to take with you!
21 Best Travel Accessories For Long Flights
1. Travel Pillow
It took me a while to warm up to the idea of using a travel pillow, especially when I was trying to conserve valuable space in my bag. But now I think it is definitely a long-haul flight essential.
There are a myriad of different options available these days that are comfortable for an in-flight snooze but pack down to a minimal size so they won't take up vital space in your carry-on.
This travel pillow, in particular, is a great option as it comes with a compression bag that you can easily hang from your backpack and it is made of memory foam.
If you have a red-eye flight or just want to get some rest while flying overseas, then a travel pillow is an excellent way to ensure that you're as comfortable as possible and you don't wake up with any weird kinks in your neck.
2. Eye mask
If you want to get some quality shut-eye while on the plane, then one of the best travel accessories for long flights is to include in your bag is an eye mask!
While some airlines will still give you a meagre eye mask in economy class, they tend to be flimsy, not particularly comfortable and can be difficult to adjust to your size.
This sleep mask is a great option for travellers as it's made from silk, is fully adjustable and blocks out light incredibly well.
3. Earplugs
Apart from a travel pillow and an eye mask, the last piece of the puzzle to maximise your chances of getting some rest on a long haul flight is to pack some earplugs.
They have the obvious benefits of blocking out noise around you to ensure you don't get bothered with people constantly walking down the aisles or moving around you.
They also come in very handy for when you arrive at your destination in case you have to deal with some street noise or noisy neighbours at your accommodation!
4. Noise-cancelling headphones
If you're not a fan of shoving earplugs into your ears, then one of the best gadgets for long flights to consider adding to your carry on luggage is a pair of noise-cancelling headphones with a long battery life.
They tend to be a large improvement on the headphones which most airlines will give you in economy so not only will you be able to enjoy your movies more but you'll also be able to use them to block out a significant amount of noise on the plane.
Bluetooth headphones can also be a good idea if you're flight has an in-flight entertainment system that supports it or you are primarily watching media on your own devices.
I find in-ear headphones the most comfortable but ultimately it's a personal preference and there are plenty of great over-ear options as well.
5. Headphone Splitter
If you're travelling with a friend or family member, a headphone splitter is a great way to be able to enjoy a movie or TV show with them. These simple little gadgets allow you to plug in both your headphones into the same socket and receive the same audio.
They have great sound quality, take up little room and can be used throughout your journey on any mode of transport making them one of the best travel items for long haul flights.
6. Kindle E-Reader
If you prefer not to stare at a screen for the duration of your long haul flight, then investing in a Kindle is one of the best travel gadgets for a long haul flight.
There are a number of Kindles available on the market, but I prefer the Kindle Paperwhite as it has an in-built backlight that ensures you don't need to rely on a poor overhead screen that exists on your plane.
If you're going on a long haul flight, then it could be a good idea to take out a free trial of Kindle Unlimited so you can download a number of books onto your Kindle for free.
7. Audible Subscription
If you want to give your eyes a rest while on a long-haul flight, then it's worth taking out a free trial of Audible before your journey!
This will allow you to download a couple of audiobooks for your flight and have several hours of entertainment that doesn't involve looking at a screen!
If you haven't tried audiobooks before and have been a looking for an opportunity to do so then a long-haul flight is undoubtedly one of the best times to do it!
8. Power bank
Whether it's charging up your smartphone to allow you to listen to your audiobooks or ensuring your Kindle doesn't die while you're on the last chapter, a power bank is a great travel accessory for a long-haul flight.
While many flights do have USB chargers, you never know when you'll get stuck on an older aeroplane without them so having a power bank is a good thing to pack into your luggage.
Apart from long haul flights, they're an incredibly useful gadget if you plan on doing any camping, staying in hostels or simply are getting off the beaten path where power outlets aren't always guaranteed!
9. Water Bottle
An essential for long-haul flights is certainly taking a reusable water bottle with you.
There are couple reasons for this, firstly most airport securities around the world will make you dump out your water when clearing security, so being able to refill a reusable water bottle is a lot better for your wallet and the environment compared to buying a plastic one!
Secondly, on a long-haul flight, rather than using a ridiculous amount of plastic cups or getting those small plastic bottles, you can ask the flight attendant to fill up your reusable water bottle to avoid running out of water!
Depending on your final destination, you can either buy a basic reusable water bottle where the tap water is safe to drink or alternatively a water bottle with an in-built filter.
10. Carry on Luggage
This might be a no-brainer before getting on an aeroplane, but one of the most important accessories to take on an airplane is great quality carry on luggage that allows you to easily organise your items.
There's nothing worse (and also more annoying for your fellow passengers) than standing in the aisle and spending a long time trying to find that one essential item you need.
Some good options for carry-on luggage include the Osprey Farpoint 40 if you're after a backpack, the Osprey Farpoint Wheels if you're after a wheeled backpack or the Samsonite Winfield 2 or LEVEL8 Luggage if you're after a traditional suitcase.
The Osprey bags are also available to view directly from Osprey and on REI.
11. Travel Insurance
While it's hopefully unlikely that you'll need to make a claim while on a long-haul flight, it's worth considering travel insurance for the time you are in the air.
Make sure to pay attention to time differences when taking out your policy (particularly on a return flight).
World Nomads offers flexible and simple travel insurance policies with coverage for more than 150 activities that you can buy or extend while on the road.
If you're flying to or from Europe, make sure to be familiar with the EC261 regulation that allows you to claim compensation for delayed or cancelled flights through companies such as ClaimCompass.
12. International SIM Card
While hopefully, it's obvious to you that an international SIM card won't be particularly useful while you're actually on the aeroplane, packing one into your suitcase will make your arrival at your destination a lot easier!
Whether it's getting directions to your hotel, check the latest currency exchange rate or messaging friends or family to let them know that you've arrived, buying a prepaid SIM allows you to have internet access as soon as you land and not have to bother with overpriced airport SIM cards, assuming they're even available!
There are a number of prepaid SIM cards for many different countries available through SimOptions.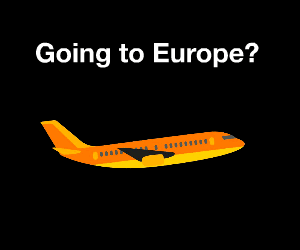 13. Sweatpants
If you're wondering what to take on an airplane then one of my personal favourites is to pack a pair of lightweight sweatpants into my carry-on luggage.
This allows you to change into something more comfortable while on the plane and makes it a lot be able to get some rest and exercise during a long-haul flight.
14. Thermal socks
Combine your sweatpants with a pair of thermal socks that you wear exclusively on the aeroplane. This allows you to stay warm on a chilly long haul flight while also ensuring you don't need to put on shoes every time you get up to walk around the aeroplane.
These type of socks can also double as hiking socks if you plan on getting active when you arrive at your destination.
15. Toothbrush & toothpaste
One of the best travel items for long flights is to ensure you pack a toothbrush and a small bottle of toothpaste (under 100ml!). Most airlines don't provide these for you anymore if you're travelling in economy, so packing these items is a must for personal hygiene and comfort!
16. Hand Sanitiser
It can be hard to stay clean and hygienic on a plane which is why I think an absolute long-haul flight essential is to pack a bottle or two of hand sanitiser, particularly given recent events!
This allows you to keep clean and germ-free, even if there's a long line to use the bathroom and will undoubtedly be useful when you arrive at your destination as well.
17. Moisturiser
Aeroplanes are an inherently dry place and especially if you're using a lot of hand sanitiser you're only going to make it worse!
Therefore I would always suggest that travellers pack a small bottle or jar of moisturiser that they keep easily accessible during the flight. This will help prevent your skin from drying out and will keep as comfortable as possible on your journey!
18. Lip Balm
Apart from moisturiser, one of the best long-haul flight accessories to keep you comfortable is to pack a small bottle of lip balm.
As mentioned, planes are incredibly dry and your lips are probably going to feel this the most. Lip balm, along with your jar of moisturiser is the best way to combat this!
19. Pen
Immigration cards are still a thing. If you want to get out of the airport as quickly as possible, you want to be able to fill out your immigration card on the aeroplane so you don't have to do it while sacrificing your place in line at immigration!
Therefore, make sure to pack a pen in your suitcase that is easily accessible so you can fill out your immigration details before landing!
20. Food/Snacks
Aeroplane food is a bit of roulette in economy class. While you might get one good meal, it's best to be prepared for the fact that most of it is likely to be bad. Therefore, make sure to pack some food and snacks in your carry on luggage as a backup.
Items such as trail mix, fresh fruit and granola bars are a great healthy option that keep you full and gives you energy in case you find the in-flight meal inedible!
Packing some food and snacks is undoubtedly a must-have travel accessory if you're spending a long time on an airplane! Don't forget to add some gum or breath mints to your food bag as well!
21. Tissues
Finally, rounding out this list of travel essentials is a small packet of tissues. Allergies and sinuses can act up on planes and I find that economy class rarely has good tissues to give to its passengers.
Therefore, packing a small packet of tissues will ensure you're prepared for your long-haul flight!
Choosing the best travel items for long flights can be a difficult task. After all, space is limited in your carry on luggage and you don't want to add necessary weight. Hopefully, this list of the best travel accessories for long flights will make your decision easier and ensure you only take what is essential for your journey!
Did you find this list of airplane travel accessories useful? What would you add or remove from the list? Let us know in the comments below!
Like It? Pin It!