Travelling through the Balkans, it is easy to stick to the capital cities in the region with their mix of history, culture, nightlife and food; making them some of the best cities in Eastern Europe to visit. However, like with any region in the world, in order to truly understand and appreciate where you're travelling it's imperative to visit some of the smaller cities in the area. Here are five of the best small Balkan cities worth a visit in order to get a well-rounded experience while travelling in the Balkans.
1. Prizren, Kosovo
Kosovo is a country that is desperate to move on from its war-torn past. Many locals are encouraging tourists to travel to Kosovo in order to experience one of the most undiscovered countries in Europe. Prizren is one of the best small Balkan cities to visit with its beautiful Ottoman-influenced architecture making it an absolute delight to wander through the streets of the Old Town. You will encounter few other tourists when you visit Prizren which makes this a great city for relaxing with a coffee or beer in one of the many outdoor restaurants and getting swallowed up by the slow pace of life here. A visit to Prizren is a must to experience a side of the Balkans that you simply don't get if you stay in the larger cities.
Accomodation Recommendation: Prizren City Hostel is a fantastic place to stay in Prizren and a great example of the famous Balkan hospitality.Despite booking a dorm, the friendly owner upgraded me to a private room and also took me and another guest on a personalised walking tour of Prizren. Click here to read the latest reviews on Hostelworld or Booking.com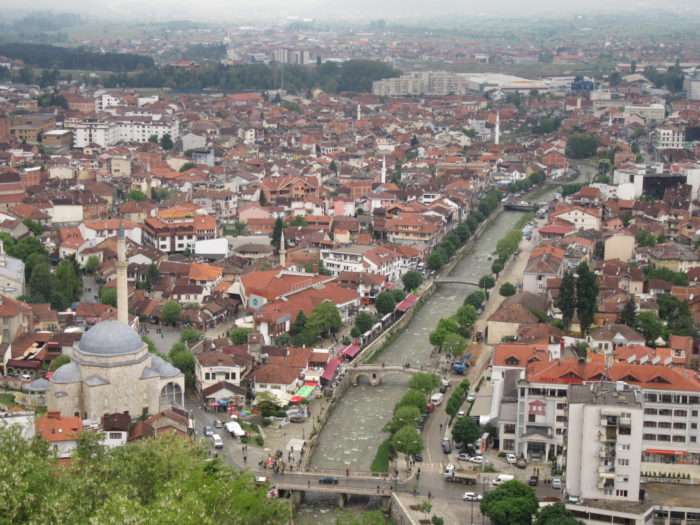 2. Plovdiv, Bulgaria
Plovdiv might be the younger brother of Bulgaria's underrated capital, Sofia, however, as the oldest continuously inhabited city in Europe, it one of the best small Balkan cities to visit with its rich history and modern culture. Aesthetically, Plovdiv is more beautiful and picturesque than Sofia, and its simple charm can be put down to the wonderful fusion of old and new that is evident throughout this small Balkan city. As you visit Plovdiv, you will be amazed at how effortlessly ancient ruins have been incorporated into the modern city's design. A visit to Plovdiv is not complete without spending some time in the trendy neighbourhood of the Trap, with its plethora of quirky eateries and cool bars which only adds to making Plovdiv one of the best Balkan cities to visit!
Accommodation Recommendation: Hostel Old Plovdiv might offer dorms beds but it's unlike any other hostel I've stayed in. The rooms at this hostel are akin to staying at a boutique hotel. The friendly staff offered us a complimentary bottle of local sparkling wine and placed lavender sachets on our pillows! Click here to read the latest reviews on Hostelworld or Booking.com
3. Berat, Albania
One of the highlights of visiting Albania is seeing Berat, known colloquially as the town of a thousand windows. Berat is one of three UNESCO sites in Albania and has been very well preserved from the Ottoman era. The Old Town of Berat is a joy to explore, with Berat Fortress offering spectacular views over the city and the cobbled streets are delightful to walk through while exploring the small shops. Berat is also a great Balkan city for nature lovers, with there being a range of hiking opportunities in the nearby mountains. Berat is one of the best small Balkan cities to visit and offers a unique experience of Albania not found in underrated Tirana or the beautiful Adriatic coast.
Accommodation Recommendation: Berat Backpackers is one of the oldest hostels in Albania and my recommendation for where to stay in Berat. It has a fantastic garden terrace that provides brilliant views of the Old Town, friendly staff and offers dorm and private rooms. Click here to read the latest reviews on Hostelworld or Booking.com.
4. Novi Sad, Serbia
Most people who visit Serbia stick to Belgrade. And for good reason, Belgrade is undoubtedly one of the best cities in the Balkans to visit. However, to see another side of Serbia, it's certainly worth visiting Novi Sad , which is one of the most beautiful small Balkan cities. Locals in Novi Sad are proud of their laid back lifestyle compared to people in the capital and that is evident as you explore this city. At the slightest hint of sunshine, people will swarm to the Old Town; filling the outdoor squares as they meander away an afternoon with a beer in hand. Novi Sad has some interesting sights as well with the Petrovaradin fortress — home of the famous EXIT music festival — worth dedicating some time to, with its glorious views and small artist studios.
Accommodation Recommendation: City Hostel is located in the centre of town, has large rooms and friendly staff who have plenty of recommendations on things to do and see in Serbia's second largest city. Click here to read the latest reviews on Hostelworld or Booking.com.
5. Ohrid, Macedonia
Unlike the other small Balkan cities on this list, Ohrid in Macedonia might be the only one that is already more popular than the capital. It's no surprise that more people travel to Ohrid than those who visit Skopje, with its beautiful lakeside setting and mountain landscapes a joy to experience. Aside from being a hit with nature lovers, Ohrid also has plenty to offer for the history buffs, with several interesting churches such the Church of Saint John the Theologian and Saint Sophia worth exploring. Whilst Ohrid is firmly on the tourist trail in the Balkans, there are still plenty of opportunities to have the place to yourself. A simple 10-minute bike ride away from the main boulevards will let you enjoy the lake in serenity and solitude.
Accommodation Recommendation: Sunny Lake Hostel is one of my favourite Balkan hostels, as it has a friendly and homely atmosphere where it feels more like you're just staying at a friend's house. Click here to read the latest reviews on Hostelworld or Booking.com
In order to fully appreciate the Balkans, it is important that you make the effort to visit some of the small Balkan cities and ensure that you get a different experience from what you will find if you stick to the capital cities!
What is your favourite small Balkan city? Add a comment below!
Like It? Pin It!