"Why would you come all the way to Kosovo?" asked the friendly cook as he prepared the €1.80 chicken burger I had just ordered from a hole-in-the-wall place in the heart of Prizren. I had just told him I was from Australia and he seemed baffled that anybody would come all the way from the other side of the world to travel to Kosovo – a country best known for the violence and war that broke out in the late nineties.
The question caught me off guard. I have backpacked through remote parts of the world before but this question had never been posed to me, probably due to language barriers that exist when you are in the far-reaching corners of the developing world.
I replied meekly about how I enjoyed seeing different parts of the world and wanted to understand more about what lay beyond the surface of this country. He seemed genuinely happy that somebody would travel to Kosovo from a first world Western country and proceeded to check up on me multiple times as I ate to ensure that his burger was up to scratch.
His delight was a common theme as I travelled through Kosovo. On a walking tour in Prizren, my guide stopped to chat with his friend that he bumped into on the street and introduced me. He was an older man, probably in his sixties who despite his lack of English, proceeded to talk my ear off (through his friend's translation!) about all his friends that lived in Australia who hadn't been back since the war and urged me to tell people back home that Kosovo was a safe and beautiful place to visit.
As a child growing up in the nineties, this was the first war that I remember watching on TV. Undoubtedly as you walk through the streets of the cities in Kosovo there's still eerie reminders of its horrid past. One example is the barbed wire protected churches in Prizren to prevent repeat bombings that occurred in the early noughties following the end of the war.
But Kosovo wants to move on. It's a country with plenty to offer at a backpacker-friendly budget more akin to travelling in South East Asia rather than Europe. From the historical old town of Prizren to the vibrant and modern capital of Pristina to the plethora of hiking opportunities in its national parks, there is something for everyone's tastes here.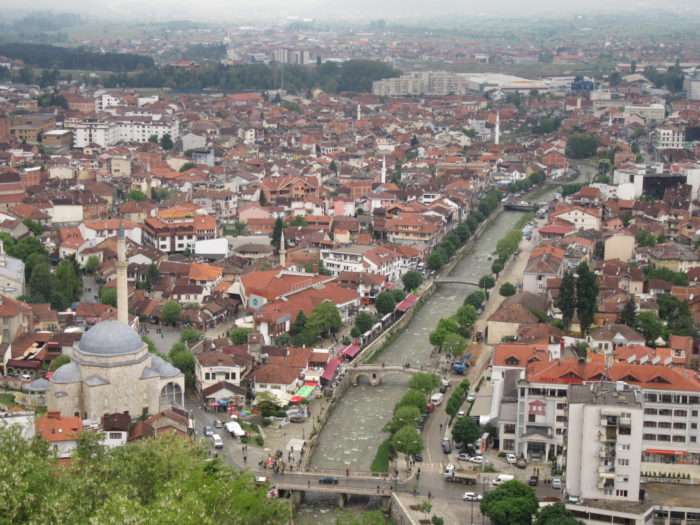 While there is still some dispute about its status as a country which adds some complications in terms of entering and exiting Kosovo, the citizens here want to tell the world that Kosovo is an open and an inviting place. Make the effort to travel to Kosovo and you'll certainly be surprised by what you find.
Have you travelled to Kosovo before? What were your impressions of the country? Add a comment below!
Like It? Pin It!