Are you considering planning a Bari itinerary?
When thinking about Italy, it's highly unlikely that the region of Puglia first comes to mind, let alone its capital city of Bari. Tourists typically flock to Rome, Florence, Venice and Milan, missing a side of the country that is incredibly rich, delicious, full of history, divine architecture, and quite empty of tourists.
Bari, a port city, and the capital city of Puglia is located on the east side of the country facing the Adriatic sea and is a delightful destination for anyone interested in visiting Italy off the beaten path. The Puglia region is gaining in popularity due to its crystal blue waters and I recommend visiting before it becomes one of the main tourist hotspots in Italy!
Spending 1, 2, or 3 days in Bari will give you a new insight into beloved Italy and is a great starting point in discovering Puglia as well as other neighboring regions. Read this article to explore what the best Bari itinerary looks like.
How Many Days in Bari?
The amount of time that you will spend in the city of Bari will likely depend on a few different factors.
You may be arriving in Bari as a port and would like to explore the city a bit before heading onward, or you may have a keen curiosity about the city and would like to spend the necessary amount of days in Bari. This is a great place to begin when deciding how many days to spend in Bari.
With one day in Bari, you'll have the opportunity to explore most of the city, eat classic Barese food, and feel better acquainted with the Puglia region.
With 2 days in Bari, you'll have enough time to explore the city but also spend time along the coast and enjoy one of the beaches the city has to offer.
With 3 days in Bari, you'll manage to see most of what makes Bari the city that it is, as well as head out to one of the neighboring Puglian towns to enjoy another slice of this special region of Italy.
Getting To & Around Bari
You'll likely be arriving in Bari either by plane, train, or ship.
Bari's Karol Wojtyla Airport is quite large in comparison to many of the other smaller international airports in Italy, making it an easy destination to fly into from other destinations in Europe.
The best way to reach the Bari city center from the airport is by the Terravision Shuttle Bus. It costs 4 euros per trip and takes just under half an hour to reach the city center. If you prefer to get out of the airport quickly, you can organise a private transfer here.
If traveling by train, there are extensive routes throughout Italy reaching Bari's main train station, Bari Centrale. Bari Centrale is located just outside of the historic center, making it about a 20-minute walk to reach the historic center from Bari Centrale. You can view train schedules here.
As Bari is one of the major port cities in Italy, you may also be arriving in the city by ship. All-year-round ferries run from Greece, Croatia, Albania and Montenegro to Bari, making it a great destination if you love traveling by ship. You can view ferry schedules here.
Fortunately, Bari's port is located within the historic center so once stepping off your ship, you're already where you want to be!
As for getting around the city, the historical center of Bari (where we will be on this itinerary) is quite small so walking around during your trip is quite feasible. If you're not too keen on walking throughout the trip, Bari also has a wonderful transportation system! Each 90-minute ticket is 1 euro and can be purchased at local tobacco shops throughout the city.
1, 2 or 3 Days in Bari Itinerary
Whether you're spending one day in Bari, 2 days in Bari, or 3 days in Bari, it's a coastal city that will surely capture all of your senses. In this Bari itinerary, we will spend time in the historical center, eat delicious classic Barese and Puglian foods, spend time at the sea, and if you decide to stay for 3 days, we'll take advantage of the brilliant location of Bari and head on a day trip.
Day 1 – Bari Old Town and Center
Bari Vecchia (Bari Old Town)
Bari is an ancient city in Italy that traces 2,000 years back. Spending time in the historic center can give you a good look into how life was in Bari years back as well as the character that it has today.
Bari's old town is incredibly charming and feels like you've stepped back in time, but differently in comparison to other parts of Italy. From the winding maze of its streets to grandma's rolling pasta outside their homes to the small piazzas full of locals and streets covered in pops of color.
Basilica di San Nicola
The Basilica of Saint Nicholas is an incredibly important location for both Roman Christians as well as Orthodox Christians. Built between the years 1087 and 1197, the basilica was originally built with the purpose to receive St Nicholas' relics from Byzantium, what we know today as modern Turkey.
This led to what some say was the beginning of Christmas, making it an interesting spot to visit during your visit to Bari. While the outside of the Basilica looks quite simple, the inside is an incredible display of Romanesque architecture, giving visitors the feel of a castle rather than of a church.
It's possible to visit the Saint Nicholas Basilica every day from 7:15 AM to 8:30 PM and you can also book a guided tour here.
Castello Normanno-Svevo
Another place of interest in the historic center of Bari and about a 5-minute walk from the Saint Nicholas Basilica is the Normanno-Svevo Castle. Likely built in 1132 in the Middle Ages, this castle has been rebuilt time and time again by different leaders and royalties of the region at the time.
The castle is surrounded by a moat on all sides and is now filled with greenery rather than the water that was there once upon a time. The castle is an incredible representation of the history of the city and a visit is recommended when visiting Bari. Today the inside is used for a museum and various exhibits, offering an even deeper look into the castle and the history of Bari.
Visits are available every day of the week except Tuesday from 8:30 AM to 6:30 PM.
Strada delle Orecchiette
One of Puglia and Bari's names to fame is Orecchiette pasta (or little ears pasta). When spending time in Bari or anywhere in Puglia, you must taste Orecchiette pasta for yourself. These little ears capture all the delicious flavors of the sauce and make an experience that you'll want to have time and time again.
The Strada Arco Basso in Bari's Old Town is likely one of the most unique pasta experiences you'll have in your life. Once passing through the small arch opening up to the street, you'll be greeted by numerous women making Orecchiette pasta by hand on the street.
This kind of creates a special experience that combines the touristy side of Bari as well as gives a glimpse into what life is like for locals. The women will gladly bag up as much of the pasta you'd like, giving you one of the tastiest souvenirs from your trip to Bari!
After your immersive experience in watching the process of Orecchiette being made, you'll likely have built up an appetite to savor a bowl of it for yourself.
A good way to wrap up your first day or one day in Bari is to walk about 5 minutes to end up at Mastro Ciccio. Here you'll find a tasty assortment of local orecchiette dishes as well as other Italian favorites if that is what you fancy. You can also book a guided pasta walking tour where you make your own pasta and learn more about the history of the food in Bari.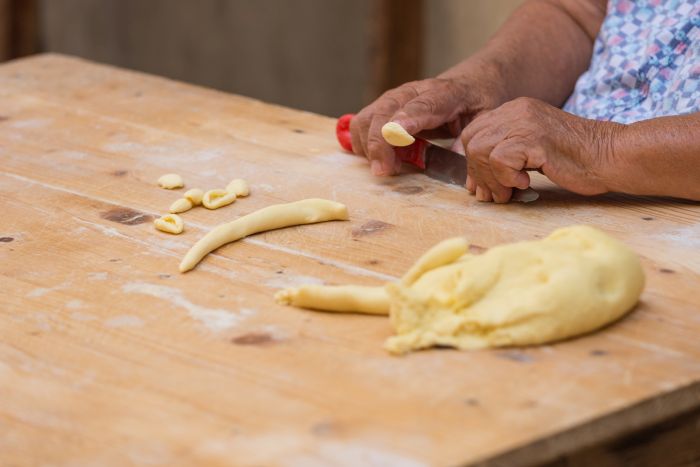 Day 2 – Bari Seaside
Day 2 of this Bari itinerary will be spent at the sea. If you're just spending one day in Bari and would prefer to follow the itinerary for day 2, feel free to switch it around as you please.
Lungomare Nazario Sauvo
The seaside promenade of Bari is quite a wonderful characteristic of the city. Some say it's one of the most beautiful promenades in all of Italy and is also the winner for one of the longest in Europe.
The promenade begins at the port of the city and runs down to the Pane e Pomodoro beach, where you'll have the opportunity to spend time later in the day. Lining the promenade are the quintessentially Barese black lamp posts giving the walk quite a picturesque feel.
Whether you're looking to just go for a walk or run, get some air and space away from the center, or make your way to the beach to spend the rest of your day, the seaside promenade of Bari is a key point to any Bari itinerary that can't be missed.
A great way to start your day is at Bakery Santa Rita. This bakery is quite close to the beginning of the promenade at the port and is known to have some of the best focaccia Barese in the city. While most of us mainly know focaccia as the oily fluffy bread from Liguria, focaccia Barese is a league of its own.
What makes this bread unique is that its dough includes mashed potato, in comparison to plain flour focaccia that we're used to. On top of the bread are many baby tomatoes just bursting with delicious juice waiting to be savored.
Pane e Pomodoro Beach
If you're spending 3 days in Bari, there will be options for a day trip with fantastic beach options. But, if you're only spending one or 2 days in Bari, Bari has a few good beach options as well if you'd like to get some vitamin sea during your trip.
One of the most well-known and loved beaches in Bari is Pane e Pomodoro Beach, or Bread and Tomatoes Beach. The beach is located towards the end of the promenade and is a wide and long sandy stretch of beach.
It's a public beach, meaning there aren't any umbrellas or chairs to rent so you must bring your own towel for your stay. There is also a beach bar offering drinks and snacks if you're looking to have a quick lunch, coffee, or drink during your stay.
Piazza Mercantile
After spending a day at the seaside, we'll head back to the Bari historic center and make our way to Piazza Mercantile, likely the most important square of the city. Dating back to the 14th century, the Piazza Mercantile was the city's commercial center and is now the main hub for Barese life and locals.
Surrounded by historic buildings, the Piazza Mercantile is a great place to enjoy some people-watching, maybe listen to some live music, and grab a drink or two while immersing yourself in local Bari life.
Day 3 – Day Trip from Bari
Thanks to being the capital of the Puglia region, a major benefit to staying in Bari is having numerous captivating Puglian cities at your doorstep. After exploring the city of Bari for two days on this Bari itinerary, and if you're spending 3 days in Bari, you'll have the opportunity to choose a day trip for your 3rd and last day in Bari.
If the city of Bari captivates you so much and you want to stay for your third day, go ahead. Otherwise, let's head out into Puglia.
Matera
One of the most popular day trips from Bari is to the incredible cave city of Matera. Though not technically in the Puglia region (it is in neighboring Basilicata), this historic city is still easy to reach from Bari and is well worth visiting.
Visitors could easily spend a couple of days here, but you can cover a lot of ground and see the majority of Matera in one day. Trains go directly from Bari to Matera in about 1.5 hours, there are also bus options available and you can book a guided tour here.
Polignano a Mare
The town of Polignano a Mare is truly an enchanting gem of the Adriatic sea and Puglia. Dating back to the 4th century BC, this town has a lot to offer. From its white-washed streets to blue flag beaches, and awe-inspiring views, Polignano a Mare makes a great day trip from Bari.
Trains go directly from Bari Centrale to Polignano a Mare frequently throughout the day, take 45 minutes in each direction or you can book a guided boat tour from Bari.
Monopoli
The incredibly photogenic town of Monopoli is also a great option for a day trip from Bari. The town of Monopoli is just past Polignano a Mare and is located around 43 miles from the center of Bari. If you're looking for a smaller town with few tourists and more locals to visit during your day trip, Monopoli is the perfect option.
With delicious food, quaint corners, and a calm seaside, Monopoli is a great contender for any day trip from Bari. Direct trains from Bari to Monopoli are around every 20 minutes and the trip takes just about 30 minutes.
Lecce
Another great day trip option for those spending 3 days in Bari, is the historic city of Lecce. While Bari and the other cities on this list are all seaside locations, Lecce is located inland Puglia in the Salento peninsula and is about an hour and 20 minutes from Bari by train.
Lecce is known for its baroque buildings, limestone facade, and its laid-back lifestyle in its old town. Trains run directly from Bari to Lecce just about every half an hour.
Where to Stay in Bari
B&B Dolce Incanto – This mid-range bed and breakfast is an excellent option for those looking for a central, comfortable base in Bari. They have a great location for exploring the city, lovely rooms and a great breakfast included each morning. Click here to see their availability
Fourooms Bari – For those after a luxury stay in Bari, this hotel is the perfect choice. They have countless plush rooms available, a wonderful location for getting the most out of the city and tons of amenities to ensure you have a fabulous stay. Click here to see their availability
Olive Tree, Bari – If you're travelling solo or on a tight budget, then this hostel is a great choice. They have both dorm beds and private rooms on offer, fantastic common areas for meeting other travellers and a great location for exploring Bari. Click here to see their availability
Not quite what you're looking for? Click here to browse more Bari hotels!
While the region of Puglia and the city of Bari tend to get overlooked quite often by tourists visiting Italy, they definitely shouldn't be missed. Bari is a deliciously historic city in Italy with so many corners yet to be discovered.
Are you planning a visit to Bari? Have any questions? Let us know in the comments!
Like It? Pin It!