The Balkans, in all of their glory, are one of the best places to travel in the whole of Europe. Strategically located, each country in the Balkans possesses a rich history spanning centuries — from ancient time to present day. The Balkan Peninsula lies in Southeastern Europe and is home to the countries comprising former Yugoslavia, Albania, Greece, and Bulgaria. Culturally, ethnically, and geographically diverse, Balkan travel can be an incredibly fun, fulfilling, and challenging experience.
For the purposes of this Balkan travel guide, we will be concentrating on travel in the countries comprising former Yugoslavia, Albania and Bulgaria. While Greece lies geographically in the Balkans, culturally it is largely its own separate entity (with the possible exception of the North of the country) and deserves its own guide.
While easily one of our favourite regions in Europe, Balkan travel can pose challenges that much of the Schengen area countries have managed to eliminate. There are many things to take into account when travelling to this lesser-visited area of Europe — including border crossings, transportation, language, and religion — so we have created this comprehensive Balkan travel guide in order to make sure your trip to this incredible region is as enjoyable and hassle-free as possible!
Best Time of Year to Visit
In our opinion, the best time to travel to the Balkans is in the shoulder seasons of April to June and September to November. However, there are advantages to travelling to the Balkans any time of year! During the shoulder seasons, the weather is mild, more popular cities aren't as packed, and you can still enjoy some of the coastal destinations in the region.
In summer of months from July to August, beaches are packed with Europeans on holiday, however, this is a good time to visit if you want to experience one of the many festivals that take place during the season.
If travelling between December to March, this is a good opportunity to experience world-class skiing in the Balkans at a fraction of the cost of Western European countries.
Because the Balkans are a geographically diverse region, it is impossible to generalise average weather patterns throughout all of these countries. However, it is fair to expect a continental climate with hot summers and cold winters. Coastal regions in Croatia, Montenegro, and Albania are going to have significantly warmer winters than anywhere in the central Balkans, but don't go expecting 20+ degree sunshine anywhere in the Balkans in the middle of January.
That being said, if you want to take a gamble and get the best all-around weather while avoiding the crowds that come in the summer, then your best bet is to visit the Balkans in the months of March-May and September-November.
Balkan
Currency
Unlike Western and Central Europe, where the majority of countries use the Euro as a common currency (Poland, Hungary and the Czech Republic notwithstanding), a key point to keep in mind when it comes to Balkan travel is that nearly all countries use their own unique currency. Only Slovenia, Montenegro and Kosovo currently use the Euro, while every other Balkan country has its own currency.
One of the most important tips when travelling the Balkans is that it can be difficult to exchange local currency when you leave the country, so try to not withdraw large amounts of cash. This is particularly an issue for Albanian, Macedonian, Bosnian and Serbian currencies. If you do end up with a handful of unwanted banknotes, try and exchange it with other travellers that are headed there.
If you're going on a multi-country Balkan trip, it can also be difficult to keep track of all of the exchange rates. To ensure that you are aware of what you're spending on how to compares to your home currency, I recommend downloading an app like XE so you can be aware of how much things cost and the current exchange rate.
Budget
Compared to most Western European countries, travelling in the Balkans is refreshingly affordable. Throughout our time backpacking in the Balkans in 2016, we managed to maintain a daily budget of roughly €30 per day. Most everywhere, daily costs — including public transportation, accommodation, and food — were largely discounted when compared to other European countries.
While you can pinch pennies and spend very little in the Balkans, if you budget around €40-50 per person per day, you can get quite a lot of bang for your buck. This was around our budget when we returned to the region in 2019 and found that we were able to travel quite comfortably with this. Because food and accommodations prices are quite affordable in the Balkans, your money can go a lot further in this region of than in many areas in Western Europe.
Something worth noting, however, is that countries that have seen a large increase of foreign visitors tend to have prices that mirror those of Western Europe. Croatia and Slovenia, for instance, are the most expensive countries in the Balkans in which to travel, due largely to the fact that they are members of the European Union. Cities like Bled, Slovenia and Dubrovnik, Croatia are notoriously pricey and it can prove more challenging to maintain a tight budget while travelling there.
Transportation

in the Balkans

One of the most important things to remember during your Balkan travel is that unlike the rest of Europe where trains tend to be more efficient than buses; in the Balkans buses are nearly always the best way to get around.

This is particularly true for Albania, Bosnia, Croatia, Serbia, Kosovo and North Macedonia where the train network is practically non-existent. While there are some trains in Bulgaria, buses tend to be cheaper, more comfortable, and often times faster — particularly in the summer months where air conditioning can be a welcome relief from the Balkan heat.

When travelling across countries in the Balkans, it is worth considering taking a private shuttle bus which can be slightly more expensive than a public bus, but often have fewer hassles as they drop you off door-to-door and have fewer people that need to get across the border.

Renting a car can also be a really good idea if you want a bit more flexibility or want to get to some hard-to-reach areas. If you are planning on going on a multi-country road trip, however, do make sure that you have the adequate insurance coverage for each country that you visit — the rental company should provide this.

If you want to find the best deals on renting a car in the Balkans (or anywhere else for that matter), we recommend using RentalCars.com. This aggregates all of your car hire options across numerous companies to help you get the best price on your rental.

We also suggest taking out a third-party excess insurance policy with iCarHireInsurance in order to save money and give you peace of mind should any damage happen to your vehicle.
Accommodation
Accommodation in the Balkans, especially in the bigger cities, is rampant. In 2016, we stayed mostly in hostels and, occasionally, a budget hotel. There are a myriad of Balkan hostels (these are some of our favourites!) to choose from and they're especially great if you're travelling solo or on a tight budget.
If you're planning on staying at hostels in several countries, you can save some money by staying loyal to one of the hostel groups such as the Balkan Backpacker or Balkans Best Hostels, who offer discounts if you stay at several of their hostels.
One of the best things about accommodation in the Balkans is that many places are often run by local staff who have a wealth of knowledge of their respective regions. Speaking to staff is a great way to get a lot of insider knowledge about your destination and find the best local spots!
We opted for Airbnb for the majority of our trip in 2019 and have nothing but good things to say about using the platform in the Balkans. Entire apartments are quite affordable such as this fantastic place in Belgrade or this one in Sarajevo and it can be a great option for those who want to travel on a budget while not sacrificing privacy or a good night's sleep. Click here to find the best Airbnbs in the Balkans!
Language

in the Balkans

Theoretically, every country in the Balkans has its own separate language. In practice, however, many of the languages are quite similar. Serbian, Croatian, Bosnian and Montenegrin all stem from Serbo-Croatian, which is a Slavic language that was spoken when these countries were united as Yugoslavia and are essentially the same language. Bulgarian and Macedonian are also both Slavic languages that use the Cyrillic alphabet, whilst Albanian is a completely separate language that shares no similarity to other Balkan countries.

When travelling through the Balkans, English is widely spoken in tourist areas and most younger locals will have learned English as a second language in school. Older people from Bulgaria and former Yugoslavia might speak some Russian whilst in Albania, Italian is common as a second language. While you can get away without speaking much of the local language, you will be greeted warmly by locals if you learn some basic words!
Religion

in the Balkans

Religion in the Balkans is a touchy subject and whilst each country has a major religious group, there are often also significant religious minorities. In Bulgaria, Macedonia, Montenegro and Serbia, the predominant religion is Eastern Orthodox. In Croatia and Slovenia the predominant religion is Roman Catholicism. In Albania, Bosnia and Kosovo the dominant religion is Islam.

These days, violence between religious groups is rare, however, there are undoubtedly still tensions and scars from the Yugoslav wars of the 1990s. It's best to avoid getting into in-depth conversations about religion if you're unsure how the person might react.
Cuisine
Sampling the local food and drink is one of the best things about Balkan travel. While the nuances of regional cuisine can vary from country to country, there are many dishes and one specific drink that are rampant throughout the Balkans.
Something to keep in mind when travelling in the Balkans is that it is a very meat-heavy culture and it can be extremely hard to maintain a vegetarian diet while still trying to eat like a local.
It became something of a running joke between us during our travels that our meals would largely consist of meat stuffed with cheese stuffed with a different kind of meat. Oh, and with about half a kilo of raw onions on the side!
Despite their love of animal flesh, Balkan cuisine is flavourful and diverse. Food in coastal Croatia and Montenegro, for instance, relies largely on their resources from the Adriatic sea and therefore can seem more akin to Italian food rather than that traditionally associated with "Eastern Europe."
Food in the central Balkans, however, tends to be where the meat-loving stereotype reigns supreme. Ćevapi, the national dish of Serbia, is a kind of caseless sausage — small cylinders of grilled, ground meat — typically served with a pita-like bread, kajmak (a Balkan farmer's cheese), onions, and sometimes yoghurt and salads. Pljeskavica is another prime example of the Balkan meat fetish and is essentially a regional take on a hamburger.
The most likely constant you will encounter in Balkan cuisine, however, would have to be rakija. A local take on a fruit brandy — oftentimes made at home with anything from plums, peaches, and grapes — it is customary to offer a small glass to visitors. If you stay at locally run guesthouses or hostels, you will almost certainly be offered this intoxicating liquid and it's important to know how to drink rakija like a local!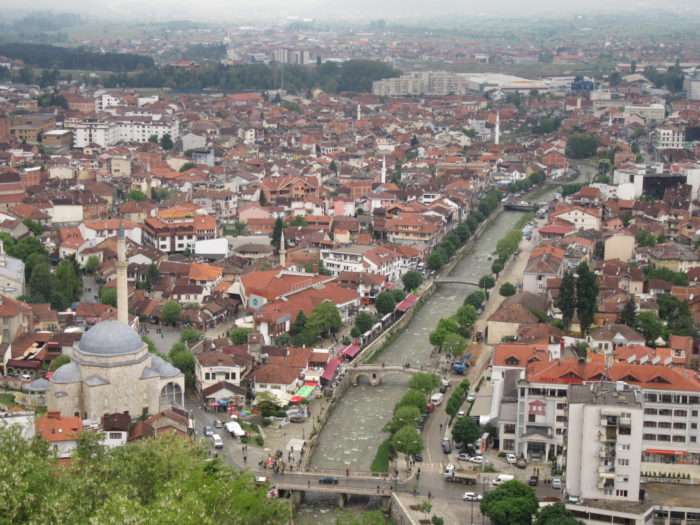 Safety

in the Balkans

Balkan travel is safe — safer, in fact, than much else of the continent. While instances of petty crime in crowded areas and around bus/train stations do occur, travellers are statistically more likely to be robbed in Paris than they are in Belgrade.

For the most part, if you practice basic common sense — ie. not flashing around cash or valuables, don't walk home alone while drunk at night — you should have a carefree Balkan travel experience. That being said, take some extra caution when it comes to taxis. It is wise to know which companies are more trusted, make sure the cab is metered (and that the meter is running!), or agree upon a fixed price before entering the taxi. Also, retrieve your belongings before paying cab fare!

Many countries will have some sort of a ride-hailing app akin to Uber (and Uber works in some countries — Croatia being one of them). Do your research beforehand to find which app is widely used in your destination and this will all but eliminate the possibility of a taxi scam.

A special mention regarding Balkan travel safety goes to the Budapest-Belgrade night train. This train is notorious for bag-snatchings and we have heard personal accounts of such robberies happening. Our first piece of advice would be to opt for the day trains (two depart daily), but if you are set on the night train, then bring a bike lock to secure your bag to your seat and try to keep it out of sight. If you follow these precautions, you will most likely disembark from the train with your backpack and all of your belongings. As of late 2019, this train line is being renovated and is not running at present. Once the renovations are through, the journey time between these two cities will be reduced to 3.5 hours. You can read more about these works here.

Another thing to consider when travelling in the Balkans is travel insurance. We personally used World Nomads for our Balkans trip and it is a great option to consider. Click here to get a quote from World Nomads.
Balkan Travel Guide: Country by Country
Albania
Currency: Albanian Lek
Language: Albanian (uses the Latin alphabet)
Religion: Predominately Islamic with Roman Catholic and Eastern Orthodox minorities
Top Destinations:
Bosnia and Herzegovina
Currency: Bosnian Mark
Language: Bosnian (a variation of Serbo-Croatian, uses the Latin alphabet)
Religion: Predominantly Islamic with significant Roman Catholic and Eastern Orthodox minorities
Top Destinations:
Bulgaria
Currency: Bulgarian Lev
Language: Bulgarian (A Slavic language that uses Cyrillic alphabet)
Religion: Predominantly Eastern Orthodox
Top Destinations:
Croatia
Currency: Croatian Kuna
Language: Croatian (A dialect of the Serbo-Croatian language. Uses Latin alphabet)
Religion: Predominantly Roman Catholic with an Eastern Orthodox minority
Top Destinations:
Kosovo
Currency: Euro
Language: Albanian is most common, though Serbian is also an official language (Uses Latin Alphabet)
Religion: Predominately Islamic
Top Destinations:
Montenegro
Currency: Euro
Language: Montenegrin (A dialect of the Serbo-Croatian language. Latin and Cyrillic alphabets both used, though Latin is more common)
Religion: Predominately Eastern Orthodox with Roman Catholic and Islamic minorities
Top Destinations:
North Macedonia
Currency: Macedonian Denar
Language: Macedonian (uses Cyrillic alphabet)
Religion: Predominately Eastern Orthodox with a significant Islamic minority
Top Destinations:
Serbia
Currency: Serbian Dinar
Language: Serbian (A dialect of the Serbo-Croatian language. Uses Cyrillic alphabet)
Religion: Predominantly Eastern Orthodox
Top Destinations:
Slovenia
Currency: Euro
Language: Slovene (A dialect of the Serbo-Croatian language. Uses Latin alphabet)
Religion: Predominantly Roman Catholic
Top Destinations:
When it comes to Balkan travel, it can be hard to know where to begin. Each country in this fascinating region is unique and deserves to be explored in its own right. Travelling in the Balkans is an amazing way to experience a side of Europe away from the typical tourist or budget backpacker trail!
Are you planning any Balkan travel? Was this Balkan travel guide helpful? Leave a comment below and let us know!
Like It? Pin It!