One of the best ways to travel around Europe is undoubtedly by renting a car. This allows you the freedom to travel at your own schedule without being at the mercy of bus or train schedules. It also makes it a lot easier to get off the beaten path. In fact, some of our best trips in Europe have included renting a car in Iceland, Scotland and Croatia!
If you're not from Europe, however, there are some important things to keep in mind before renting a car and travelling around. That's why we've created these 12 essential car hire in Europe tips to help ensure that you have a hassle-free trip!
12 Tips for Renting a Car in Europe
1. Get an International Driver's Permit (IDP)
A number of countries technically require you to have an International Driver's Permit (IDP) when renting a car in Europe. While we have found that most car rental companies will still rent you a car even if you don't have an IDP, if you get pulled over by the police you risk getting a fine and having your car towed.
If you're from the European Union, then you don't need an IDP to drive in other EU countries. However, if you're from outside of the EU, then a number of countries — including popular destinations such as Austria, Greece, Italy and Spain — require an IDP.
There is some conflicting information available online as to which countries require an IDP so we suggest to purchase an IDP if you can't get a definitive answer from your car rental company.
The cost of an IDP varies by country. In the USA an IDP costs $20 USD, in Canada, it costs $30 CAD and in Australia, it costs $49 AUD. In Australia, you'll need to purchase through your state automotive body (e.g. NRMA or RACV).
In the UK, you need to apply through the Post Office and while you don't need an IDP at the moment to drive in Europe, Brexit could very well change that! In the UK, an IDP only costs £5.50 so it might be a good insurance policy if planning on travelling to Europe later in the year!
Keep in mind, that the IDP is meant to be used as a supplement to your driver's license, so make sure to also bring along your regular driving license when renting a car in Europe.
2. Shop around for great deals
One of our most important tips if you are travelling on a budget, is to make sure to shop around for a great deal. While you might be loyal to a particular rental car company back home, deals vary dramatically between countries.
In particular, things like where you plan to pick your car up from (and drop off), whether you rent a manual or automatic transmission and the length of car rental (many companies offer significant discounts for longer rentals) will impact your price significantly.
We always use RentalCars.com to find great deals for our trips. They aggregate prices across many of the major and local car hire companies and allow you to compare prices on one website.
3. Purchase Third Party Excess Insurance
The standard insurance that comes with most car rentals in Europe typically has a significant excess amount. This means that if you are involved in an accident and need to make a claim you are still liable to pay the excess. This amount is usually at least a few hundred dollars.
While many companies will give you the ability to purchase comprehensive insurance that removes your liability to pay an excess, that insurance is often significantly overpriced.
We therefore always recommend travellers purchase excess insurance through a third party like iCarHireInsurance. They offer excess insurance at a fraction of the price that car hire companies charge and cover a wide range of damage to your car.
It is also worth checking to see if your credit card covers you for excess insurance. Just keep in mind that, if it does, you will need to pay for the rental with the card in order to be eligible for the insurance.
4. Determine if your policy allows you to cross borders
One of the most important car rental in Europe tips is to ensure you check whether your car hire company of choice allows you to take your car across borders.
Typically if driving within the Schengen Area, car rental companies don't have an issue with you taking your car across borders but it's definitely worth double checking when booking your car, though you might need to pay an additional fee.
Most of the issues arise if you plan on taking your rental car into non-Schengen areas, for instance, if you are travelling in the Balkans.
Often there are restrictions as to which types of cars you will be allowed to drive cross border and certain countries might be not allowed all together. Therefore, make sure to check that your European itinerary falls within the allowed countries of your rental agreement!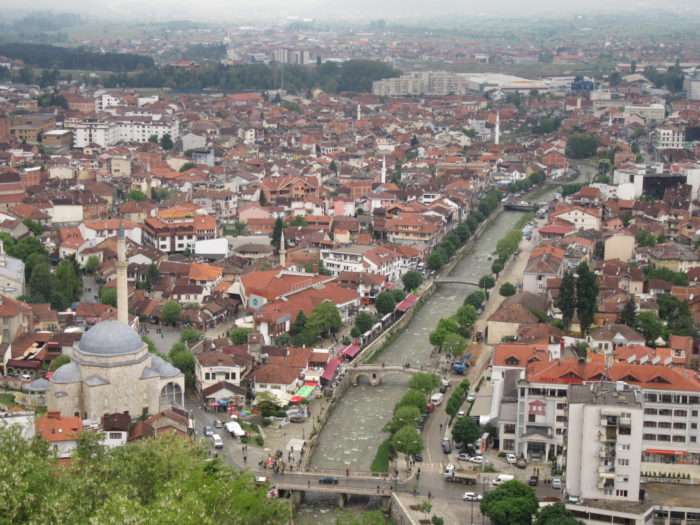 5. Buy Vignettes Online or at the Border
Vignettes are a type of road toll that is compulsory to buy in certain European countries. These allow you to drive on roads that have tolls attached to them.
When renting a car, the car hire company might cover you for driving in the rental country but not necessarily in other countries.
In these situations, you can either buy a digital vignette online which is offered by a number of countries or purchase a sticker at a booth or gas station as soon as you cross the border.
Keep in mind that some countries like the Czech Republic are known for having businesses that try to charge a higher price near the border so make sure you do your research before so you know how much you should be paying! You can see current vignette requirements by clicking this link.
6. Get a Green Card if Travelling in the Balkans
A green card is a document used to prove that you have insurance when crossing borders. While most countries in Europe no longer require you to have a green card due to cross country agreements, travelling in certain Balkan countries such as Albania and North Macedonia still require a green card.
When renting a car, your car hire company should be able to provide you with a green card if it is required and it's also worth checking on this website to stay up to date on each country's requirements.
7. Check mileage limits and the fuel policy
When searching for a rental car, it is important to make sure you read the fine print as certain companies might artificially reduce their daily price to seem cheaper but have less included in their price.
In particular, check things like mileage limits and the fuel policy of your agreement. Some companies might charge you extra if you drive over a certain distance. These policies nearly always work out to be more expensive if going on a longer trip so I recommend to try and find unlimited mileage which is common with many companies.
Also, make sure to check the fuel policy of the company you rent through to ensure you are not stung with extra fees. Most companies will give you a car with a full tank and expect you to return it with a full tank. If you don't, then they will charge you for the additional fuel at a higher rate than any nearby gas station!
8. Research local road laws
One of the most critical tips when driving in Europe is to make sure that you research local road laws and don't just assume that what you do in your home country is allowed in Europe!
While recently travelling across Arizona and California, it became apparent to me how different some road laws in the US are compared to other countries. For example, in most of Europe you can't you turn right on red unless there is a specific sign.
Speed limits in Europe also can vary greatly with often speed limit signs not being as common as in places like North America or Australia. For example, when driving in Germany, there is no speed limit on motorways and certain roads in The Netherlands even have a minimum speed limit!
Also, make sure to research local drunk driving laws if planning on having a drink as the maximum blood alcohol levels vary significantly across countries. For example, when travelling in the Czech Republic or Hungary, you are not allowed to have any alcohol in your system when driving.
9. Remember "me" in the middle
For North Americans driving in the UK and Ireland, or Australians and Brits driving in Continental Europe, it might take a little while to get used to driving on the other side of the road.
A good trick to help you remember is always to keep "me" in the middle. In case it's not clear, that means that as the driver you should always be in the middle of the road!
10. Have access to maps
When driving around Europe it's important that you have consistent access to maps. There are a couple of ways to achieve this.
Firstly, you can invest in an international SIM card which is particularly useful if travelling across multiple countries and your current mobile phone carrier charges high overseas roaming prices. Another option is a mobile WiFi hotspot or to rent a GPS which can often be included as an add-on to your car hire policy.
Finally, you can also download maps on Google Maps and access them offline when driving if you don't have a GPS or SIM card. The disadvantage of doing it this way is that you won't get real-time traffic updates which will help you find alternative routes if there are any accidents or changes in traffic conditions.
11. Bring an AUX Cord and Cigarette Car Charger
While most newer cars will have inbuilt USB chargers, a lot of older cars that are often cheaper to rent will only have traditional AUX cords and a cigarette-lighter port.
To ensure that you will be able to listen to your favourite tunes when renting a car and keep your phone charged, I recommend buying an AUX cord and a cigarette car charger. They are inexpensive and will make your road trip a lot more enjoyable if you end up renting an older car.
12. Take photos of the car when renting
Something to keep in mind when you rent a car anywhere in the world is to make sure to take photos of your car when you pick up your car. This ensures you have proof in case the car hire company tries to charge you for damage that might have already been there when you first rented the car.
Also, when you first pick up the car, make sure to flag any damage to the car hire company before driving off.
A European road trip is undoubtedly a quintessential way to explore the continent. Make sure to keep these tips in mind when planning your trip and when you're on the road to ensure you have a hassle-free journey!
Are you planning on renting a car in Europe? Did you find these tips helpful? Let us know in the comments below!
Like It? Pin It!