Boasting mild weather (outside of the summer months), ample activities, and some of the most diverse landscapes in the country it's no surprise that you're looking for the perfect Arizona itinerary.
And though I grew up in the capital of Phoenix, it wasn't until I returned with Michael that I fully appreciated the beauty and diversity of my home state.
While many might only think of the Grand Canyon or the shopping and golf courses of Scottsdale when they think of Arizona, there is so much more that this state has to offer.
Though this is only a 5-day itinerary, there are ample opportunities to spend more time in each place and to add a few more depending on your timeframe.
Planning an Arizona Road Trip
While its geographical position means that the weather tends to be sunny and warm most of the year, it is worth noting that the climate can change drastically depending on the region you are visiting.
For instance, if you are visiting Phoenix in December and enjoying basking in some 20°C (68°F) weather but also want to visit the Grand Canyon on the same trip, be well prepared for lots of snow and temperatures well below freezing. If you happen to be visiting Sedona in winter, expect drastic variations in the high and low temperatures but generally mild conditions.
While the area surrounding Phoenix and the south have incredibly mild winters, the rest of Arizona often enjoys heavy snow and very cold temperatures. One of Arizona's largest cities, Flagstaff, even has its own ski resort!
The temperatures work the other way, as well, and it is worth noting that if you plan to travel to Arizona in the summer months, be prepared for extremely high temperatures.
Phoenix has the highest average temperatures of any capital in the US and it is not uncommon for the mercury to rise to well over 40°C (104°F). Most residents of the Phoenix metropolitan area will try to get out of town if they can and it is considered to be the off-season in the tourism industry.
However, if you venture north to the Grand Canyon, Flagstaff or Sedona, you will notice that temperatures in the height of summer can be immeasurably milder than farther south.
So if you want to visit Arizona as part of a longer southwest road trip in the summer months, it might make more sense to skip anything south of Sedona unless you love extremely high temperatures!
Arguably the best time to embark on any road trip in Arizona is in the spring or autumn months. The weather is mild and sunny throughout the state, though the nights can still get chilly.
You will need to pack for a couple of different climates regardless of which season you choose to visit in, however, the spring and fall temperatures tend to be a little bit more even throughout Arizona.
The last thing you need to consider before taking off is that you're going to need a mode of transportation if you don't have your own car.
If you're planning on hiring a car while travelling from Scottsdale to Sedona to the Grand Canyon, we suggest browsing Rentalcars.com. This platform aggregates prices across major companies so you can compare prices easily.
Alternatively, you can find a campervan or RV through Outdoorsy which offers a huge selection of motorhomes in the Southwest.
5-Day Arizona Itinerary
If you want to get the highlights of this beautiful state but don't have a lot of time to devote to it, then I would recommend spending five days in the lovely southwestern state.
This Arizona road trip itinerary begins in Phoenix and ends in the Grand Canyon and while it does have you moving from place to place a bit more than we would typically recommend, it does allow you to see a lot without exhausting yourself.
Day 1: Phoenix
As the capital of Arizona and one of the largest cities by population in the United States, the Phoenix metro area has a lot to offer tourists. Though visitors can easily spend more than one day in Phoenix, if you want to see more of the state in just 5 days, then one day will be just enough.
If the weather is fine, take the morning to go for a hike up the iconic Camelback Mountain before exploring nearby historic downtown Scottsdale. The Old Town area is filled with interesting shops, cafes, and restaurants that are sure to keep you entertained.
If you want to get into more serious shopping, Scottsdale Fashion Square is one of the largest shopping malls in the country and has a number of large department stores and luxury brands.
If shopping isn't necessarily your thing, you could easily spend the entire afternoon exploring the Desert Botanical Garden where you can learn all about the native flora in Arizona in a beautiful setting. If you're travelling with kids, the Phoenix Zoo is located right next to the botanical and is always a favourite among families.
End your day at one of the Pheonix area's great restaurants and maybe check out some of the famous nightlife in the Downtown area, Old Town Scottsdale, or near Mill Avenue in Tempe.
Phoenix is the ideal place to get a feel for the state before venturing further north.
Where to Stay in Phoenix
The Phoenix and Scottsdale area is a sought-after vacation destination in the US, especially during the winter months when the cities remain basked in sunshine and blessed with mild temperatures. While there are a number of high-end resorts in the Phoenix metro area, there are also a few more affordable options as well.
SureStay Hotel Phoenix Airport – If you're looking for an affordable and comfortable accommodation option in a convenient downtown location, then this hotel is a great choice for you. It comes well-reviewed with clean, air-conditioned rooms and friendly staff. Breakfast is also included in the room rate. Click here to see their latest prices
Sonder The Monarch – If you would like to experience a little bit of Old Town Scottsdale luxury in your short time in Phoenix, then you can't go wrong with this hotel. Located in the heart of downtown Scottsdale, this hotel is incredibly clean, comfortable, and sure to impress. Click here to see their latest prices
Private Vacation Rental – If you want to save some money or just stay in some unique accommodations, then there are a number of private vacation rental options that will suit any personality or budget such as this private cottage in a desert oasis. Click here to see the best private rentals in Arizona!
Not quite what you're looking for? Click here to browse other hotels in Phoenix!
Day 2: Phoenix to Sedona
On the second day of your 5-day Arizona road trip, it is time to head north and begin to experience the dramatic and diverse natural scenery of the state. On this day, we recommend spending the night in picturesque Sedona.
Though the Phoenix to Sedona drive only really takes about 2-2.5 hours along the I-17, we would suggest taking your time on this journey as there are a number of stops you can make.
If you're looking for a scenic drive from Phoenix to Sedona, a far prettier alternative to the I-17 is to take State Highway 87 toward Payson. While this isn't a direct route to Sedona, the smaller road and stunning natural scenery are absolutely unbeatable, no matter the season.
A good stopping point on the Phoenix to Sedona drive along highway 87 is at the Tonto Natural Bridge, just outside of the small city of Payson. Located about 1.5 hours out from Phoenix, this natural site is equally as stunning as some of the attractions to come on this AZ itinerary, however, it sees just a fraction of the crowds.
The Tonto Natural Bridge is tucked into the lush pine forests of Northern Arizona and is believed to be the largest natural travertine bridge (or natural stone arch) in the world. Entry to the State Park is $7 per adult and there are four different viewpoints where you can see the bridge from all angles.
There are also numerous hiking trails around the bridge of varying difficulties. Depending on the weather, you could easily spend a number of hours at the Tonto Natural Bridge while on your Phoenix to Sedona drive.
After visiting the Tonto Natural Bridge, continue along the highway until you reach Sedona.
If the Tonto Natural Bridge doesn't interest you and you would rather take the I-17 for your drive from Phoenix to Sedona, then you could easily make a detour to the lovely town of Prescott, AZ.
Located about a 20-minute detour from the I-17 and about equidistant between Phoenix and Sedona, Prescott is a charming Northern Arizona town with a quaint main square, a lot of interesting shops, and a laid-back vibe. It can be very worth stopping here for a couple of hours to explore.
In the evening, if you want to see a unique side of Sedona, this nighttime stargazing & UFO tour is worth considering.
Day 3: Sedona
After enjoying your leisurely drive up to Sedona the day before, it is time to spend day three of this exploring the city of red rocks!
Sedona might well be the most beautiful city in Arizona — set amongst the backdrop of stunning red rock formations and high-desert landscape, this city has inspired New Age thought and creativity for decades.
There are a number of fantastic things to do in Sedona, from world-class shopping to some of the best hiking in the state. Sedona is a popular weekend destination for Arizona locals, meaning that there are a number of fantastic restaurants and cultural events in the city as well.
While you can easily spend a day in Sedona only going for a hike or horseback ride, we would recommend trying to fit at least two activities into your day in order to really get the most out of your short time in Sedona.
If you like to hike, begin your day with the iconic Devil's Bridge hike. While this is a more popular trail in Sedona, it is short enough to do in a couple of hours and easy enough for most skill levels while still being challenging enough for more experienced hikers. Also, the landscape and views are simply amazing and well worth meeting a few people on the trail.
However, in order to avoid some larger crowds on the Devil's Bridge trail, which is only located a bit outside of central Sedona, it is best to get on the trail in the morning. If you prefer not to hike, this jeep tour such as this scenic rim tour is a great option.
Spend your afternoon exploring the eclectic shops in the Tlaquepaque centre, which is filled with a number of small, locally-owned businesses well worth checking out.
Where to Stay in Sedona
Sedona is a popular destination for Arizona natives and visitors alike, so, therefore, there are myriad accommodation options to choose from including this lovely peaceful cottage. Other traditional accommodation options include:
Sedona Village Lodge – This hotel, located in a quiet corner of Sedona close to the city centre and many hiking trails, is a fantastic option if you're looking for a basic room while visiting the city. They have great reviews, clean and air-conditioned rooms, and helpful staff. Click here to see their latest prices
Sky Ranch Lodge – If you are travelling on a slightly higher budget, then this romantic hotel is a fantastic option in Sedona. Centrally located, they have a range of comfortable rooms available and a bar and restaurant on site. Click here to see their latest prices
Not quite what you're looking for? Click here to browse other hotels in Sedona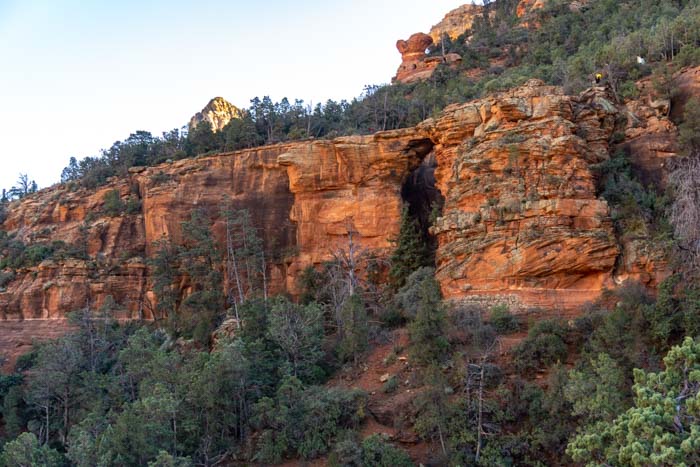 Day 4: Sedona to Grand Canyon
On the fourth day of your trip, it is time to leave Sedona and drive to the most iconic of Arizona attractions: the Grand Canyon.
The Sedona to Grand Canyon drive only takes about 2 hours, so you can easily visit the Grand Canyon as a day trip from Sedona. However, this may not be the best idea, especially if you have five days or more to devote to your Arizona itinerary.
The Grand Canyon is one of the most spectacular natural sites in the world. It is also incredibly massive and travellers could easily spend days exploring this amazing wonder.
If you're interested in making any stops on the drive from Sedona to Grand Canyon South Rim, we would recommend getting out in Flagstaff, the largest city in Northern Arizona and a lively university town. This is the only place that is really worth exploring on the way.
If you're interested, you can spend a few hours exploring the town, which is about an hour north of Sedona. The town has a number of cool coffee shops and restaurants and a young population due to it being the home of Northern Arizona University.
From Flagstaff, it takes about another hour to reach the South Rim of the Grand Canyon. If you are travelling in the winter months, only the South Rim of the Grand Canyon will be open to visitors, as the North Rim gets far too icy and snowy for it to handle many visitors per day.
Once you reach the Grand Canyon, take the time to enjoy the beautiful views and vistas of the canyon by walking along the easy, paved rim trail. Make sure to walk past the main viewpoints, as many people only take the time to snap a few photos and then get in their cars and leave.
If you walk only a couple hundred metres from the busiest viewpoints along the rim trail, you could easily feel as if you have the whole Canyon to yourself. You can also take a sunset hummer tour that takes you to some of the best lookout points as the sun sets.
Where to Stay at the Grand Canyon
Though the Grand Canyon is easily Arizona's main tourist attraction, accommodation right next to the canyon is limited and quite expensive. A far better option is to base yourself in nearby Flagstaff or Williams and drive up to the canyon from there. Here's where we recommend:
Private Vacation Rental – This peaceful cottage in the forest is a great option for those looking for some secluded privacy. Click here to see other private rentals in the area.
Super 8 by Wyndham Williams East/Grand Canyon Area – This budget hotel in Williams is a perfect base for exploring the Grand Canyon. Though it is certainly no-frills, it has clean and comfortable rooms with breakfast included in the nightly rate. Click here to see their latest prices
Hotel Aspen Flagstaff/ Grand Canyon InnSuites – This hotel is also a great option for a base for visiting the Grand Canyon. There are numerous rooms on offer, 24-hour check-in, and a great breakfast included in the room rate. Click here to see their latest prices
Not quite what you're looking for? Click here to find other hotels near the Grand Canyon!
Day 5: Grand Canyon
The last day of this trip sees you exploring a bit more of Grand Canyon National Park by day before making the long drive back to Phoenix by the evening.
After spending your first day walking along the South Rim of the Grand Canyon, it's time to check out one of the many trails around the Grand Canyon and see this natural wonder from a different perspective.
Depending on how much time you want to spend, your fitness level, and the season you're visiting the Grand Canyon, there are numerous trails to choose from – just make sure you have your hiking shoes on! Pick up a map from the tourist info centre to make sure you have all of the best information.
If your budget allows you can also consider taking a helicopter tour from the South Rim for spectacular views of the site.
If you're visiting the Grand Canyon between the months of May – October, it is possible to take a trip to the lesser-visited North Rim and experience a different side of the Canyon. However, this rim is closed to visitors in the winter months due to extreme weather conditions.
After exploring more of the Grand Canyon, it's time to make the long drive back to Phoenix in the afternoon. It is about a 4-hour drive from the South Rim to the Arizona capital and it is easiest to make the drive along the I-17.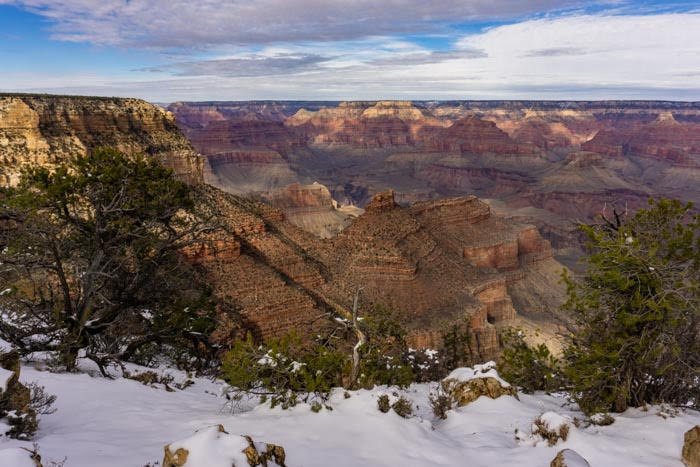 Have More Time?
If you have more time to devote to your Arizona road trip, there are a number of additions you could include while using this route as a template.
If you have one week or longer, we would recommend spending both an extra day in the Phoenix area as well as a day or two extra in Sedona. This will allow you to see more of the attractions in both cities.
Phoenix has a lot more to offer travellers visiting for more than just one day, as does Sedona. You can also consider driving south from Phoenix to Tucson and visiting Saguaro National Park or exploring Tucson.
You can also head north from the Grand Canyon and explore iconic Horseshoe Bend before visiting Utah and seeing some more national parks such as Bryce Canyon or Zion. You can also take a few detours on the way back to Phoenix including stopping at Petrified Forest National Park.
If you have only time for a 3-day Arizona road trip itinerary, then that is perfectly doable as well. Spend your first night in Phoenix, enjoy the Phoenix to Sedona drive and explore the town of Sedona on the second day, and then head to the Grand Canyon bright and early on the third day in order to spend as much time as possible on this beautiful site.
All in all, there are many ways you can plan out the quintessential trip through Arizona, no matter how much time you have to spend exploring this southwestern state.
Are you planning an AZ itinerary? Have any questions? Let us know in the comments!
Like It? Pin It!