Known for its otherworldly landscapes, awe-inspiring vistas, enchanting atmosphere, idyllic villages, and rich history, spending 2 to 3 days in the Isle of Skye is an absolute must for any Highlands excursion and trip to Scotland. To ensure you experience all the best this mythical island has to offer, use this Isle of Skye Itinerary for an unforgettable adventure. 
How Many Days in the Isle of Skye?
Skye looks small on the map and is just 50 miles (80 kilometres) long and 25 miles (40 kilometres) wide. However, getting around can take significantly longer than you might think, as much of the isle is undeveloped, and roads are narrow and winding. There's also a ton to see so it can be tricky to figure out how many days to spend on Skye.
You could hit a handful of must-see spots within a day. But part of Skye's allure is its serene, almost transcendental ambience, something best savored, not rushed. There are also practical factors, including the weather.
Scotland's characteristic near-constant rain can enhance the isle's mystical atmosphere. That said, it can also slightly diminish the appeal of spending entire days hiking outdoors, especially if you're visiting in the colder months.
With 2 days on the Isle of Skye you can see the quintessential sights with proper planning, however, with 3 days on the Isle of Skye you'll be able to enjoy it all at a more leisurely pace.
However, Skye is one of the most magical places I've ever visited and if you have the time I would recommend spending 4 days or more so you can enjoy some extra hikes and have some contingencies for bad weather!
Getting To and Around Skye
The Isle of Skye is on Scotland's west coast in the Highland region, about a five-hour drive from Glasgow and Edinburgh or 2.5 hours from Inverness.
You can either catch the ferry from Mallaig or take the Skye bridge further north from the village of Kyle of Lochalsh to access the island. I recommend the latter, especially if you're traveling in summer since ferries fill up well in advance. 
You can access the island by bus from one of the larger cities, and there are a couple of local buses that serve limited routes around the island. That said, it's nearly impossible to see all the main attractions without a car, certainly if you only have a few days.
If you need to rent a car for this road trip, you can browse Rentalcars.com which aggregates results across all major providers.
Alternatively, if you don't want to drive around Skye or deal with local buses, then there are also options to take day trips or multi-day guided tours such as this full day tour from Inverness or this 3-day tour from Edinburgh which also includes other stops in the Highlands and a visit to Fort William & Glencoe.
2 to 3 Days in Isle of Skye Itinerary
Most people start their Isle of Skye road trip itinerary in Portree, the isle's "capital" and biggest town. This is where most hotels and hostels are located and where you'll find all the necessary amenities, like a large Co-op, car rental, and petrol stations in one place. You'll also find the Skye Museum of Island Life here.
From Portree, it's easy to access most other places, starting with the Trotternish Loop on day one of your visit to Skye. 
Day 1 – Experience Skye's Natural Scenery
Old Mann of Storr
The Old Man of Storr is the first stop on the Trotternish Loop, a circular road on the island's northeast side that connects some of the island's most iconic locales.
You can traverse the entire route in around two hours, provided traffic isn't too bad. However, you could easily spend the entire first day on the Loop if you're keen on hiking. There are few facilities along the Loop, so take snacks or a picnic.
The Old Man of Storr is located on the Storr, a hill six miles north of Portree overlooking the Sound of Raasay. The 160-foot pinnacle resulting from an ancient colossal landslide juts out like a shard amidst the grassy, billowing hills. "Storr" is "big" in Old Norse, and, as the name implies, the Old Man of Storr resembles an old man towering over the landscape.
Once you arrive at the car park, it's about a 40-minute walk to the viewpoint or about a two-hour hike up the hill to the Old Man's base, where you'll get an incredible view of the mainland and islands of Raasay and Rona.
The Old Man of Storr is one of the most popular spots for sunrise and sunset photographs. If you're keen on getting the perfect shot, consider wild camping overnight to beat the crowds.
Lealt Falls
Lealt Falls doesn't attract as many visitors as most of the other stops on the Loop, but for me anyway, that was part of its appeal. The roomy car park makes it easy to access, and the falls and surrounding landscape are photo-worthy, rain or shine.
This and Brother's Point (a 30-minute walk or 3-minute drive north) are fantastic spots to enjoy the majesty of Skye in solitude (or relative solitude, if you're visiting in peak season).
Kilt Rock & Mealt Falls
Continue north on A855 to your next destination, Kilt Rock and Mealt Falls, one of the only quick stops on your trip to the Isle of Skye. Another of Skye's characteristic basalt formations, Kilt Rock, is a cliff with thin basalt columns resembling a pleated kilt cascading into the sea.
Look down and see Mealt Falls, a powerful cascade springing from the rockface. Look to the south as well, where you can see Rubha nam Brathairean in the distance.
Quirang
The Quirang, one of Sky's most iconic points of interest, is the landslip on the east side of Meall na Suiramach, the northernmost summit of the Trotternish peninsula.
To access it, most people drive through the village Staffin and take a narrow, steep single-track road into the mountain range, which connects Staffin with Uig to the car park. If you can, arrive early to get a spot and avoid crowds. Although it's a moderate-size lot, it can get packed by midday, even in the shoulder season. 
The entire 6.8 km hill circuit takes about two hours without stops. However, I suggest allocating three to four hours to allow yourself time to absorb the atmosphere, enjoy the scenery, and, of course, take lots of photos!
As was the case in many spots on the isle, I found myself stopping numerous times along the way to allow myself to simply "be" in this magical place. 
If you're short on time, walk at least part of the trail to experience some of the island's most stunning vistas. The track is relatively flat and suitable for most fitness levels. However, a few areas can be challenging due to loose rocks and narrow passages, so wear sturdy shoes and don't rush.
Day 2 – Whisky, Fairy Pools & Castles
Talisker Beach & Distillery
Whisky is as much a part of Scottish culture as tartan and haggis, so even if it isn't your drink of choice, The Talisker Distillery in Carbost is a worthwhile stop on a Skye road trip. Founded in 1830, it's the island's oldest working distillery.
A 45-minute tour includes a look at how the distillery produces its famous single-malt, as well as a tasting. Book your tour well in advance, especially if you only have 2 days in Skye, as tickets sell out quickly in summer.
Not far from the distillery is Talisker Bay Beach. Though it's not one of the island's most awe-inspiring spots, it is a perfect place to escape the crowds and take a beat to breathe in the sea air and watch the sunset over the black sand beach in peace.
Parking is about a mile away, on the roadside, and the beach is accessible via a path. Look out for waterfalls on the roadside as you make your way to the bay.
Fairy Pools
The Fairy Pools are a series of crystalline turquoise pools and waterfalls within the River Brittle, etched into the rocky landscape at the foot of the Black Cuillin Mountains.
One legend says another creature of lore, selkies, would dip in the Pools at night and transform into their human forms to bathe in the moonlight.
The 1.5-mile walk from the car park to the Pools is relatively easy, although there is some rough terrain. You can make the trek there and back in an hour.
However, I suggest allocating at least a couple of hours to appreciate the Pools and their enchanting aura fully. In the warmer months (or off-season if you're brave!), you can even take a dip.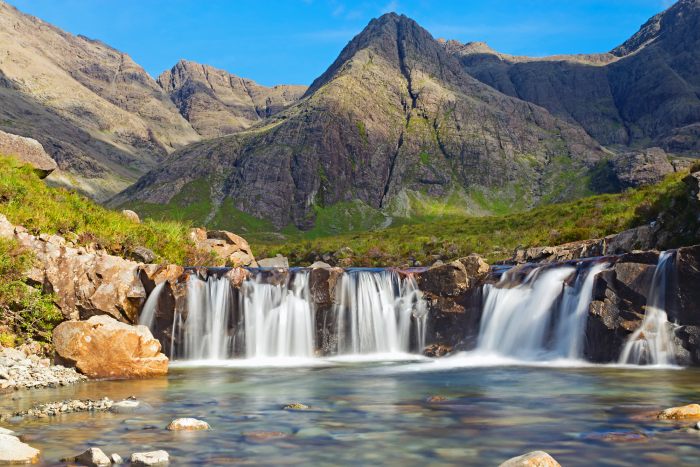 Dunscaith Castle & Armadale Castle
About an hour and 10 minutes south of Glenbrittle is Armadale Castle, a ruined country house in the middle of a 20,000-acre estate formerly inhabited by the MacDonald family.
Initially built in 1815, it's an example of a Scottish baronial mock-castle designed to exhibit the owner's wealth rather than for defence purposes. Armadale is only open for a few months each year, like the other castles on your Skye itinerary.
Not far from Armadale is Dunscaith Castle, a ruined castle with an unassuming appearance that belies its storied history. Also called Dun Sgathaich, Tokavaig, or "Fortress of Shadows," it's named after the warrior woman and martial arts instructor Scathach.
According to the Ulster Cycle of Irish mythology, Scathach the Shadow trained the hero warrior Cu Chulainn in the combat arts at this castle. It originally belonged to the MacDonald Clan but was taken by Clan MacLeod in the 14th century before the MacDonalds recaptured it in the 1600s.
If you have just 2 days in the Isle of Skye, this is a great spot to end your journey, as it's easy to catch the ferry back to the mainland from Armadale to Mallaig.
Day 3 – Fairy Glen, Dunvegan Castle & More
Fairy Glen
Scotland has a rich history of folklore and mythology, and a trip to the Highlands will spark the imagination in even the staunches non-believers. The Fairy Glen is one of a few places on Skye with the name "fairy" in the title.
According to legend, this is because a) the island has long been inhabited by fae and other magick folks (obvs) and b) long ago, Chief of Clan MacLeod married a fairy princess.
Not far from Dunvegan Castle is the Fairy Bridge, rumored to be the spot where the Chief bid farewell to his beloved before her departure back to the Fairy World. 
The Fairy Glen, an otherworldly landscape located in the hills above the village Uig, has a much less heart-wrenching backstory. Officially, its unique land formations, including "Castle Ewan," were formed by a landslide, although more imaginative folks might say otherwise.
It's easiest to park in Uig and walk about 30 minutes to access the Glen. You can also wild camp here, though that might not be feasible during peak tourist season. Note that locals are trying to preserve the area's natural state, including deconstructing tourist-made stone arrangements.
As always, be conscientious of the community and environment when traversing this magical terrain.
Claigan Coral Beach
You might recognize Claigan Coral Beach, with its white sand and pristine turquoise waters, from the Netflix series Outlaw King about Robert the Bruce. Besides its tropical appearance, the beach, known to locals as a "wee gem," is one of Skye's lesser-known treasures.
It's unique in that its 'sand' consists of maerl or fossilized seaweed bits. The seaweed is a purplish pink when alive, but years in the sun eventually bleaches it white upon washing ashore.
The beach is located about an hour southwest of the Fairy Glen and is accessible via a 15-minute walk from the car park.
Dunvegan Castle
Clan MacLeod initially built Dunvegan Castle and Gardens in the 13th century and expanded, fortified, and renovated it over the centuries. In the 1800s, it was renovated to enhance its medieval aesthetic and install the gardens, now one of the castle's most popular attractions.
Situated on a rock overlooking the bay of Loch Dunvegan, the waters surrounding the estate connect directly to the sea and are home to various wildlife, including seals. You can book a boat trip to a nearby seal colony for an additional fee on top of your castle or garden ticket.
The castle is only open from April to mid-October, so shoulder season travelers might need to skip it.

For lunch, consider hopping over to the Old School Restaurant for homegrown fare, including traditional Scottish favorites and vegetarian dishes, along with Scottish wine, beer, and spirits.
Neist Point Lighthouse
The Neist Point Lighthouse is Skye's most picturesque lighthouse. It was designed by David Alan Stevenson, whose family designed most of Scotland's lighthouses.
The lighthouse is about a 45-minute walk from the car park, beginning with a steep staircase down to the point. The point juts out into the sea above dramatic cliffs, offering jaw-dropping views.
Unsurprisingly, this is another of the most popular spots to watch the sunset on Skye. It's also one of the best places to see whales, dolphins, and basking sharks!
Where to Stay on the Isle of Skye
Along with planning out the perfect Isle of Skye itinerary, you're going to need to find a great place to stay on this beautiful island. Fortunately, there are lots of great accommodation options on Skye that will suit all kinds of visitors. If you're searching for the perfect place to rest your head, have a look at these options:
Greshornish House Hotel – If you're looking for a luxury stay on your visit to the Isle of Skye, then this four-star hotel is the perfect option. Located in a historic house, the hotel has a number of plush and comfortable rooms available, a restaurant and bar on site and a great breakfast included in the room rate. Click here to see their availability
An-Airidh Bed & Breakfast Portree — This charming bed and breakfast in Portree is considered to be one of the top-rated places to stay on Skye. They have a range of comfortable and cosy rooms available and very friendly owners. Of course, breakfast is included each morning. Click here to see their availability
Private Rental – If you'd rather have your own place over staying in a hotel, then a private holiday rental -like this modern house near Dunvegan – is an excellent choice. Click here to browse more Skye private rentals
Skyewalker Hostel — A great, family-run hostel perfect for budget and solo travellers. They have a range of both dorm and private rooms, good facilities and occasionally organise social events in the evening. Click here to see their availability
Not quite what you're looking for? Click here to browse other options in Skye!
Despite its modern amenities and proximity to mainland Scotland, the Isle of Skye is a mystical place where fairies roam and time stands still. If you're lucky enough to spend 2 or 3 days travelling around the Isle of Skye, whatever you do and see, it's sure to be an unforgettable adventure. 
Are you planning a trip to visit the Isle of Skye? Have any questions about this itinerary? Let us know in the comments!
Like It? Pin It!