I didn't know what to expect when I went backpacking in Kosovo, but after spending a week there I found a warm and welcoming country with plenty to offer. The two main cities, Prizren and Pristina, both have something different to offer travellers and I strongly recommend trying to fit both cities in your Kosovo itinerary.
They are only separated by a 1.5-hour bus ride making it incredibly easy to travel from Pristina to Prizren and possibly even do a day trip if you want to base yourself in one city. If you're unsure which city to visit or you only have time for one, then here's some help to decide where to go in Kosovo during your stay in this undiscovered destination.
Prizren
If your main interests lie in history, culture and beautiful architecture then Prizren is the city for you! Originally founded in Roman times, the period of Ottoman rule has undoubtedly had the greatest influence on the city today. The historical old town is packed with mosques, churches, old bridges and the Prizren Fortress which offers spectacular views over the city for those willing to take the short, steep walk up to the top.
The highlight for me, however, was simply strolling through the old town, exploring the cobbled streets and seeing people go about their day to day lives with few other tourists around. There are ample opportunities to stop for a coffee or beer at one of the many outdoor cafes that flow over onto the streets or grab a bite to eat at the budget-friendly restaurants.
For those on a budget, I can definitely recommend staying at Prizren City Hostel. As with most hostels in the Balkans, it is always the staff that make a place memorable. Upon check-in, the owner kindly upgraded me to a private room from a dorm bed as he had spare rooms.
The following day he took me and another guest on a free walking tour of the city, tailoring it to where we had already been and sharing the history of his city. The people of Kosovo are passionate about showing travellers around their country and it was evident at this hostel (you can check out the latest reviews on Hostelworld or Booking.com!)
If you prefer to stay in a hotel during your time in Prizren, then Hotel Edi Imperial is a great option. They are located in the centre of town, have comfortable rooms and a great breakfast included in the daily rate.
You can see all the sights here in one day, however, I recommend spending at least two full days in Prizren to allow yourself to get to know the city at a deeper level, taking in the time to have leisurely coffees, long meals and getting to know the locals.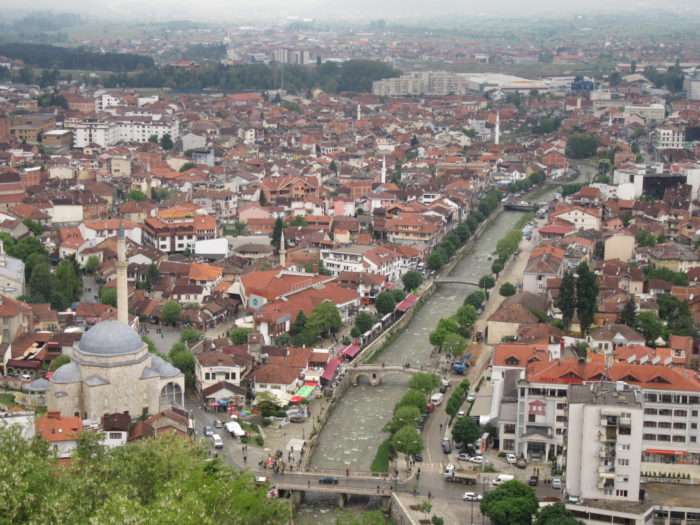 Pristina
Unlike Prizren, Pristina was heavily bombed during the 1990s war and the impact can still be seen today with a crumbling infrastructure and disorganised streets and buildings.
The sites in Pristina are all a bit underwhelming. The Bill Clinton Statue, New Born Monument and the Library of the University of Pristina can all be seen within the space of a couple of hours and while there are also a few museums dotted around the city, the ones that I tried to visit while I was there were either closed or being renovated. Pristina certainly lacks the beauty and historical culture of Prizren, however, there is more to this city than meets the eye.
Over 50% of Kosovo's population is under 30 and with the majority of people living in Pristina, this creates a unique atmosphere in this city. Locals love being out and seen, so will often spend the evenings walking along the promenade or sitting in a café, sipping on a one euro cup of coffee before going to a bar or club. There are often festivals in the city too – I visited during the local film festival which was organised by students and showed local and foreign movies from around the world at a range of venues across the city.
I stayed at Buffalo Backpackers, run by a friendly Albanian and American couple, the hostel was well located, had great breakfast and a nice garden to relax in.
The highlight of the stay there, however, was undoubtedly the restaurant called Renaissance next door. There is no sign outside and the place looks like any other residential home on the street, however, once you knock on the door you'll be invited to sit down in the rustic and elegant atmosphere.
The place has no menu and within a few minutes, food will just start arriving at your table. For €15 per person, you'll get a three-course meal with the ability to request second helpings as well as unlimited wine and rakija. The food is fantastic, influenced by local and Turkish cuisines and akin to eating at any fancy restaurant around the world.
Whilst the place is expensive for Pristina (you can get a burger for a couple of euros in the centre of town), the experience is certainly worth it and you'll easily spend several hours here drinking and eating your night away. Call +377 44 239 377 or ask your hostel to make a booking, as the restaurant has limited seating and is popular with locals and travellers alike!
You should definitely make the effort to visit both Pristina and Prizren in order to fully appreciate Kosovo.
However, if you are short on time or prefer to base yourself in one city, I'd recommend going to Prizren if your interests lie more in history, architecture and seeing the historical side of Kosovo.
On the other hand, check out Pristina if you're after a bustling city with great nightlife and modern restaurants.
Have you been to Prizren or Pristina? Which do you prefer? Add a comment below!
Like It? Pin It!