Embarking on a Toledo day trip from Madrid is one of the top things to do for visitors to the Spanish capital. This historic city is often referred to as the "city of three cultures" and is packed with beautiful views and lots of interesting things to see and do.
As one of the most popular day trips from Madrid, Toledo also used to be the capital of Spain and holds a lot of importance in Spanish history.
Situated in the arid Castilla-La Mancha region just south of the Spanish capital, Toledo is also incredibly easy to reach from Madrid and has enough to occupy visitors for an entire day – or even more if you're interested.
So if you're after an easy and historic day trip to a beautiful city nearby to Madrid, look no further than Toledo. A day trip to Toledo is never a bad idea if you have a few days to spend in and around Madrid.
Getting to Toledo from Madrid
Madrid is located about 75 kilometres north of Toledo and, because of this proximity, it is really easy to reach the city by a number of different methods.
Depending on how you want to structure your Toledo day trip itinerary, you can reach this lovely town via organised tour, bus, car or high-speed train.
By Organised Tour
If you want to take all of the planning and guesswork out of your day trip to Toledo from Madrid, then consider going via organised tour.
There are countless options to choose from (Toledo is possibly the most popular destination to visit from the Spanish capital) depending on your wants and needs.
For instance, this full-day tour from Madrid includes a return trip via bus and a guided tour throughout the city. This similar tour is also available.
Alternatively, this guided day tour from Madrid included entry and tours in the Cathedral, Church of Santo Tomé and the Synagogue of St Mary. This similar tour is also available.
If you are short on time and want to visit some other popular day trip destinations, then this full-day tour includes a visit to Segovia (and an optional add-on in Ávila). Keep in mind that, if you choose this option, you won't be able to enjoy any place to its full potential.
Another great option is this day tour which includes transport to and from Madrid, a guided tour of Toledo and a stop at a local winery (with wine and tapas tastings!) in the lovely Castilla-La Mancha region.
By Train
If you want to travel independently to Toledo, one of the best options to do this is by train. Toledo is easily connected by train from Madrid via high-speed rail which means that you can reach the city in under 30 minutes.
Trains depart from Madrid's Atocha station very regularly, so you can get as early or late of a start as you desire. There are similarly frequent trains on the return trip.
The train station in Toledo is located about a fifteen-minute walk from the main bridge into the city, so there is also no need to hop on a bus or grab a cab to get to the old town centre.
Though there are frequent trains, it is a very popular route so it is recommended that you book your tickets online here in advance by at least a couple of days.
By Bus
If you're looking for a slightly more affordable option to reach Toledo, then the bus is a great option. There are a number of buses that run between Madrid and Toledo daily and the journey time is about one hour (compared to under half an hour via train).
The bus station in Toledo is also located about fifteen minutes walk to the city centre – though it is situated in a different location to the train station. You can book tickets for the bus online in advance here.
By Car
If you want some ultimate flexibility on your Toledo day trip, you can also opt to go by car. The drive from Madrid to Toledo will take about an hour and there are ample car parks in and around the city centre.
It isn't entirely necessary to have a car while exploring Toledo itself, however, having your own means of transport can allow you to venture to some of the most beautiful viewpoints of the city that aren't as easily accessible on foot such as Mirador del Valle Toledo.
If you need to rent a car for your trip to Toledo, you can browse Rentalcars.com which compares prices across different car hire companies.
Toledo Day Trip Itinerary
If you've decided to go independently, then this is the itinerary to follow! If you're coming by car, add the Mirador del Valle Toledo as your first stop of the day.
Puente de Alcántara
The first stop on your day trip to Toledo (especially if you're arriving by train, as this is your entry point into the city) is the Puente de Alcántara. This is the main bridge over the Tagus river and acts as a beautiful entry point into this historic city.
Across the river from the city centre, you will also be able to see the Castillo de San Servando – a medieval castle that overlooks the city. This castle is probably best known for featuring in El Greco's painting View of Toledo.
The bridge provides excellent views of Toledo above and is the perfect vantage point into the city before you begin exploring.
Plaza de Zocodover
Once in the city centre, the most logical first stop on your Toledo itinerary is the Plaza de Zocodover. This is the main square in Toledo and is the central meeting place of the city. Here is where countless tours pick up, but it is also bustling and interesting to see and has a vibrant energy.
The Plaza de Zocodover is an excellent starting-off point and place to get your bearings before taking off and sightseeing.
If you're interested in sightseeing with the help of a knowledgeable guide, then consider booking this guided walking tour that also includes a tourist bracelet (with entry into 7 historical sites) in the price.
Catedral Primada
The first main site to see on your Toledo day trip from Madrid is the Toledo Cathedral – known as the Catedral Primada. This beautiful church is a main focal point of the Toledo skyline and it is a major site to visit while in this historic Spanish city.
You can take in the splendours of this beautiful Gothic cathedral from outside free of charge, however, you will have to purchase a ticket if you wish to tour the interior. There are a few different ticketing options, however, an all-inclusive ticket lands at €12.50 per person.
For those who would like a bit more context when visiting the cathedral, then consider booking this cathedral tour with a local guide which will also allow you to skip the line to enter.
Termas Romanas
Another great place to stop when seeing Toledo in a day and a place that will certainly put into perspective just how old this city is are the Termas Romanas – or Roman Baths.
As the name may suggest, these date back to ancient Roman times and they can be fascinating to visit.
Don't expect a huge archaeological site, however, the Termas Romanas are free to enter and there is information available in English if you want to learn more about this fascinating place.
Mezquita del Cristo de la Luz
Winding your way down the hill (of which there are many in Toledo), make your way to our next stop – the Mezquita del Cristo de la Luz. This structure was, at one point, a mosque that was then turned into a Catholic chapel following the Reconquista.
The mosque was once one of ten in the city during the Moorish period. Today, it operates as a museum where you can learn about the history of this building in particular and of the contrasting cultures that Toledo has been home to.
Full-priced entry into the Mezquita del Cristo de la Luz is €3 per person, however, entry is included if you purchase the Toledo tourist bracelet. This includes multiple entries to seven of the city's most iconic sites – including this one and many of the best things to do in Toledo.
Alcázar de Toledo
While you've already seen quite a bit in just the morning of this Toledo itinerary, it's time to visit the most iconic spot in the city's skyline – the Alcázar de Toledo. This is the historic royal residence of Toledo and it presides over the city in a domineering fashion.
The Alcázar today is home to a military museum that is open to the public and houses exhibits about Spanish military history dating back centuries.
You can also opt to visit the public library, which is also a part of the Alcázar – which even has a free lift to a terrace with beautiful views over the city.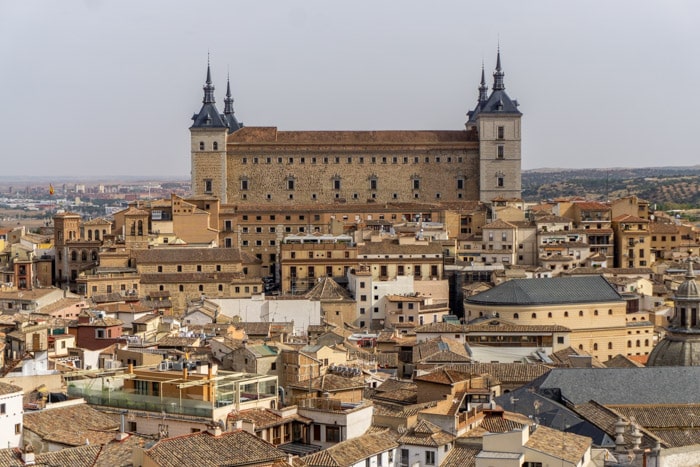 Lunch
After quite a morning of sightseeing, it's likely that you've worked up quite an appetite. There are a lot of places to eat in Toledo, but some are better than others.
We highly recommend starting your lunch like the Spaniards do with an aperitivo – we suggest heading to La Malquerida de la Trinidad which has excellent vermouth on tap (de grifo in Spanish). You will also get a snack with your drinks.
If you're after a traditional Spanish tapas bar in Toledo, then look no further than Bar Skala, which cooks up regional specialities in a very rustic setting. You will also get a complimentary tapa with a drink order here – as is customary in this area of central Spain.
Museo del Greco
After filling up at a leisurely lunch, it's time to make your way to another side of the city and take in a bit of culture at the Museo del Greco or El Greco Museum.
This museum is dedicated to the celebrated Rennaissance-era painter El Greco, who spent much of his life in Toledo
Though El Greco literally translates to "the Greek" in Spanish, this Crete-born painter spent the majority of his life in Spain. At the museum, you can see a collection of his artwork and learn a bit more about the artist, as well.
Entry into the museum is €3 per person for a full-priced ticket.
Jewish Quarter
The Museo del Greco lies at the beginning of the Jewish quarter of Toledo and plan to spend the rest of your day in Toledo exploring the sites that lie within this area. Prior to 1492, Toledo was home to quite a large Jewish population and that is very much evidenced in the number of sites you can see here.
For instance, the Sinagoga de Tránsito is a historic synagogue that is now home to a museum dedicated to the history of Sephardic Jews.
Another point of interest in Jewish History is the Sinagoga de Santa Maria Blanca. This was once a synagogue but was turned into a Catholic church after 1492. Entry to this historic site is also included in the Toledo bracelet.
Finally, one of the top things to see in Toledo is the Monasterio de San Juan de los Reyes. Though this is a Christian monastery, there is a lot of history here and the building and setting is absolutely beautiful. Entry is also included in the Toledo bracelet.
Iglesia de los Jesuitas
After exploring Toledo's Jewish Quarter, end your day with an excellent view over Toledo from the Iglesia de los Jesuitas.
Located in the city centre, this historic church allows you to climb its bell tower and provides incredible views over the city and the surrounding area.
Entry into the church and bell tower is €3 per person and the climb is relatively easy – it is on new stairs and it is not as high as many other bell towers of the same ilk.
And the views are definitely worth it and make it the perfect way to end your one day in Toledo. Entry is also included in the Toledo bracelet.
Where to Stay in Madrid
Ii Castillas Madrid – If you're on a mid-range budget, then this small hotel is a great option in Madrid. Located close to Plaza Callao in the centre of the city, they have a number of clean and comfortable rooms on offer and there is also breakfast available daily. Click here to see their availability
Only YOU Boutique Hotel – For those after a luxury stay in Madrid, this boutique hotel in the Cueca neighbourhood is a wonderful option. They have a range of plush rooms to choose from, a location within easy walking distance of the top attractions and there's even a restaurant/bar on site! Click here to see their availability
Hostal Foster – Perfect for budget travellers, this cosy guesthouse is a great choice in the centre of Madrid. Situated off of Gran Via, they have numerous cosy and comfortable and air-conditioned rooms available. Click here to see their availability
The Hat Madrid — This boutique hostel located right next to the Plaza Mayor is an excellent choice for solo and budget travellers alike. They have a range of both dorm and private rooms available and is one of the highest-rated hostels in Madrid. Click here to see their availability
Not quite what you're looking for? Click here to browse other Madrid hotels!
Planning the perfect Toledo day trip itinerary can seem a bit overwhelming when you consider just how much there is to see and do in this historic city. However, with its close proximity to the Spanish capital, Toledo makes for the perfect day trip destination from Madrid and is sure not to leave you wanting.
Are you planning to visit Toledo? Have any questions about this itinerary? Let us know in the comments!
Like It? Pin It!