Planning a 2 or 3 days in Portland itinerary can be an absolute joy when it comes to all of the cool and unusual things to do in this eclectic Oregon city. Echoing Austin — Texas' hipster oasis — the Rose City's motto, "Keep Portland Weird," sums up its distinctive character, one affectionately satirized in the cult favorite TV show Portlandia.
But Portland's quirkiness isn't its only quality. Far from it. This modern metropolis, a gem of the Northwest, is also famous for its incredible foodie scene, eco-consciousness, gregarious locals, and much more.
If you're planning a long weekend in Portland, read on to find some of the must-see attractions in this delightfully, proudly off-beat city.
How Many Days in Portland?
Many would-be visitors to the Rose City will inevitably wonder how many days in Portland is enough to really do it justice and not feel too rushed.
Though it is Oregon's largest city, Portland is also relatively compact and you can easily get a good feel for it in just a couple of days. With 2 days in Portland, you will have time to see all of the highlights in the downtown area and experience some of the city's nightlife!
And if you happen to be visiting for a weekend trip, you can also have the opportunity to browse the Portland Saturday Market, which is considered to be the largest outdoor market in the USA.
If you have more time, consider spending another day in the city. Seeing Portland in 3 days allows you to venture further and maybe head out on a day trip from the city. However, there are plenty of things to do in Portland that you will be just as happy staying within the city!
Best Time to Visit Portland
Like its infamously rainy northern neighbor Seattle, Portland, too, upholds the Pacific Northwest's cold, damp stereotype for much of the year. You're almost guaranteed to see some rain, no matter when you visit.
Bring a jacket and, as long as you don't mind standing out, an umbrella! Pacific Northwesterners are weirdly umbrella-averse. I don't know why. It's just how it is. We'll walk in a literal downpour with our hoodie pulled way up over our beanie-clad head, soaking wet, and act completely unbothered. Don't be like us; umbrellas exist for a reason.
However, it's not all rain all the time. You can expect some days that exceed 90°F (32°C), chilly mornings, and cool nights on any given summer day in Portland.
Late spring, summer, and early fall are undoubtedly the best times to visit, not just because of the sunshine. It's also when the rose, rhododendrons, and other flowers that line the city streets and urban gardens will be in full bloom, making the already-colorful city extra bright.
This is also prime time for outdoor events and festivals.
If you visit in winter, expect to be cold and wet (like, really wet). The good news is Oregon's coast and near-coast region doesn't usually drop to freezing during winter, meaning you should be safe from snow and ice. If you want that sort of thing, though, Mt. Hood isn't far!
Getting To & Around Portland
As its name denotes, Portland is and always has been a significant transport hub. But not just for seafarers. It's also well-connected to the region via a train station, numerous buses, and an international airport. It's also just under three hours' drive from Seattle.
Portland is relatively easy to navigate. The MAX light rail from the airport to downtown takes about 40 minutes and costs about $2.50, or you can Uber or Lyft if you don't have a car.
While traffic can be heavy, it's not as bad when compared to nearby Seattle. Most people walk or cycle everywhere or take public transport. 
The city's stellar public transit network consists of MAX light rail, streetcars, and commuter rail, making it easy to get around Portland. If you're going to stay within city limits, you really don't need a car at all. 
Most tourist attractions in the Rose City are located on the west side of the Willamette River and neighborhoods like downtown, the Pearl District, and Nob Hill. If your home base is in this area, you can walk or cycle most places.
The Rose City is famously bike-friendly, yet unlike some cycle-centric metropolises (Amsterdam), you're not likely to get hit by a bike if you do prefer to hoof it. If you didn't bring a bike, you could rent one for a few hours, the day, or the weekend from providers like Bike Town.
If you want to venture outside the city to the Oregon Coast or even down to San Francisco, which I can't recommend strongly enough, a car will be helpful. You can rent one through Rentalcars.com if you don't have your own.
Don't fret if driving isn't your thing, though! There are buses to some of the best destinations, like Seaside and Cannon Beach. A Greyhound from Union Station to Cannon Beach takes about two hours. Just be prepared to navigate a sporadic bus system once you get to your destination or walk/taxi everywhere.
2 to 3 Days in Portland Itinerary
There's always something happening in The Rose City, and you may find it hard to fit in everything you want to do in just one weekend. But if you do only have two days in Portland, here are a few stops you won't want to miss.
Day 1 – Doughnuts, Bookshops & Museums!
Voodoo Doughnuts
The first stop on your Portland itinerary is the city's most famous and beloved doughnut shop, Voodoo Doughnuts, where you can grab a breakfast pastry and coffee.
Kenneth "Cat Daddy" Pogson and Tres Shannon, two entertainment-minded entrepreneurs, opened the first Voodoo Doughnuts in 2003. At the time, there wasn't a single doughnut shop in downtown Portland, so you can imagine the craze that erupted when a shop as wacky as the city itself opened up and started serving up delicious pastries in a medley of classic and unconventional flavors.
Within a month, the shop had achieved a national press mention and a loyal, die-hard following at home. They're now world-famous and an absolute must-stop on any Portland weekend itinerary.
If you're still hungry or the line at Voodoo is absurdly long, head to Blue Star. While Voodoo's patrons are about a 50/50 mix of tourists and locals, many Portlanders eschew the shop, insisting Blue Star is far better.
The lesser-known but no less tasty Blue Star serves up various tantalizing flavors, including Cointreau Crème Brûlée, maple bacon, Valrhona chocolate crunch, and The O.G., featuring an orxata (horchata) glaze.
If you're really into your doughnuts you can even do a doughnut tour!
Powell's Books
Powell's Books is heaven for bookworms. The world's largest independent bookstore, it is undoubtedly one of Portland's most prized assets and another quintessential stop on a Portland, Oregon itinerary.
The shop spans an entire city block and is packed with a vast array of new and used books in every genre.
Grab a basket; you'll need it to carry everything you pick up as you browse the labyrinth.
Powell's is also famous for its rare book room, featuring rare first editions and signed copies of antique and contemporary titles.
After checking out, head to the café to rest for a bit and have a bite and a coffee. You'll need to re-energize after spending a couple of hours wandering the store! And yes, you will probably be drinking a lot of coffee on your weekend in Portland. When in Rome…
An Afternoon at the Museum
Before heading out to get a taste of Portland's vibrant nightlife, check out one (or both!) of the city's most prominent museums.
The Oregon Museum of Science and Industry features various temporary exhibitions throughout the year and the Natural Science Hall, Empirical Theater, USS Blueback Submarine, and Kendall Planetarium.
Learn about everything from ancient natural history to contemporary scientific innovations and get lost in the mind-blowing vastness and complexity of the night sky.
Founded in 1892, the Portland Art Museum is one of the West Coast's oldest art museums.
It features various temporary exhibitions featuring world-renowned artists in painting, print, mixed media, film, and more. The museum also houses permanent collections, including Native American Art, Asian Art, Northwest Art, European Art, American Art, and Photography.
Fancy a history lesson? Check out Pittock Mansion, which offers an immersive look at the city's past in the setting of one of its oldest and most beautiful historic homes. The mansion also has a fantastic view of the city!
Enjoy Portland's Nightlife
People joke that everyone in Portland is a barista, in a band, or both. And it's not that far from the truth. There's pretty much always a live show going on somewhere.
On your first night out, head to a venue or go bar-hopping and let yourself get swept into the vibrant nightlife scene.
Oregon Public House is a great place to start. The family-friendly pub, open from 4-9:30 p.m., donates all profits to local charities and is a popular meeting spot for non-profits. Start your evening with a delicious meal and a drink while giving back to the community in the process!
Then head to Alberta Street, the place to be for hip, local flavor. Start at Alberta Street Pub, a high-end establishment with a terrace perfect for sipping a cocktail on a summer evening. Then, stop by Radio Room, an art deco-themed bar with vegan treats and seasonal cocktails.
Next Is Bye and Bye, a Southern-inspired bar with superb vegan cuisine. If it wasn't clear by now, Portland is also one of the easiest places to be a vegan tourist!
Also on Alberta Street is Alleyway Bar, which is a bit grungy in the best possible way and often hosts live music.
McMenamins Crystal Ballroom, Revolution Hall, Alladin Theater, Dante's, and Mississippi Studios are other hot spots for live music. Grab a copy of Portland Mercury to see what's happening on any given evening.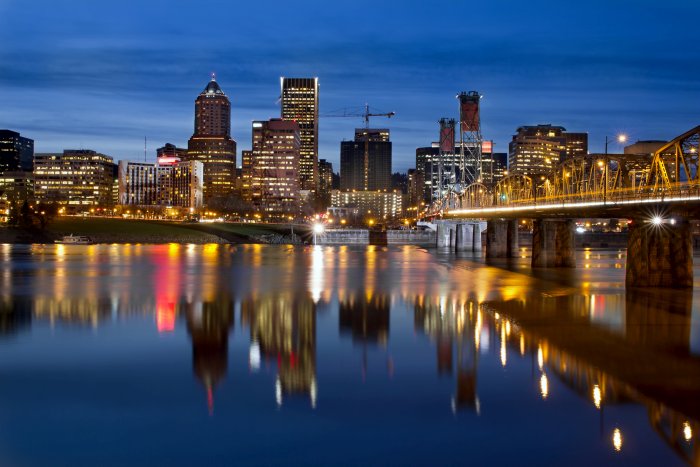 Day 2 – Food Trucks, Parks & Arcades
Check Out the Food Truck Scene
The Rose City is a foodie paradise, with a vast array of establishments from small cafes to Michelin restaurants.
For the second day of your time in Portland, grab brunch at a food cart.
Portland famously has the most strip clubs per capita of any U.S. city, about twice as many as public restrooms. But it's also home to one of the nation's biggest food truck scenes!
More than 600 food trucks throughout the city dishing up every kind of cuisine imaginable, from Korean to Ethiopian to and down-home barbecue to vegan pizza. Seriously, they have it all.
Unlike most food truck scenes, Portland's are not mobile. Instead, they are organized into stationary "pods." You can find a map of all the carts here, divided by categories to make finding your next meal a cinch.
You won't get to try them all on your weekend in Portland, but you can try at least a few throughout the day! According to locals and critics, some of the best include Yoshi's Sushi, Farmer & the Beast, Bing Mi, Matt's BBQ, and Baby Blue Woodfired Pizza.
Washington Park
Next up on your Portland weekend itinerary is a stroll through Washington Park.
This urban green space is massive, with a zoo, arboretum, amphitheater, children's museum, Japanese Garden, and International Test Rose Garden. The latter two are especially worth a visit.
The Portland Japanese Garden comprises 5.5 acres with impeccably landscaped greenery and water features, and a tea house. 
The International Test Rose Garden features more than 10,000 roses in over 650 varieties of numerous colors and styles. This is reason enough to come in summer! June is peak bloom season, but there will likely be sweet-scented blossoms in late April through early October. 
Ground Control
Want to feel like a kid again if you're spending 2 days in Portland? Head to Ground Control, the family-friendly, nostalgia-inducing vintage-meets-futuristic arcade. It's usually open from midday 'til late.
With an arcade and video games, pinball machines, and a dance mat, it's the perfect spot to spend a couple of hours on a rainy afternoon!
McMenamins
Next on your Portland itinerary, grab a bite or a drink at McMenamins.
McMenamins is a local chain of family-owned establishments, primarily hotels, restaurants, and bars, located in repurposed or rejuvenated historic buildings. Each location is unique, with distinct features reflecting the city and its history.
McMenamins Kennedy School is one of the best. Located in a former abandoned elementary school, it might sound like the stuff horror movies are made of.
But there's nothing spooky going on here unless there's a scary flick showing at the in-house movie theatre. Besides the cinema, there's also a hotel with unique rooms that evoke a sense of school-age nostalgia, a pool, a bar, and a brewery.
McMenamins Crystal Hotel, next to the Crystal Ballroom, in the Pearl District, the White Eagle Saloon & Hotel, and St. Johns Theatre & Pub are other popular McMenamins locales in Portland.
Day 3 – Day Trip from Portland
If you can spend 3 days in Portland, then there are a few great day trips you can take from the Rose city, if you'd like.
If the weather is nice, take advantage of the city's status as one of the best spots for eco-tourism in the U.S.!
If you're craving something unusual and distinctly Portland, take a short but somewhat challenging hike up to Witch's Castle. The "castle" doesn't have anything to do with witches. But the abandoned structure has had many unpleasant lives throughout the past 150 years and is said to be haunted.
A bit further afield, there are multiple spots to check out the Pacific Northwest's beauty along the Columbia River, at Multnomah Falls, Silver Falls, Hood River, or Mt. Hood.
A little further still, but so worth it, is the stunning Oregon Coast, with vast stretches of sandy, atmospheric beaches and quaint towns like Seaside and Astoria.
Where to Stay in Portland
If you're looking for a great place to stay during your weekend in Portland, you really are spoilt for choice. There are countless great places to rest your head in the Rose City and if you're looking for something great, check out these suggestions:
The Society Hotel — Situated within easy walking (or cycling!) distance of the Rose City's top attractions, this chic hotel is perfect for those looking for a great place to stay. There are a number of rooms available and also a restaurant on site. Click here to see their availability
Kimpton Riverplace Hotel — If the life of luxury is more your style for your Portland itinerary, then you can't go wrong with this great hotel. Located on the banks of the Willamette River, there are a number of plush rooms available and countless other amenities to ensure your stay is a luxurious one. Click here to see their availability
HI Portland – Northwest — For those travelling on a budget or solo, then this hostel is a great choice for you. They offer both dorm beds and private rooms and there are also some great self-catering facilities and common areas to make meeting other traveller's a breeze! Click here to see their availability
Private Rental — If you're after a bit of privacy on your trip to Portland or would rather have a more "local" feel, then a private rental is the choice for you! There are a myriad of great properties in the Rose City, like this quaint, centrally located house. Click here to find the best private rentals in Portland!
Not quite what you're looking for? Click here to browse more hotels in Portland!
Planning the perfect weekend in Portland itinerary really isn't a hard task as there are so many amazing things to do in this Pacific Northwest city.
Are you planning to visit Portland? Have any questions about this itinerary? Let us know in the comments!
Like It? Pin It!