Many travellers planning a trip to Central Europe don't have necessarily an unlimited amount of time to visit every city that might be on their wish list. This has them begging the question: "Should I visit Prague or Krakow or Budapest?"
While many people's first instinct would be to cram every destination into a short period of time, I would honestly strongly recommend against doing this. Firstly, many cities aren't as close together as you might think, and if you plan to visit a number of places within a two-week period, you will most likely be spending more of your time on a train or bus than in your destination.
And furthermore, we are both massive advocates of slow travel and believe spending a decent amount of time in one place allows travellers to gain a more broad understanding of the history and culture of where they are visiting.
To help make your decision easier, I've outlined the accessibility, things to do, cuisine, nightlife, and affordability of Budapest, Prague, and Krakow. This will help you determine which Central European city will be the best fit for your itinerary.
Prague, Czech Republic
Prague is easily the most touristed city on this list, with over 12 million people visiting the Czech Capital in 2016. This is no surprise, as Prague's Bohemian charms and imposing Gothic architecture are enough to lure anyone to this picturesque city.
The city's popularity, however, comes with its drawbacks for Central European travellers, as many of Prague's main attractions can be absolutely packed in any season and prices have corresponded to the massive increase in tourism that the city has seen in the past decade or so.
So if you're struggling to choose between Prague vs Krakow vs Budapest, this is what the Czech capital has going for it!
Accessibility
Prague is one of the westernmost cities of the former Communist Bloc and is therefore actually a lot closer to cities like Munich, Berlin, and Vienna that is from Budapest or Krakow. That being said, due to its location, Prague is very easy to reach if you're doing a trip through Western Europe and are keen to have a slight change of pace.
Daily trains from the aforementioned German and Austrian cities run multiple times per day and journeys take, on average, about 4 – 5 hours. There are a couple of direct trains per day from Budapest, including a night train, which takes about seven hours all in. There are no direct trains from Krakow, save for an overnight train where the journey time is roughly nine hours.
Prague also has an international airport, which serves most major European and international airlines.
Things To Do In Prague
The main attractions of Prague are all concentrated in its fairly small and walkable Old Town. Some of the highlights of the city are the Prague Castle, the Charles Bridge, Wenceslas Square and the Astronomical Clock, as well as a number of great museums and art galleries.
Prague is known for being incredibly walkable, but the city does also have an extensive and efficient public transportation system that can be great if you're venturing a little bit out of the Old Town. It is worth keeping in mind that, especially in high tourist season, the crowds in the Old Town can be almost unbearable and it can sometimes be near impossible to cross the Charles Bridge as a pedestrian due to the concentration of people.
It can definitely be worth trying to get off the beaten path in Prague and visiting some of the lesser touristed quarters of the city.
Cuisine
Czech cuisine is similar to that found in other Central European countries and possesses deep Slavic routes. This means that food in the Czech Republic is quite hearty and very meat-and-potatoes heavy. There are a number of places in Prague where travellers can sample authentic Czech cuisine, but I would suggest heading out of the Old Town for this, where you are more likely to find food of lesser quality at inflated prices.
Prague has a large expat community so therefore there are numerous international food options as well. You could easily spend three days in Prague, eat very well, and never touch Czech food. If that's what you're after.
I also cannot write a bit on Czech cuisine without mentioning the Czech Republic's most famous beverage, Pilsner. There are countless breweries throughout the capital churning out some of the best beer in the world. If you're a beer lover and are even debating about whether Prague or Krakow or Budapest is the right Central European city for you, then Prague is the clear winner.
Nightlife
Because Prague is home to both home to a number of university students and a number of young European backpackers so, therefore, has a nightlife to compete with that. There are a number of great nightlife options for visitors to Prague, however, there is nothing that really sets it apart from those of other European cities.
Affordability
Prague is becoming ever more popular as tourism continues to increase within the city and prices have corresponded as such. So, if you're looking for an affordable Central European destination, Prague may not be your best bet.
Food prices in Prague, especially in the more heavily visited areas, tend to mimic those of popular Western European cities. And, while there are a number of budget accommodation options in Prague, travellers are unlikely to spend less than €30 – 40 per night if they want to be centrally located.
One area where Prague does exceedingly well from a budget standpoint, however, is in booze prices. Many backpackers shamelessly laud the city solely because "beer is cheaper than water." And this is true. In fact, Prague actually has some of the cheapest booze prices in Europe so you can sip away at some fantastic Bohemian pilsner and not break the bank.
It is worth noting that prices do drop dramatically outside of the Old Town, so it is definitely possible to visit Prague even if you're travelling on a tight budget. However, if price is a major determining factor when deciding between Prague or Krakow or Budapest, the Czech capital may be the most expensive — but not by much!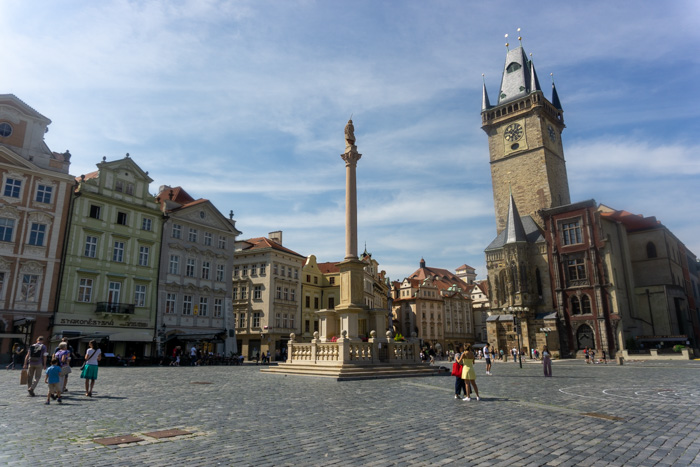 Where to Stay in Prague
Due to its popularity amongst tourists, there is no shortage of places to stay in Prague that suits any kind of budget. Here are our top recommendations to make it easier:
Hostel One Miru — a small hostel located in the Vinohrady neighbourhood of Prague, this place is very clean and cosy with an attentive and friendly staff. It is located about twenty minutes on foot from the Old Town and very close to some nice restaurants, bars, and cafes. It is also situated atop on of the best pubs in the city. Click here to check out the latest rates and reviews on Hostelworld!
Grand Hotel Bohemia — if you have a bigger budget to spend, this hotel, located in the heart of the Old Town, is a great place to base yourself in Prague. They offer a range of clean and comfortable rooms, a helpful staff, and there is breakfast included in the nightly rate! Click here to see the latest rates and reviews on Booking.Com!
Not quite what you're looking for? Click here to browse other hotels in Prague!
Krakow, Poland
Krakow is quickly becoming a highly sought-after European destination, attracting culture lovers, budget backpackers, and, most unfortunately, stag and hen parties alike. As the second-largest city in Poland, the beautiful and excellently preserved Old Town boasts one of the largest town squares in Europe and a number of important cultural and historical sites.
So if you need to choose between Krakow or Prague or Budapest for your trip to Central Europe, this is what Poland's second city has to offer!
Accessibility
Generally speaking, if you're looking to avoid long travel times or overnight buses or trains, Krakow is much easier to reach if you're arriving from elsewhere in Poland, where there are multiple direct bus and train connection per day from most major Polish cities.
If you're coming to Krakow from Budapest or Prague, there are overnight trains daily and journey time for both average about ten hours. These overnight trains can also be quite expensive, with the absolute cheapest tickets starting at about €45. There are more affordable night buses between Budapest and Krakow, where the journey time is around 7 hours. This is, however, not the most comfortable way to travel — I speak from experience.
Krakow also has an international airport that is well served by most major airlines.
Things To Do In Krakow
Krakow is quite a historically significant city and there are numerous points of interest within it. Some of the highlights include the picturesque Old Town square, Wawel Castle, the old Jewish Quater of Kazimierz, and the Oskar Schindler Factory Museum.
There are also a few day trips that are within easy reach of Krakow, including the Wieliczka Salt Mine and, more sobering, the Auschwitz-Birkenau Concentration Camp.
The main tourist attractions are all fairly accessible on foot, but the city does also have an extensive tram and bus network making it incredibly easy to get around. It is also quite a bicycle-friendly city and that can be a great way to sightsee, especially if the weather is nice.
All in all, there are lots of things to do in Poland's second-largest city and spending two or three days in Krakow is never a bad idea — which can make your choice between Krakow or Budapest or Prague all the more difficult!
Cuisine
Polish cuisine is probably most famous for one thing, pierogi. And you'll have no trouble finding these delicious Slavic dumplings in Krakow. There are a number of affordable pierogi shops that are open 24 hours per day and it is a popular late-night snack for those coming home from a night of partying.
Much like Czech cuisine, Polish food does tend to be quite meat-heavy with large additions of potatoes and cabbage. Krakow is also where the bagel was invented, and there are many bakeries and cafes where you can sample this popular breakfast item.
International food options are also plentiful, due both to Krakow's expat community and large tourist numbers.
Nightlife
Many people come to Krakow solely because of its reputation as a "party city," however, a lot of Krakow's nightlife leaves a lot to be desired. Most notably in the Old Town, bars and clubs in Krakow seem more geared toward its foreign visitors, playing generic music and exploiting drunk tourists with outrageous cover charges and overpriced and watered-down drinks.
If you want to avoid this kind of place but still want to go out, there are more options outside of the Old Town. Kazimierz has a number of more mellow underground bars and clubs that aren't as geared toward getting the seemingly infinite number of stag do's absolutely hammered.
Affordability
Krakow can be an affordable city to visit, however, it certainly isn't the "cheapest" big city to visit in Central Europe. It is incredibly backpacker-friendly, with many hostels including breakfast and dinner in their nightly costs.
It is possible to get affordable meals in the city, but if you're on a tight budget it would be more advisable to stick to street stalls or fast food. Restaurant prices, especially in the Old Town, can be on the more expensive side. Booze prices also are the most expensive of the cities covered in this article and are more akin to what one might pay in Western Europe.
Where to Stay in Krakow
Krakow is smaller than Budapest or Prague, but that doesn't mean it is lacking for choice in the accommodation department and you will surely find something that suits you. If you need some help, these are our top choices:
Mosquito Hostel — a small hostel located a stone's throw from the Old Town, Mosquito Hostel is one of the best in Krakow. They offer a delicious free breakfast and nightly social activities that are a great way to meet other travellers and really encourage you to make the most of your time in the city. They also have a friendly, local staff who can give great recommendations of things to do in the city. Click here to see the latest reviews and rates on Hostelworld!
Q Hotel Kraków — this hotel, located close to everything you might want to see in the city, is a great option if you're not keen to stay in a hostel. They have a range of comfortable and clean rooms, 24-hour staff and check-in, and breakfast is included in the room rate. Click here to read the latest reviews and prices on Booking.Com!
Not quite what you're looking for? Click here to browse other hotels in Krakow!
Budapest, Hungary
These days, Budapest seems to be on every Central European itinerary out there and it's not hard to see why. Nicknamed "The Pearl of the Danube," the Hungarian capital is one of the most visually stunning cities in the region. Divided in two by the Danube river, the tranquil and residential Buda side on the west bank can offer a nice escape from the vibrant and metropolitan Pest side to the east.
If you're wondering if the Hungarian capital is the city for you in the debate of Budapest vs Krakow vs Prague, here's what makes Budapest worth visiting!
Accessibility
Budapest is located in north-central Hungary and is easily accessible by train or bus from most major cities in the region and other smaller cities in Hungary. There are direct connections to and from Budapest to cities like Belgrade, Cluj-Napoca, Bratislava, and Vienna and also a number of overnight train and bus services (make sure to book these in advance on Omio to save money!) to cities that lie a bit farther away, like Prague or Krakow.
Budapest also has a large international airport that services a number of major airlines. It is also the hub for budget airline Wizz Air, meaning that there are frequently great flight deals to the city from elsewhere in Europe.
Due to its location and connections to other cities, Budapest is also a fantastic place to commence or end a Central or Eastern European trip. There are numerous options available as to where to go after Budapest and it is the perfect jumping-off place to explore everything that this incredible region has to offer.
Things To Do In Budapest
Those who travel to Budapest are spoilt for choice when it comes to things to do, as there are myriad points of interest for any tourist. Just some of the many highlights in Budapest include the stunning Houses of Parliament, Europe's largest synagogue on Dohány Street, the Central Market Hall, and the House of Terror Museum on the Pest side. Sites on the Buda side include Castle Hill with is numerous museums and spectacular views, Fisherman's Bastion, the Citadel, and the underground Hospital in the Rock.
Both sides of Budapest are also littered with thermal bathhouses, which have been an integral part of the city's culture since the Roman's colonized the region thousands of years ago. There are many cool and unusual things to do in Budapest and traveller's could easily spend more than a week in this vibrant city without getting bored.
Cuisine
Hungarian food is unique to that of other countries in the region, much like the Hungarian language itself. While many might associate Eastern and Central Europe with bland boiled potatoes and cabbage or cold purple soup, I can assure that this is not the case in Hungary.
Most people are familiar with goulash and chicken paprikash and notice that Hungarian food has significantly more spice and flavour than other cuisines from the region. However, because of Budapest's diverse population, there are a number of great international restaurants to try as well.
Nightlife
Nightlife in Budapest is internationally famous, most notably for its unique ruin bars. These quirky establishments generally inhabit previously abandoned buildings and can be filled with alternative art and decor. Some of the bigger ruin bars, such as the original and most famous, Szimpla Kert, span several floors and have multiple bars within the main building.
Budapest's nightlife is also quite diverse has something to offer pretty much everyone, with multiple places to go. If you like EDM and want to party until dawn, Budapest has that. But if you're after a more mellow experience and just want to have a few beers in a chilled-out setting, the city can offer that as well. Basically, travellers are spoilt for choice when it comes to Budapest's vibrant nightlife.
Affordability
One of the biggest factors in deciding where to go in Europe will definitely be the affordability of the city and luckily for those who are travelling in Central Europe on a budget, Budapest is one of the most affordable cities in the EU. It is incredibly easy to experience this wonderful city to its full potential while still maintain a tight budget.
There are myriad budget accommodation options, including numerous cool hostels and Airbnb listings. Eating out in a restaurant also can be quite affordable, given you avoid the more heavily touristed areas. Alcohol prices are also quite low compared to other large European cities, with some of the cheapest beer prices on the continent.
Where to Stay in Budapest
As mentioned earlier, there are seemingly infinite options when it comes to accommodation in Budapest in both Buda or Pest. Here are some of our top picks:
Lavender Circus Hostel — this small hostel located on the lively Pest side is a great place to base yourself if you want to be close to all of the action in the city, but still want to get a good night's sleep. The facilities are clean, the staff is friendly, and they offer both dorm beds and private rooms. Click here to see the latest rates and reviews on Hostelworld!
Butterfly Home Danube — this boutique hotel located in a great area on the Pest side is a fantastic place to rest your head while in Budapest. They offer a range of rooms that are suitable for couples and families alike and there is also breakfast included in the rate. Click here to see the rates and reviews on Booking.com!
Private rentals are another great alternative and affordable accommodation option. There are a number of great apartments to choose from such as this panoramic apartment on the Pest side of the city. Click here to browse private rentals in Budapest!
Not quite what you're looking for? Click here to browse other hotels in Budapest!
Prague or Krakow or Budapest? The Verdict
Bearing in mind all of the topics I've covered, I'm sure you're begging the question: should I visit Prague or Krakow or Budapest?
If you only had time to visit one of these cities, I would wholeheartedly recommend visiting Budapest. It has a number of interesting things to do, is incredibly budget-friendly, and can easily be visited as both a stand-alone trip or as part of a longer Central or Eastern European itinerary.
The runner-up would be Prague, mostly because it is quite accessible from some bigger Western European cities and it can be a great addition to any trip, especially to give travellers a taste of Central Europe.
Krakow is a city that, while I do believe it is worth visiting, I wouldn't recommend going out of your way to get to. It isn't all that easily accessible unless you're doing a longer trip through Poland and it isn't always that affordable either.
It can be hard to choose between Budapest, Krakow, and Prague. All three cities are definitely worth visiting in their own right, each possessing a unique history and a number of interesting things to do?
Are you struggling to choose between Prague or Krakow or Budapest? Have you been to any of these cities? Let us know in the comments!
Like It? Pin It!