There is no bad time of year to head to the charming city in northern Arizona known for its red rocks and New Age vibes, but visiting Sedona in winter can be an excellent way to beat the crowds and see a different perspective of this popular tourist spot.
Though many associate the state of Arizona with heat and arid desert temperatures, Sedona is a place that very much experiences four seasons and, therefore, there are a few considerations that need to be taken into account before planning a winter trip to Sedona.
Arizona is one of the best winter destinations in the United States, so long as you're prepared that a good portion of the state indeed experiences proper winter temperatures (and yes, even snow!).
If you're planning an Arizona itinerary and want to visit Sedona in the winter, then make sure to read this guide to get all of the information you need before you go.
Sedona Winter Weather
The first thing that you need to know before you head to Sedona in the winter is what the weather will be like. You will be forgiven for assuming that, because you will be in Arizona, the weather will be perfectly warm and sunny when visiting Sedona during the months of December through February. Unfortunately, this isn't always the case.
Sedona can get cold — it's located in Northern Arizona in the high desert, after all. However, it's worth noting that the difference between the high and low temperatures can be pretty significant. Expect the mornings and evenings to be freezing (actually). You're going to experience ice on hiking trails and a bit of frost, as well. Therefore, you need to make sure to bring a warm jacket, hat and gloves with you.
However, at the peak of the day, temperatures can actually be incredibly pleasant. While it's not necessarily "shorts and t-shirt" weather, a light sweater is probably all you may need to keep warm, especially if you're keeping active.
Keep in mind that the warmest temperatures will only last for a couple of hours, at most, so even if the high temperature looks pleasant, the hourly may still be on the colder side.
On average, expect the highs in Sedona in winter to average around 60°F (16°C) and the lows to average at about 32°F (0°C). Of course, there is some variation here so make sure to keep an eye on the weather forecasts before you go and plan accordingly.
Does it Snow in Sedona?
Many travelling to this beautiful city of red rocks wonder when does it snow in Sedona? The temperatures can certainly get low enough for a dusting of snow here and there, but don't expect heavy snow when visiting Sedona in the winter. On average, Sedona receives about 3.5 inches (about 9 centimetres) of snow each year.
However, depending on the weather forecast, you may encounter a bit of snow in the winter months and, especially if you're wandering around in the morning, you will very likely encounter a fair bit of ice, as well.
One thing to keep in mind is that snow in Sedona rarely sticks for long and doesn't tend to pile up, so there aren't a lot of considerations that need to be made in that regard. If you want to experience a more snowy climate in Arizona, make sure to head up to Flagstaff, where you will certainly experience a lot of snow.
There is no denying, however, that the red rocks of Sedona look particularly scenic under a dusting of snow.
Driving in Sedona in Winter
As we've discussed in the section above, Sedona doesn't experience very heavy snowfall during the months of December-February and you only really have to account for an average of 3-4 days of precipitation each month, so conditions aren't very bad. Therefore, when it comes to winter driving in Sedona, there isn't much weather-wise that you need to take into account.
The main roads are generally well-maintained and you aren't going to require any special tires when driving in Sedona in winter. One thing to consider is that the mornings can get icy, so just drive with a bit of vigilance and awareness before the day begins to warm up.
If you've first spent some time in Phoenix during the winter months, you will definitely notice a difference in climate when on the Phoenix to Sedona drive, however, the road conditions are quite good and there's nothing out of the ordinary that you need to be aware of when driving north.
Other than that, there are no real considerations that you need to make when driving in winter vs any other season.
If you need to rent a car for your trip to Sedona during the winter months, you can browse Rentalcars.com which aggregates deals across many major companies.
Which Month to Visit Sedona in Winter?
So now that we've covered a number of the things you need to know before heading out on a Sedona trip in the winter season, let's discuss which month would be best to visit if you happen to be travelling in the colder time of the year.
Winter temperatures in Sedona tend to span from December through February and things begin to warm up and get incredibly pleasant again come March.
As mentioned in the winter weather in Sedona section, the difference between the high temperature and the low temperature in the winter can be quite drastic and, though the high may look warm, it's worth noting that the peak temperature only lasts for an hour or two.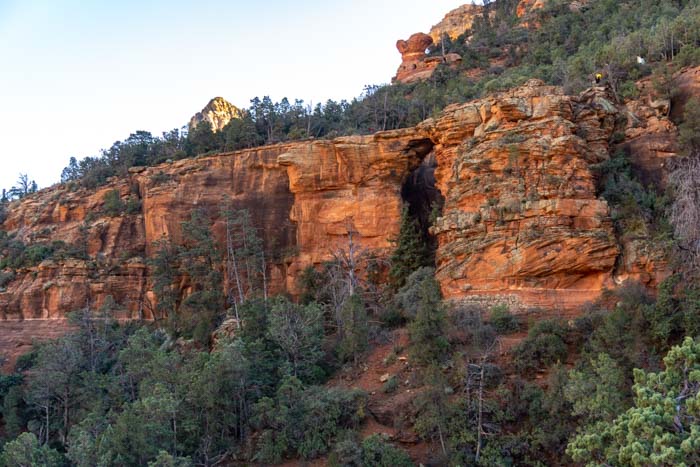 One of the most popular months for visiting Sedona in the winter is December, and understandably so. The holiday season means that the city itself is decked out in lovely decorations and it is also a time of year when many people take some time off for exploring. The average high temperature in Sedona in December is 59°F (15°C) and the average low in December is about 34°F (1°C).
Sedona in January isn't as popular to visit as in December, but you're going to get very similar weather conditions. Expect the average highs and lows to be pretty much the same in January with an average precipitation of 4 days.
If you visit Sedona in February, you're going to find the fewest visitors of all the other winter months and also some warmer average temperatures. Especially toward the end of the month, the highs can start getting warm and incredibly pleasant. The average February high in Sedona is 64°F (18°C) and the average low is 39°F (4°C). Precipitation is about the same as in December and January.
Regardless of this, every month is perfect in Sedona if you're looking for breathtaking, stunning views and incredible vistas.
Things to do in Sedona in Winter
Now that you're aware of the weather conditions and other considerations for visiting Sedona in winter, let's discuss the best things to do in Sedona in December, January or February.
In general, because Sedona isn't particularly snowy or precarious in the winter, you can do almost everything you could if you were spending a day in Sedona (or two or three!) at any other season. Whether you're after stargazing or a spa day, hiking or a hot air balloon ride, Sedona has it all – no matter the season!
Go Hiking
Obviously, one of the best things to do in Sedona in the winter would be to go hiking. There is no better way to see Sedona than on a trail directly on the red rocks and the season you do this doesn't matter. Popular trails like the Devil's Bridge Trail, the Cathedral Rock Trail or the Airport Mesa Trail are all fully accessible in the winter and very much worth doing.
One hiking trail that I would not highly recommend doing in the winter is the West Fork Trail. This trail is known to be absolutely beautiful and not all that challenging, however, it requires a number of different creek crossings.
If you head out early, it's likely the creek will be frozen over and dangerous to walk across and, even if the ice has melted later on, the water will still be absolutely freezing and it's not worth risking it in the winter.
Jeep Tour
Another great thing to do in Sedona in the winter would be to go on a Jeep tour. These are popular year-round in the town and can take you to some hard-to-reach spots that you may not feel like hiking to.
You could opt to go on an iconic Pink Jeep tour or, alternatively, this jeep tour to Mogollon Rim is an excellent choice. Horseback riding can also be an excellent option if you don't care for the noise of a Jeep.
Tlaquepaque Arts & Shopping Village
If you're visiting Sedona in December and want to go holiday shopping or simply want to pick up a few souvenirs from your trip, then make sure to head to Tlaquepaque Village.
Here you will find a range of independent shops where you can pick up something unique. There are also a few cafes and restaurants that you can pop into here to get something to warm you up and take the edge off of a cold day.
Catch the Sunset
One great thing about spending winter in Sedona is that you can catch one of its iconic sunsets without having to stay in the town later than you'd like — this is especially great for those who are visiting Sedona as a day trip or aren't staying in the town itself.
In December, the sun sets at around 5:30 PM so you can easily end your day trip here before making it back to wherever you're staying at a decent hour! Those who want to see some incredible night skies will also love this stargazing and UFO tour!
Though you can pretty much do anything in Sedona in the winter that you can in all of the other seasons, the one thing you're not going to be able to do is go swimming. Finding some natural swimming spots in Oak Creek or visiting the incredible Slide Rock State Park are some of the best things to do in Sedona, however, the water is far too cold to even consider swimming in and you risk hurting yourself if you do.
All in all, there are countless things to do in Sedona in winter that you're sure not to feel unfulfilled when visiting this iconic Arizona town!
Where to Stay in Sedona
If you've decided that you do indeed want to visit Sedona in the cold winter months, then you're going to need to find a great place to stay.
Sedona is a popular place to visit so there are a lot of accommodation options available that is sure to suit whatever kind of traveller you are. If you're wondering where to stay in Sedona, have a look at these suggestions:
Sky Ranch Lodge — An excellent luxury option for those looking for a winter escape to Sedona, this hotel is a great choice for you if your budget allows for something of a splurge. Centrally located in the midst of all of the action in Sedona, they have a range of lovely rooms available and a great bar and restaurant on site. Click here to see their availability
A Sunset Chateau — Another great choice for those looking for a bit of luxury during your winter trip to Sedona — this plush bed & breakfast is the ideal place to stay in the town. Located close to hiking trails and the shops and restaurants of the city centre, they have a number of great amenities and a great breakfast included in the room rate. Click here to see their availability
Sedona Village Lodge — If you're after a more affordable, mid-range option in pricey Sedona, then this hotel is an excellent option. Centrally located and situated within easy reach of many hiking trails, they have a range of basic, yet clean and comfortable rooms available, and they come very highly rated. Click here to see their availability
Private Vacation Rental – Opting for a private holiday rental is an excellent option for those spending a winter getaway in Sedona. There are a number of places to choose from such as this lovely private cottage near all the hiking trails. Click here to browse the best private rentals in Sedona.
Not quite what you're looking for? Click here to browse other hotels in Sedona
Visiting Sedona in the winter is one of the best seasons to head to this beautiful town of red rocks in Northern Arizona. Even if you're not lucky enough to experience Sedona's beauty under a dusting of snow, the lack of tourist crowds and mild temperatures that come in the months of December-February make visiting very much worthwhile.
Are you considering a winter trip to Sedona? Have any questions? Let us know in the comments!
Like It? Pin It!