The Phoenix to Sedona drive is incredibly scenic, with a lot of great places to stop and explore on the way there. From ancient archeological sites to wildlife to spiritual sites, there is something for everyone on the road to Sedona.
Sedona is one of the most gorgeous places to visit in Arizona. Some people say there is a mystical energy in this town surrounded by gorgeous red rock formations; they claim there are vortexes of healing energy.
An endless array of spas, retreats, wellness centers, and psychics have sprung up in Sedona to heal all that ails you. If you're planning a vacation to Arizona, this is one area you won't want to miss, especially if you are in need of some serious relaxation.
Chances are you'll be driving in from Phoenix on I-17 to get there and all of these great stops are accessible from just a short detour from the freeway.
Planning a Phoenix to Sedona Drive
I-17 north of Phoenix is generally in good condition, although it can be incredibly busy which is something to be aware of if you're visiting Sedona as a day trip from Phoenix. This is generally the same whether you're driving to Sedona in winter or summer.
This first stretch of the Phoenix to Sedona road trip is pretty much the only way to get there unless you want to take a route very far out the way. The interstate gets dangerously curvy north of Black Canyon City, so slow down and be careful through this stretch.
There aren't very many gas stations or restaurants to stop at during the first ninety miles of the trip, but once you get to Camp Verde, there are plenty of places to stop on the way to Sedona, including Cottonwood, the Village of Oak Creek and Oak Creek Canyon. While there is a shuttle service that you can book to get to Sedona from Phoenix, there are so many great places to visit along the way that you will miss out on if you go this route.
If you need to rent a car for this trip, you can browse Rentalcars.com which has deals across many major suppliers. Alternatively, check out Outdoorsy if you're after a campervan or RV for a longer road trip such as driving from Phoenix to the Grand Canyon or from Sedona to LA.
How Far is Phoenix to Sedona?
The Phoenix to Sedona drive time is just two hours, and the total distance from Phoenix to Sedona is 116 miles taking the most direct route. However, this way is often very crowded on weekends and holidays since many people who live in Phoenix drive up to Sedona for a quick weekend getaway.
Because you may get stuck in a traffic jam, check the traffic beforehand and consider going an alternate route off Highway 179 – also known as the Red Rock Scenic Byway.
At Camp Verde, you can split off to the west on Highway 219 and go through Cottonwood and then Highway 89A to get to Sedona, which should only add a few more miles and minutes to the other route.
Or you can continue on I-17 further up to Highway 179, which is a more direct way to Sedona, but this road is often jammed up with traffic on the way in, especially on the weekends. You might want to plan to pull off and stop somewhere fun in case the road is jammed to give yourself some time for it to clear.
You will want to plan for a full day's drive, or maybe even two for this trip. A great place to stop overnight is Camp Verde; there are many campgrounds and hotels in this area to choose from and it is a great location to explore many sites before you head into Sedona.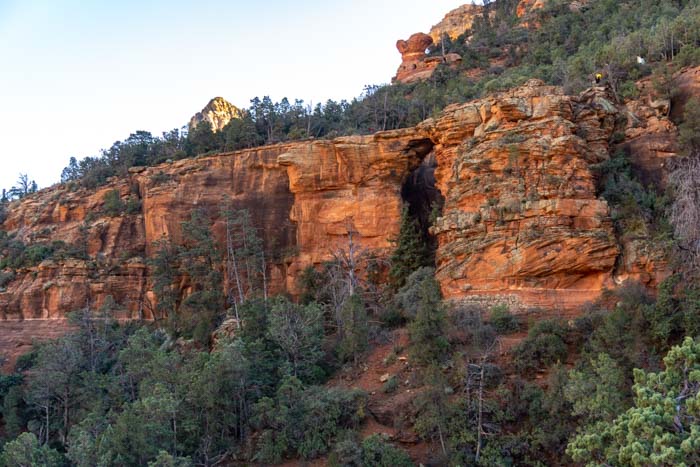 Best Phoenix to Sedona Drive Stops
Agua Fria National Monument
To the east of I-17 just north of Black Canyon City is 70,000 acres persevered by the Bureau of Land Management as Aqua Fria National Monument. Agua Fria Canyon and River run through the area along with hiking trails and hundreds of petroglyphs, ancient stone pueblos, and wildlife like bobcats, coyotes, and javelinas.
The Badger Springs Trail is a 1.5-mile hike along a creek where you can see rock formations and petroglyphs. At the Pueblo la Plata site, you can see the remains of a large ancient settlement that was once a village of almost 100 different rooms. The Tesky Home Site is the remains of the house built by Cornelius Tesky. You can still see the chimney and foundation of the home.
Take either exit 256 or exit 259 on I-17 to explore this area, which usually has few visitors. Backcountry camping and hunting are also available at Agua Fria with permits.
Arcosanti
One of the most fascinating things to see between Phoenix and Sedona, in fact, maybe in all of central Arizona is Arcosanti, a planned utopian community designed by Italian architect Paola Soleri, who was a student of Frank Lloyd Wright at Taliesin West.
He developed his own philosophy — archology (architecture and ecology) — and bought five acres in the desert to build his own experimental community using a method of architecture called earth-casting.
Today, you can tour the unusual-shaped buildings where about 100 people live and work as apprentices learning Soleri's building methods. Lectures, workshops, and concerts are also available. You can even stay overnight in one of the guest rooms on the property.
Arcosanti is famous for its hand-cast bronze and ceramic wind bells that students learn to make, and you can purchase these onsite. Take exit 263 from I-17 and follow Scenic Loop Road. Arcosanti is open every day except for major holidays.
Out of Africa Wildlife Park
On Highway 260 just west of I-17 is a great stop on your Phoenix to Sedona drive for animal lovers, the Out of Africa Wildlife Park. The park is intended to recreate the experience of an African safari.
Visitors can view hundreds of species of African and Asian mammals, birds, snakes, and more. You can take scheduled safari tours and do other activities like watching a predator feed or tiger splash, go on a zipline, and even take a wildlife photography class.
Tickets start at $39 for adults; there are various packages you can buy for activities throughout the day.
Dead Horse Ranch State Park
If you're taking Highway 260 through Cottonwood en route to the mining town of Jerome on your scenic drive from Phoenix to Sedona, stop at Dead Horse Ranch State Park.
The park got its name from the former ranch there, which was owned by the Ireys family. The story is that they let their children decide which ranch to purchase, and they wanted the one where "the dead horse was."
Despite its gruesome name, you hopefully won't see any dead horses here. The park is located along the scenic Verde River with three lagoons, over a hundred campsites with amenities, cabin rentals, and lots of hiking and horse trails, many of which are short and great for families with kids.
The lagoons are stocked with trout and catfish and are an excellent place to fish. There is also just a beautiful desert landscape to enjoy.
Tuzigoot National Monument
Right next to Dead Horse Ranch State Park is Tuzigoot National Monument, another great stop on this Phoenix to Sedona drive. If you don't have time to make these stops on your way up, you may want to consider going back down Highway 89A through Cottonwood on your Sedona to Phoenix drive.
Tuzigoot is an archeological site and museum preserving what was once a 110-room ancient pueblo built on a bluff overlooking the Verde River. You can tour the pueblo with a guide and learn about the Sinagua people who built the pueblo. Tuzigoot is one of the only pueblos you are allowed to walk inside, so you won't want to miss it.
You can also see the objects in the museum that were excavated from the site by archeologists including tools, pots, and textiles.
Montezuma's Castle National Monument
Back on I-17 off exit 289, there is another fascinating archeological site, Montezuma's Castle National Monument. If you are visiting both Tuzigoot and Montezuma's Castle within seven days, you can use your pass at both.
Walk along the short, paved trail to view Montezuma's Castle, a cliff dwelling high above you built by the Sinagua people, as well as a river view and a diorama. There is also a bookstore and museum at this site.
Further up I-17 at the next exit is Montezuma's Well, part of the same network of archeological sites. Another cliff dwelling, this one has an irrigation and a well, or actually, a sinkhole that is fed from an underground source of water that helped the Sinagua people survive here.
Beaver Creek
Take exit 298 and go east on Highway 618 to Beaver Creek Picnic and Day Use Area, a Coconino National Forest Service site. The landscape starts to change here on the drive from Phoenix to Sedona, and this is the southeastern edge of the red rocks area that has made Sedona so famous.
Beaver Creek is a popular area for hiking and picnicking, and you'll see why. The easy 3.5 trail along the creek leads you to what is known as the Crack, a gorgeous red rocks canyon area popular for swimming and hanging out by the water.
You'll want to bring your swimming suit and water shoes to explore this area and bring your lunch for a great day of hiking and adventure.
Red Rocks Visitors Center/Woods Canyon Trail
Most people drive into Sedona on Highway 179 through the Village of Oak Creek, a new development of shops and houses. You'll see the stunning landscape of the red rock formations go by on your drive – notably the gorgeous Bell Rock. And you may also get stuck in traffic on this two-lane road—it's notorious.
A great place to stop and stretch your legs is the Red Rocks Visitors Center just south of the Village of Oak Creek. Inside you can pick up all kinds of brochures about the area and view exhibits about the geology of Sedona.
The parking lot also serves as the trailhead for the Woods Canyon Trail to the east, which goes up a creek bed for a six-mile hike and is often much less crowded than other popular trails in Sedona. You can also split off from this hike to the north onto several short trails for a shorter hike.
Chapel of the Holy Cross
Further up Highway 179, you will see a stunning site built into a red rock cliff off to your right, the Chapel of the Holy Cross. This small chapel is a popular tourist destination on the scenic route from Pheonix to Sedona.
It was commissioned by a local woman and artist, Marguerite Brunswig Staude, who first had the idea to build a chapel in Hungary, but her plans were cut short by World War II.
She decided that the area south of Sedona would make a scenic site for her vision. She worked with architect August K. Strotz, who designed the modern, vertical chapel right into the cliffside. You can see how Staude was inspired by the Empire State Building and other skyscrapers in the design of this chapel. It opened in 1956.
The chapel is run by the St. John Vianney Parish and there are prayer services on Monday and a daily mass service. You can visit every day except Christmas and Easter. There is also a bookstore and gift shop in the basement. Parking is limited on the road up the hill to the chapel, you may want to park further down and walk up if you can.
Cathedral Rock Trailhead
From Highway 179, turn left on Back O Beyond Road to get to one of the most popular hiking spots when you visit Sedona. At the Cathedral Rock trailhead, there are several trails to choose from. The Cathedral Rock Trail will take you on a short, 1.2-mile but very steep hike up to Cathedral Hike, a gorgeous red rock bluff.
Or take the 4-mile Easy Breezy trail for a longer but flatter trail that is usually not as crowded as Cathedral Rock. You can also take the Baldwin to Templeton Loop, 4.5-mile a more moderate trail, to see Oak Creek and some great views of the red rocks.
Where to Stay in Sedona
Sky Ranch Lodge — An excellent luxury option among the red rocks of Sedona, then this is a great choice for you if your budget allows for something of a splurge. Centrally located in the midst of all of the action in Sedona, they have a range of lovely rooms available and a great bar and restaurant on site. Click here to see their availability
A Sunset Chateau — Another great choice for those looking for a bit of a luxury escape — this plush bed & breakfast is the ideal place to stay in Sedona. Located close to hiking trails and the shops and restaurants of the city centre, they have a number of great amenities and a great breakfast included in the room rate. Click here to see their availability
Sedona Village Lodge — If you're after a more affordable, mid-range option in pricey Sedona, then this hotel is an excellent option. Centrally located and situated within easy reach of many hiking trails, they have a range of basic, yet clean and comfortable rooms available, and they come very highly rated. Click here to see their availability
Private Vacation Rental – This is a great option in Sedona or really anywhere on the drive from Phoenix to Grand Canyon. There are a number of places to choose from such as this lovely private cottage near all the hiking trails. Click here to browse the best private rentals in Sedona.
Not quite what you're looking for? Click here to browse other hotels in Sedona
Where to Stay in Phoenix
Sonder The Monarch – Located in the heart of Old Town Scottsdale, his hip and cool hotel is the perfect place to stay in Phoenix. They have clean and comfortable rooms, a luxurious swimming pool, and are excellently located for experiencing some of the best shopping and nightlife in the Valley. Click here to see their latest prices
SureStay Hotel Phoenix Airport – If you're travelling on a tighter budget, this is a great place to stay that's situated close to downtown Phoenix. Conveniently located, this hotel has a range of clean rooms on offer, 24-hour reception, and a great breakfast included in your room rate. Click here to see their latest prices
Private Vacation Rental – If you want to stay in your own place in Phoenix, then there a number of excellent options for you such as this private cottage. Click here to see the best private rentals in Arizona!
Not quite what you're looking for? Click here to browse other hotels in Phoenix!
Stopping at some of these sites, your Phoenix to Sedona drive will already be full of beauty and adventure before you even get to Sedona. Your road trip to red rock country will be absolutely unforgettable.
Are you planning a road trip from Phoenix to Sedona? Have any questions? Let us know in the comments!
Like It? Pin It!