Whidbey Island is a gem of Puget Sound, a misty, forested haven inhabited by about as many deer as people (plus a wild, solitary elk named Bruiser). The isle, used as a setting of The Ring and Practical Magic, is equal parts charming and mysterious, with a history as varied as its population and recreational offerings. Just a short drive from the Emerald City, a Whidbey Island day trip from Seattle is a perfect weekend adventure for those who want to escape the urban hustle and take a step back in time.
How to Get to the Whidbey Island from Seattle
Seattle to Whidbey Island by Car
You don't need a car for a Whidbey Island day trip from Seattle, but it definitely makes things easier.
Getting to the island via bus from Seattle requires several changes and at least a few hours. Moreover, bus service on the island is limited, and you'll more than likely need to take a taxi at some point. There are just a few taxis serving all of South Whidbey, and you can't get an Uber or Lyft here, so it's not exactly ideal. You're much better off renting a car if you don't have one.
There are three ways to get to Whidbey Island but just one that doesn't require a ferry.
To reach Whidbey by car, go north on I-5 from Seattle through Everett to Fidalgo Island. From there, you'll take Deception Pass Bridge to Whidbey Island. In this case, the itinerary below would be reversed, as you'd be starting on the north end of the island.
If you need to rent a car for your trip, you can browse the deals available on Rentalcars.com. Alternatively, if you prefer not to drive at all, you can take this full-day tour which includes transport from Seattle and a professional guide.
Seattle to Whidbey Island by Ferry
Most people who travel to Whidbey Island do so by car and ferry. The most popular and fastest route from the Emerald City is to drive north on I-5 to Mukilteo. There, you'll catch the ferry and take a 20-minute ride to Clinton, on Whidbey's southern tip.
Alternatively, you can drive southwest from Seattle to Port Townsend near Olympic National Park. With its picturesque Victorian architecture, the charming town of Port Townsend is worth a visit on its own if you have the time. From here, you can catch the Keystone Ferry to Coupeville, on Central Whidbey Island.
On rare occasions, when the tide is exceptionally shallow, this ferry cannot operate. So, you may want to check the tide charts or call ahead of time.
Whidbey Island Day Trip Itinerary
As soon as you drive off the ferry on Whidbey Island, you'll feel the vibe. South Whidbey Island, in particular, is primarily rural, inhabited mainly by fishermen, retired Seattleites, and those who fled the mainland to set up an artisanal lavender and huckleberry chocolate shop, winery, llama farm, or off-grid artists collective. You get the idea.
North Whidbey is entirely different, so much so that locals consider Greenbank near the island's center to be a sort of Mason-Dixon Line. While Central Whidbey contains a mixture of North and South Island characteristics, North Whidbey, namely Oak Harbor, is mainly defined by its Naval Air Station and is predominantly conservative.
But the North is more than its roaring jet planes. It's also home to one of the state's most iconic landmarks: Deception Pass Bridge.
With numerous attractions dotting the island from south to north, plus a conveniently located bridge at the northern tip, heading up the highway is the easiest, most efficient way to make the most of your Whidbey Island day trip.
Here's what you won't want to miss along the way.
Mukilteo Coffee Roasters
The first stop on your Whidbey Island day trip from Seattle is Mukilteo Coffee Roasters Café in the Woods. Nestled in the forest of South Crawford Road, it's just a few minutes north of the Mukilteo ferry dock and the perfect spot to refuel and take in the ambiance of South Whidbey. 
The cozy café features an outdoor patio in summer and a colorful interior lined with murals and Led Zeppelin décor. Grab a cuppa, roasted on-site, and a farm-to-table breakfast.
Langley
Next up on your Whidbey Island itinerary is Langley, the "Village by the Sea."
Located about 30 minutes from the Clinton ferry dock, this quaint seaside town is the isle's cultural core, featuring several galleries, restaurants, cafes, shops, Whidbey Island Center for the Arts (WICA), and the historic Clyde Theatre, a 1937 cinema.
Initially established in the 1890s, since the 1970s, it has been a haven for hippies, creatives, and loud-and-proud eccentrics of all types. It's basically Whidbey Island's Portland, OR.
Stroll through idyllic downtown, lined with blossoms and sculptures, and stop into one of the numerous eateries for a coffee, ice cream, breakfast beer, or a farm-to-table lunch.
Langley is also plagued by the most adorable infestation that has ever existed: a hoard of bunnies. These aren't to be confused with the island's wild population of cute but scruffy brown rabbits. Langley's bunnies, which come in all colors from black to butterscotch, look as though they've just escaped from a nearby hutch, which is, the theory has it, precisely what happened some years ago.
Not everyone is thrilled about sharing the town, or their gardens, with the cottontails. But there's no denying they add to the town's unique charm.
Before you head out, stop by the Langley Whale Center. Whales are one of Whidbey Island's and the Pacific Northwest's greatest treasures and seeing these majestic creatures in the wild is an unforgettable experience.
Even those who've lived on Whidbey for decades will clamor to the seaside for a glimpse of one of these wondrous beings. It never gets old.
While Mystic Sea Charters operated whale charters from Langley Marina for almost 30 years, as of writing, the owners had recently retired. Fortunately, as the town's Whale Bell in Seawall Park indicates, you don't need to take to the water to spy a whale!
The Langley Whale Center downtown has a wealth of information, including maps of the best spots to see whales on and around the island and details on Puget Sound's resident orcas and migrating pods of Grey Whales, Mike Whales, and porpoises. They can also refer you to some of the current companies offering whale charters from nearby ports, like the San Juan Islands and Seattle.
Greenbank Farm
From the highway, Greenbank Farm may look like little more than a well-preserved historic red barn. But the 151-acre is one of the island's main events centers and points of pride.
It's also home to two fine art galleries, a café that serves incredible homemade pies, shops selling local wines, and various delicacies, from jams and maple syrups to cheese. This is the perfect spot to grab a snack and some more for the road.
There's also a 2.8-mile looped trail through woods and farmland with a view of the water and mountains and an adjoining off-leash dog park, as well as a demonstration garden and bird-viewing area.
Calvin Phillips built the farm in 1904 for use as a model dairy farm, but it's changed hands several times throughout the years. At one point, it was owned by the Chateau St. Michelle winery and boasted the title of largest loganberry producer in the U.S.
Then, in the 1990s, under the looming threat of being converted into a housing development, the community rallied to purchase the farm, which is now a non-profit owned by the Port of Coupeville.
Fort Casey
Once you've filled up on pie, wine, and cheese at Greenbank Farm, drive north on the highway to the next stop on your Whidbey Island day trip: Fort Casey.
Just south of Coupeville, Fort Casey Historical State Park contains the remains from an 1890s military fort. Besides the jets flying overhead, this is the first indicator of Central and North Whidbey's important role in the region's Naval operations.
The fort, designed to protect the Sound from invading ships, never saw any action. But in the 1940s, it became a training facility. On the extensive grounds, you can hike, walk through the partially underground fort, and check out the cannons and barracks. The highlight, though, is the historic lighthouse, which is now a museum open to the public.
Besides history buffs, Fort Casey is also immensely popular among kite-fliers and home to the Whidbey Island Kite Festival. When the weather's decent, you'll likely see some colorful kites fluttering about on the beach.
Ebey's Landing
Ebey's Landing Trail at Ebey's Landing National Historical Reserve is another of the island's most popular hiking spots. Located just about a 15-minute drive north of Fort Casey, the park spans a seaside bluff with sweeping views of Puget Sound, the Olympic Mountain Range, and acres of farmland dotted with historic homes.
The climb to the top of the ridge is a bit steep but brief. The trail is 5.2 miles and takes a couple of hours to complete roundtrip and passes by the Jacob and Sarah Ebey Historic House and Blockhouse, built in 1856.
The blockhouse is indicative of the conflict that arose between the area's European settlers (among whom the Ebeys were the first) and indigenous peoples, including the Skagit, who were being displaced from their land.
Coupeville
After your hike, or before if you're busing, stop into Coupeville, another of the island's idyllic historic towns and the setting of '90s movie gold, Practical Magic!
You won't see Owen's House, which was a shell of a building constructed on set. But, you will see some of the historic homes and shopfronts featured in the movie while strolling through picturesque downtown.
If you're hankering for a bite some great places to eat include Front Street Grill, and Phad Thai.  
Then, stroll to the Coupeville Wharf. The iconic pier, built in 1905, houses a coffee shop, restaurant, and gift shop and is ideal for a photo opp.
If you have time, stop by Lavender Wind Farm to stroll through dreamy fields of lavender or, for a quicker fix, head to the farm's shop near the wharf downtown.
If you're visiting in April through October, stop by the Coupeville Farmers Market for some farm-fresh goodies before you head out of town.
Deception Pass State Park
About 30 minutes north of Ebey's Landing and just outside the City of Oak Harbor lies Deception Pass State Park, an absolute must on any Whidbey Island itinerary.
The Pass got its foreboding name because Captain George Vancouver thought the island was a peninsula. However, it fits for another reason too.
The current in this waterway, which connects the Strait of Juan de Fuca with Puget Sound, is deceptively strong and unpredictable and has claimed more than a few lives over the years. Don't let that scare you off, though; just don't try rafting or kayaking the inlet alone unless you know you're stuff. 
One of Washington State's most recognizable landmarks, Deception Pass Bridge connects Whidbey with Fidalgo and is the only bridge serving the island. With an awe-inspiring vista of rugged, misty cliffs cascading into a churning sea of blue and green, it's also the best place on the island for a gorgeous sunset photo!
Don't just stop at the bridge, though. Deception Pass State Park features more than 4,000 acres, including trails winding through old-growth forests replete with lush mossy evergreens, wildflowers, copious wildlife, and miles of stunning shoreline.
If you have time, consider making a Deception Pass day trip and camping overnight! You can even take a boat or kayak tour, which is an excellent way to (safely) get a different perspective of the island, whirlpools, and bridge.
After this final stop on your day trip to Whidbey Island, you can easily take the bridge to Fidalgo Island, where you'll follow the highway to the mainland and merge back onto Interstate 5 to head back to Seattle.
Have more time?
If you have more time, some other interesting spots to consider stopping on your day trip to Whidbey Island include Double Bluff Beach, Meerkerk Gardens, Cloudstone Sculpture Park, and the Taproom at Bayview.
Anacortes on neighboring Fidalgo Island is another cute town worth a stop if you have the time. But the San Juan Islands, accessible by ferry from the Anacortes port, are particularly lovely and an ideal spot to kayak, cycle, or whale-watch!
Read More: Things To Do On Vashon Island: A Day Trip from Seattle
Where to Stay on Whidbey Island
If you've decided that you want to visit Whidbey Island as more than a day trip, then you're going to need to find a place to stay. Luckily for you, there are lots of accommodation options to choose from on this beautiful island. If you're looking for the perfect place, have a browse through these suggestions:
Anchorage Inn – This charming bed & breakfast located in Coupeville is an excellent choice for couples or those simply looking for a quaint and comfortable place to rest their heads. They have a range of plush and comfortable rooms to choose from and breakfast is included each morning. Click here to see their availability
Saratoga Inn – If the town of Langley seems more to your speed on Whidbey Island, then consider staying in this comfortable inn. They have countless clean and comfortable rooms available, a beautiful location in a stately house, and a vegetarian breakfast available every morning. Click here to see their availability
Private Rental – If you'd rather have a bit more privacy or autonomy when visiting Whidbey Island, then a private holiday rental is the best choice for you. There are a myriad of options available on the island — including this bright oceanfront cabin — and you're sure to find something that suits your fancy. Click here to browse rentals on Whidbey Island
Not quite what you're looking for? Click here to browse more Whidbey Island Hotels!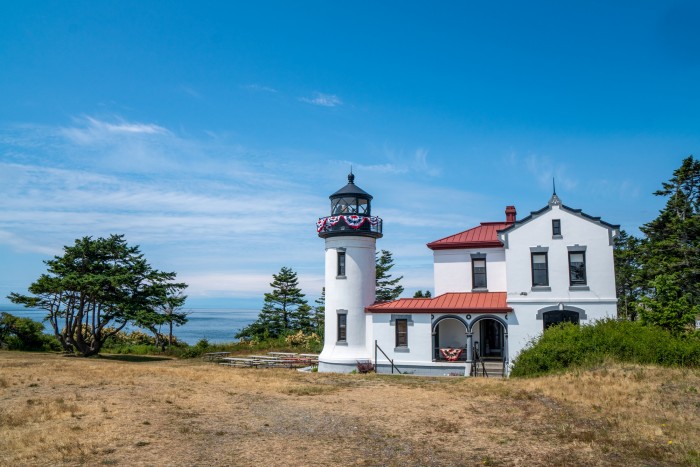 Planning a Whidbey Island day trip can be a bit of an overwhelming task when you consider all of the amazing things to do on this beautiful island. However, with the proper advance planning, you are sure to have a great time on this tranquil escape from Seattle!
Are you planning a day trip to Whidbey Island? Have you been before? Let us know in the comments!
Like It? Pin It!