In a typical year, millions of visitors from around the world flock to Arizona in winter. Affectionately known as "snowbirds," they are usually headed to Southern Arizona, which is internationally known for its sunny desert climate that can beat the winter blues.
With about 350 days of sunshine per year and winter days that have average highs in the 60s and 70s Fahrenheit (high teens to mid-20s Celsius), it can be the perfect destination in December, January, or February. Many retirees stay for months at this time of year.
Of course, the entire state is not all sunshine and cactus, so if you're looking for a more typical winter vacation, head to the northern part of the state. Flagstaff is a mountainous pine forest region popular with skiers in winter, and the national parks are open all year long. Whichever part of Arizona you're visiting, winter is a perfect time to head to the Copper State.
Winter Weather in Arizona
If you are going to Phoenix in winter, Tucson, or anywhere in the southern part of the state, your days will probably be sunny and pleasant. You likely won't even need a jacket during the day. It might rain a little bit in January—we know tourists are looking forward to the sunshine, but the desert does need every bit of rain, and it will smell like heaven.
On very rare occasions, the area might get some flurries. In winter, the desert temperature drops radically at night, often down to freezing, so do bring a coat with you for evenings and early mornings. It's typical that you'll be shedding that coat and be down to your t-shirt by noon, though.
If you want to visit the Grand Canyon or other famous natural monuments in the northern part of the state in winter, you should know that this area will be cold all day and might have snow.
Don't expect to be able to camp overnight and some areas may be closed for the season, so be sure to check ahead. Whatever part of the state you're visiting, be prepared for anything, as the temperature and weather can shift quickly.
Driving in Arizona in Winter
Driving in Southern Arizona in winter should be fairly easy. The one thing you'll need to look out for is the extra traffic from tourists and snowbirds hitting the road. You should particularly be careful on the interstates in and around Phoenix, which has one of the largest and most crowded highway systems in the country.
There is not much of a public transportation system, so driving around the city can be stressful, and you may be stuck frequently in traffic jams. Always give yourself extra time when going to an event in the area.
Driving in Northern Arizona in winter, however, can be completely different. There may be some snow to look out for, so check the weather reports before driving.
And be especially careful on roads that may be icy or if you're winding through the mountains on roads that have lots of hairpin turns. You may need chains on your tires when driving through the snow in the mountains.
If you need to rent a car for your trip to Arizona, you can browse Rentalcars.com which aggregates prices across many different car hire companies.
Which Month to Visit in Arizona?
Winter is the so-called hottest season to visit Arizona. While you may be dying to visit the state to get away from winter wherever you're from, remember that this is the most expensive and crowded time to visit Southern Arizona.
Hotel and rental car rates will be at their peak and some areas may be fully booked, especially on holiday weekends, so it's best to plan your trip well ahead and look for deals. Whichever month you choose to come, however, there will be plenty of things to do in Arizona in winter.
One advantage to visiting Arizona in December is that it can be a little cheaper and less crowded than in January or February. For many families, visiting Arizona around the holidays is a tradition since so many grandparents have flocked to the state.
There are lots of family and holiday things to do in Southern Arizona in December, minus the snow: check out the neighborhood Winterhaven Festival of Lights in Tucson and ZooLights at the Phoenix Zoo, among many other events.
There are also two destinations for skiing and traditional winter activities that are very popular with families in the state: Flagstaff's Snowbowl and Mount Lemmon Ski Valley in Tucson, although they don't always have natural snow throughout the winter.
Arizona in January and February are the peak time for festivals and national events that bring people from all over the country to visit the state.
There can be an overwhelming number of things to do at this time of year, so you can pack your schedule with activities if that's your pace, or just spend your vacation lounging by the pool in sun if you have come to relax.
January can bring a little rain to Southern Arizona, so if you want to spend every day out in the sun, it may not be the ideal time to come.
The weather will start to heat up a bit in February, especially at the end of the month, so if you want to get out and hike or have an outdoor adventure every day, Arizona in February may be the most ideal month in winter to visit.
It's also the month most jam-packed with events, so it can be a perfect time for a long vacation for active people who want to get the most out of every day.
Safety Tips for Visiting Arizona in Winter
You know it's dry in the desert, but just how dry? The humidity may get down into the low single digits in winter, and that can be really rough on your body.
If you're visiting Arizona for the first time, it may be a shock to the system. Bring eye drops, lip balm, and plenty of moisturizer for your hands and body as your skin will really feel it. Even if you are not exercising, you should hydrate all day long.
Like most western states, Arizona has lots of National Parks, National Monuments, State Parks, and federal land that is open to hiking and camping. Some of the most scenic spots are also on tribal reservations and open to the public.
Many of these areas are very remote and safety precautions must be taken if you are visiting any time of year, but especially in winter. Every year many locals and tourists alike are rescued in the mountains of Arizona because of issues like dehydration, frostbite, getting lost, or injuries on the trail.
Everyone knows how easy it is to get dehydrated in the desert in summer, and the same is true for the winter. If you are hiking in Arizona in winter, be sure you are carrying lots of water with you, more than you think is necessary. Electrolyte drinks can also help with dehydration and muscle cramps.
In the winter, you will likely need several layers of clothing throughout the day, so be sure to pack some moisture-wicking fabrics for outdoor activities as well as a good hat or two and lots of sunscreen.
Even though it may be warm during the day, the weather will get down to freezing at night in both Northern and Southern Arizona, so don't consider camping unless you are an experienced winter camper and have the right gear.
Check the weather beforehand, but know that in the mountainous areas of Arizona, snow, sleet, and rain can pop up unexpectedly during the winter months. You may also want to bring some winter hiking gear in Northern Arizona like hand warmers, hiking poles, and a heavier coat.
Don't forget to check what time the sun sets if you are on a day hike so you can be sure to calculate what time to turn back to your car.
Things to Do in Arizona in Winter
Take the Polar Express to the Grand Canyon
If you are taking your children to Arizona at Christmas, you may want to consider going on a train ride they will never forget.
The Grand Canyon Railway, a train from Williams to the South Rim, transforms every December into the Polar Express decked out with Christmas decorations and Santa roaming the aisle. You can also rent the private historic VIP car for an extra special experience.
At the South Rim, you can stay at any of the five lodges at Christmas, but you may need to book about a year in advance.
Visiting the Grand Canyon in winter can be an excellent time to go. It may be cold, but you will avoid the hordes of tourists and get to experience the beauty of the canyon at a much more peaceful time.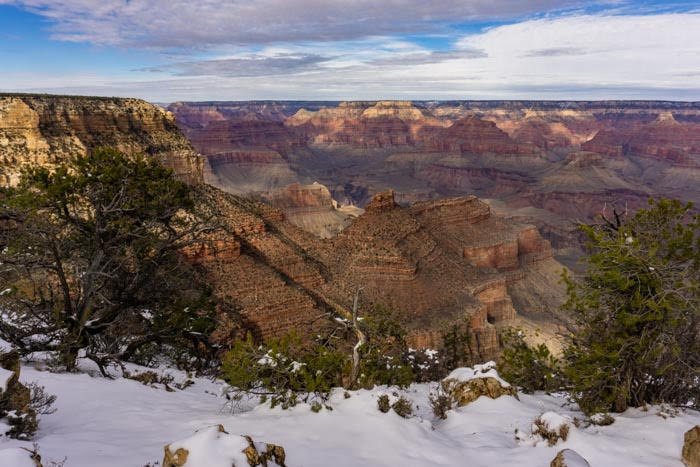 The Tucson Gem Show
Starting in January, tents go up all over Tucson for what is collectively known as the annual Tucson Gem Show. It brings hundreds of vendors from around the country and the world who sell rocks, fossils, gems, jewelry, and related crafts.
It's not just one event, but a weeks-long series of many gem shows across the city. The oldest and largest event is the Tucson Gem & Mineral Show at the convention center, which you won't want to miss.
The collectors and buyers who come to Tucson at this time of year mean serious business, so you may have to book your hotel room early and elbow your way in.
Arizona Gay Rodeo
Arizona has many rodeos throughout the year, but there is a special one in February in Phoenix that has been a tradition since 1986. At that time, gay rodeo competitors decided to start their own organization due to the harassment and exclusion in the industry.
Today, the Arizona Gay Rodeo at Corona Ranch has both gay and straight contestants competing in events like bull riding, barrel racing, team roping, and includes a drag race and dance party. It has become one of the Phoenix LGBTQ community's favorite events.
You can also make a reservation to hop on one of the many party buses to the rodeo from Charlie's Phoenix, a local gay bar.
I Heart Pluto Festival
People come from near and far to Arizona in the winter for stargazing at its many Dark Sky areas and to check out its famous observatories.
In Flagstaff in February, you can also attend a very special event at the Lowell Observatory to celebrate the anniversary of the discovery of Pluto, which occurred there in 1930.
Every year, the observatory brings together planetary scientists and astronauts for a series of lectures and activities over nine days to share with the public why this little planet in our solar system is so special.
If you are going to Arizona to do a lot of sky-gazing, the I Heart Pluto Festival is one event you won't want to miss and an especially fun one for kids who love science.
MLB Spring Training Cactus League and Innings Festival
We typically think of Major League Baseball's spring training starting in March, but pitchers and catchers report in February and the first games start on the last weekend of the month.
The Cactus League in Phoenix hosts fifteen MLB teams at ten stadiums across the region, so there are multiple games each day to pick from.
You can also kick off the opening weekend at the Innings Festival, a two-day concert in Tempe that has featured performers like the Foo Fighters, Eddie Vedder, St. Vincent, Sheryl Crow, and Band of Horses.
It also includes lots of baseball-themed activities and appearances by baseball stars at several different stages. If you or anyone in your family is a baseball fan, you may want to plan your trip to Arizona for this time of year.
With so many great events and places to visit in Arizona in winter, it's the perfect time to book a long trip and thoroughly explore the state. You might even make an annual trip and become a snowbird yourself!
Are you planning a trip to Arizona in winter? Have any questions? Let us know in the comments!
Like It? Pin It!