The Grand Canyon is one of the most visited National Parks in the country, and chances are that you will drive there from Las Vegas, a classic desert road trip. You might think the only place worth stopping is the Hoover Dam, but there are many unique places to check out on your Las Vegas to Grand Canyon road trip.
Historic Route 66 is right on this route if you get off I-40 at Kingman, Arizona. In fact, you should probably avoid the interstate altogether if you want to get the most out of this fascinating stretch of Western Americana.
Many of the stops involve a lot of outdoor activities, which should get you in the mood for your Grand Canyon adventure.
Planning a Las Vegas to Grand Canyon Road Trip
Highway 93 from Las Vegas to Kingman used to be one of the most treacherous roads in America, but recent upgrades have made it much safer. Watch out for lots of curves and slow down.
Highway 66 is only two lanes and is not as well maintained. If you want to go faster, you may want to stick to I-40.
Highway 64 from Williams to the South Rim is a two-lane road and the only way into that area from the South, unless you want to go up through Flagstaff. The large amount of traffic can slow you down and there are frequent accidents on this road in summer.
Like many areas of the West, there will be long stretches with no gas stations, rest areas, or cell service, so be sure that you fill up in cities like Boulder City and Kingman when you can.
If you need to hire your own transport for the trip from Las Vegas, Rentalcars.com has deals across all the major providers.
Alternatively, browse Outdoorsy for campervan or RV rentals which might be a great option if you continue on from the Grand Canyon to Phoenix, drive to Los Angeles from the Grand Canyon or drive north to Zion to explore Utah.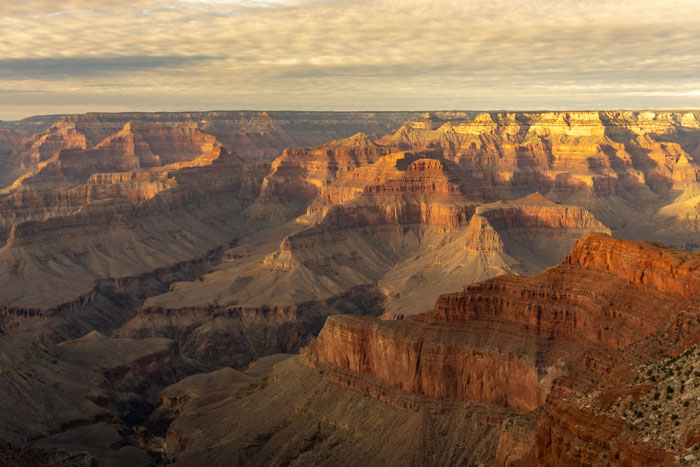 How Far is Las Vegas to Grand Canyon?
The total distance from Las Vegas to Grand Canyon National Park is about 280 miles if you take the I-40 route, just 17 miles longer if you take Route 66.
The total Las Vegas to Grand Canyon drive time is five hours without stopping, but you will want to make it at least a full day's drive, maybe two. The ideal place for an overnight stop is Kingman, which has a variety of options for hotels and campgrounds.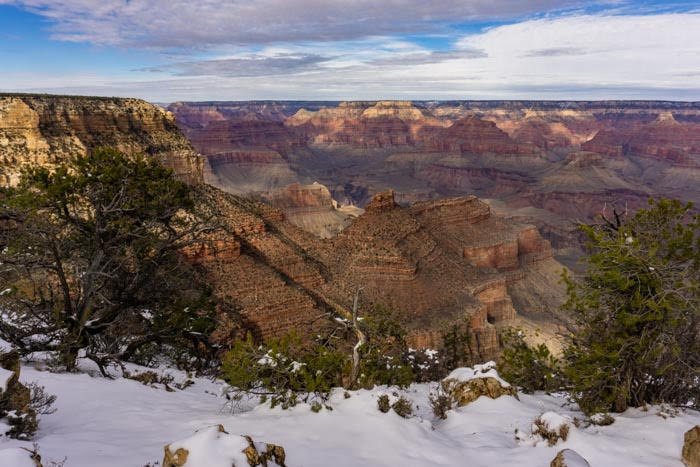 Las Vegas to Grand Canyon Stops
Sloan Canyon National Conservation Area
When starting off on your road trip, a great first place to stop is Sloan Canyon National Conservation Area, a huge swath of land south of Las Vegas. This nearly 50,000-acre area is famous for its petroglyphs and includes more than 300 separate sites to view.
The McCullough Hills Trailhead at the north end of the park, which includes spectacular volcanic flows, is just off I-11 in the city of Henderson near where you will likely be heading out of Las Vegas on your way to the Grand Canyon.
This is worth short hike, or you may want to travel around to the west side of the park to hike up Black Mountain or see the Petroglyph Canyon. Some trails allow for horses and mountain biking, so you may want to plan your route accordingly.
Railroad Pass Trails
Starting at Railroad Pass off of I-11 and north of Highway 93 to Lake Mead is an extensive network of hiking trails.
You can park at the Railroad Pass Casino and choose multiple routes from here—make it as short or as long as you like. You could even hike all the way to Lake Mead if you want. Some of these trails go through old railroad tunnels.
They also allow mountain biking and ATVs, so watch out if you are hiking. The terrain can be steep and rocky so ensure you find a route that's right for you. For an easy hike, check out the Nature Discovery Trail and Rock Garden off Highway 93.
Hoover Dam
Head up either Highway 93 or I-11 to the Hoover Dam, the most iconic stop on this road trip itinerary. This dam is one of the most famous New Deal projects and took almost five years to build. It was a symbol of technological progress in the mist of the Great Depression.
The dam was built to harness the vast power of the Colorado River and provides hydroelectric power to Arizona, Nevada, and California. When the dam was finished in 1935, it was the largest in the world. It no longer holds that record, but it is still an impressive site to see.
At the Visitor Center, you can learn about the history and science of the dam and see a 360 view of the dam and Lake Mead as well as models to help you learn about how it works.
The Hoover Dam is open every day except Thanksgiving and Christmas and charges $10 for the tour at the Visitor Center. Right now, this is the only tour available, but check the Bureau of Reclamation's website to see if the guided dam tour and the powerplant tour have started again.
There are also several private companies that offer their own tours of the dam, listed on the BOR Hoover dam website.
Lake Mead
Lake Mead is another one of the classic places to stop between Las Vegas and the Grand Canyon. It's the United States' largest reservoir and a National Park.
You've probably seen in the news that the lake is rapidly shrinking due to climate change and the lack of rainfall in the Southwest. As you drive around the lake, you can see the visible "bathtub ring," the lighter-colored rocks at the edge of the shore that mark where the waterline used to be years ago.
But despite the lowered level of water, there is still plenty of lake to enjoy. Stop at the Visitor Center, which is just north of the Hoover Dam, to check out your options of what to do on the lake.
To the west of Hoover Dam are several harbors and beaches you may want stop by — including Boulder Beach and Campground, Hemenway Fishing Pier and Campground, and the Lake Mead Marina. At Hemenway Harbor, you can rent your own boat for the day or take a cruise around the lake.
Besides boating, fishing, swimming, and camping, you can also hike around the lake and hunt in designated areas, too.
The daily entrance fee for Lake Mead is $25 per vehicle, but it will last you a week if you choose to stay longer.
Willow Beach
Continuing down Highway 93 on your drive from Las Vegas to the Grand Canyon, you'll see a scenic overlook above the Colorado River on the Arizona side.
Turn right here to head to Willow Beach, a privately owned campground and RV park right on the Colorado River, one of the longest and most important rivers in the Southwest.
You can launch your own boat at Willow Beach or rent a kayak, canoe, or pontoon boat. Further north up the river from Willow Beach, the cliffs along the river narrow for some dramatic scenery.
There is also a trout hatchery maintained by the U.S. Fish and Wildlife Service to keep the river stocked, so don't forget your fishing gear.
Arizona Route 66 Museum
Further down Highway 93, you'll come to Kingman, the largest city between Las Vegas and the Grand Canyon, and your first stop on historic Route 66.
Kingman takes a lot of pride in its Route 66 history, and you'll see it everywhere: in its Route 66-themed diners, motels, classic cars that rove the streets, and the Arizona Route 66 Museum.
The museum is run by the Mohave Pioneers Historical Society and located in the city's old Powerhouse building. You can see exhibits and a movie on the history of Route 66 here and view many classic and newer electric vehicles.
The museum is open Tuesday through Saturday from 9am to 4pm and charges $4. It also has a gift shop with lots of Route 66 memorabilia to buy.
Hualapai Mountain Park
Southeast of Kingman on 147, a little detour on the typical drive from Las Vegas to Grand Canyon, is Hualapai Mountain Park, a recreation area maintained by Mojave County and named for the Native American tribe that originally occupied the area.
There are ten miles of trails, originally built by the Civilian Conservation Corps in the 1930s, with beautiful views of Kingman and Highway 66 in the distance.
There is a campground, RV park, and cabins available for rental, and even a disc golf course. The daily use fee is $10 per vehicle. You can also eat at the restaurant or stay at the cabins of the Hualapai Mountain Resort nearby, which was also built by the Civilian Conservation Corps.
Historic Route 66
From Kingman, you can get on Route 66 to experience for yourself what this famous road is really all about (if you're in a hurry take I-40 to Williams, which parallels Route 66).
Route 66 goes through several small Arizona towns here, including Hualapai, Hackberry, Valentine, Truxton, Peach Springs, and Seligman. These are very tiny towns, some of which are just a few buildings, sprouting up in the Arizona high desert landscape.
Some travelers may not be impressed by this road, but you can really let your imagination stretch here, picturing what it was like for thousands of Dust Bowl migrants heading the other way, searching for a better life in California. Stop in Seligman to see the many Route 66 gift shops, diners, and motels.
Grand Canyon Caverns
If you are doing this trip in the summer, you will definitely need some relief from the heat. Stop at the Grand Canyon Caverns on Route 66 between Peach Springs and Yampai.
It is one of the largest dry limestone caverns in the United States, meaning that its stalactites and stalagmites don't grow anymore. But it is an enormous cave with many beautiful formations still worth exploring.
The cave was discovered by Walter Peck in 1927 when he nearly fell in it. He purchased the land around it because he thought it would be a gold mine and was sorely disappointed it wasn't. But other discoveries were yielded later, including an intact giant sloth.
There are four different tours, including a ghost tour, that range in price from $26 to $120. Grand Canyon Caverns has its own campground, RV park, and bunkhouses you can stay in, and you can even dine inside the cave. There are also hiking trails to explore nearby outside.
Bearizona
The last stop is the town of Williams, known as the "Gateway to the Grand Canyon."
You'll notice the landscape changing to pine forest and the elevation rising as you drive up the Coconino Plateau. There are lots of fun things to do in Williams, a town built on tourism, before you head to the Grand Canyon up Highway 64.
One of the more interesting options is Bearizona, a wildlife park on the east side of Williams.
For most of the tour, you'll remain in your car as you drive through park viewing (of course) several different species of bears, wolves, porcupines, bighorn sheep, bison, foxes, elk, goats and more. There are about 160 acres to drive through and 20 acres available for walking to see the animals up close.
The park is open daily from 9am to 4pm, and tickets vary in price from $30 to $35 depending on if you go on the weekend or a weekday and there are reduced prices for children. There are also two restaurants at Bearizona.
Where to Stay on a Vegas to Grand Canyon Drive
If you want to make all of these stops, you're likely going to need to find a place along the way to spend the night.
The city of Kingman is an excellent halfway point here and there are a number of accommodation options to choose from. At the Grand Canyon, there are some hotels within the National Park, however, the town of Williams makes a great base for exploring this natural area, as well.
Kingman
SpringHill Suites Kingman Route 66 – Well-located in Kingman, this hotel is a great option if you're looking to stay on the historic Route 66. They have a number of clean and comfortable rooms available that can suit anyone from solo travelers to families. It is pet-friendly and breakfast is available each morning.
Arizona Inn – If you're looking for a good, budget-friendly option in Kingman, then this motel is a great choice. They are centrally located and have a range of basic yet comfortable rooms available that are suitable for all kinds of travelers.
Private Rental – A private vacation rental is an excellent option if you're looking for a bit more privacy. There are tons of options available in Kingman, including this beautiful, centrally located house.
Not quite what you're looking for? Click here to browse more Kingman hotels!
Grand Canyon
The Lodge on Route 66 – If you'd like a bit of luxury on your trip to the Grand Canyon, then this hotel is an excellent choice. They have a number of beautifully decorated rooms available, a central location in downtown Williams and even include a buffet breakfast each morning.
El Rancho Motel – If you're on a bit of a tighter budget, then this motel in Williams is a great option. Located in downtown Williams on the historic Route 66, they have a range of basic and comfortable rooms on offer and serves as a great jumping-off point for exploring the Grand Canyon.
Private Rental – If it's a private vacation rental you are after, then you'll be happy to know there are lots of options available near the Grand Canyon. Whether you're looking for a luxury lakefront house like this one or something a bit more basic, there are lots of choices on offer.
Not quite what you're looking for? Click here to browse more Grand Canyon hotels!
Las Vegas
Bellagio — If you want to go all in for a classic "Vegas" experience, then you can't go wrong with the iconic Bellagio. Situated directly on the Las Vegas strip, they have countless beautiful rooms available and some great shows on site, as well.
Horseshoe Las Vegas — If you're traveling on a mid-range budget, then this is a great hotel choice for you. Located right on the strip, they have a number of great rooms available, restaurants and bars, a great swimming pool, an on-site casino and breakfast is included in the nightly rate.
Sin City Hostel — If you're looking to save money on accommodation when in Vegas, then this hostel is a great choice for you. They have a range of dorm beds available, an involved staff, great common areas, and social events organised most nights of the week.
Not quite what you're looking for? Click here to browse more Vegas hotels!
After stopping in Williams, you should be ready to head on up to the Grand Canyon, either by car on Highway 64, or for an extra special treat, consider taking the Grand Canyon Railway to the South Rim. Regardless of how you get there, you'll know you've already seen some incredible places in Nevada and Northern Arizona on your way there.
Are you planning to drive to the Grand Canyon from Vegas? Have any questions about these stops? Let us know in the comments!
Like It? Pin It!