If you are headed to Northern Arizona for a vacation, you will probably stay for at least a few days in either Sedona or Flagstaff. Both are fun small cities to explore and are also great bases to launch your outdoor explorations of this part of the state.
Since they are nearby each other, you can easily visit both, but you will probably want to stay in just one of these cities. Deciding on Sedona vs Flagstaff can be a challenge because they both have a lot to offer.
Although they are only 42 miles apart, these two towns could not be more different in climate, landscape, and culture. Sedona is a mecca for spiritual seekers looking for a divine experience among the red rocks the city is famous for. It is also generally much warmer.
Flagstaff is a relaxed college town in the mountains that many hikers and skiers are drawn to for its great breweries and affordability. Arizonans from the southern part of the state also flock to Flagstaff's cooler climate in the summer to get away from the heat.
In general, choose Sedona if you're looking for incredible landscapes and New Age experiences. On the other hand, choose Flagstaff if you want a mountain destination that's at a more affordable price tag.
When deciding on whether to stay in Flagstaff or Sedona, it's a tough choice, but either one of them will be a great destination. Both are packed with fun things to do for anyone looking for a great getaway in the outdoors.
Sedona
The city of Sedona has been famous for many decades for its red rock vistas that surround the city. People come from all over the world for the scenic hiking and to seek out the vortexes, which some believe are energy centers that promote healing in certain spots around Sedona.
Today, the area has boomed with large resorts and spas, upscale restaurants, and an endless array of businesses like massage therapists, yoga retreats, candle and crystal stores, psychic readers, and spiritual guides.
Lots of wealthy people have built second homes here, and that's often the type of person who vacations in Sedona. But that doesn't mean the town doesn't welcome everyone; it certainly does, and if you know where to look, you can have an affordable, great trip here.
Accessibility
You will probably want a car if you are visiting Sedona, which is about two hours drive from Phoenix, the nearest major airport with plenty of options to rent a car. There is no public transportation around the town, but you can get a shuttle to the Phoenix airport or you can book a private transfer.
However, if you are planning a trip to a resort or a retreat where you might not be getting out much, it may not be necessary to have a car. The city can be packed with traffic, especially on weekends, and parking is hard to find.
Certain areas of Sedona, which snakes along only two main roads, Highway 179 and 89A, are very walkable. If you plan to get out and hike, you will want your own car unless you have arranged for a tour with transportation out to a trailhead.
Affordability
On the whole, Sedona can be a lot more expensive than Flagstaff. Hotels and resorts can range up to over $1000 a night, although there are some that can be much more affordable at around a little over $100 a night depending on the season and day of the week.
Those can fill up fast so be sure to book your stay well in advance, especially if it's during a popular vacation time. If hotels are all booked up in Sedona, that may be your deciding factor in whether to stay in Flagstaff or Sedona.
The price of restaurants can also vary widely in Sedona, but this is where you'll want to go to splurge on a special meal.
Some of the nationally known restaurants, like Mariposa, have dramatic outdoor settings with great views, serve organic food and wine, and have top-notch service. But there are also some great affordable cafes as well like Wildflower that also serve organic and vegan options.
Things to Do in Sedona
The entire city of Sedona caters to tourists and there are lots of things to do, whether you want to just relax, find yourself, or go on an outdoor adventure.
Sedona is known as a haven for artists and has almost 100 art galleries. A cluster of them are located in the Tlaquepaque Arts and Shopping Village, a beautiful Spanish-style area you can spend a lot of time wandering around in, maybe just to browse and window shop.
The Sedona Arts Center also has its own gallery for local artists and lots of workshops if you are up for taking a class—the surrounding mountains and red rocks will definitely inspire your creativity.
You can't visit Sedona without checking out the vortexes for yourself. The Sedona Visitors Center offers a guide and map to them, so you should head out and find at least one to experience it. You can also take a small group jeep tour if you want to see a number of them.
For some other spiritual experiences, you can discuss some big-picture ideas like the meaning of life on a hike with Sedona Philosophy or attend a meditation at a vortex or out under the moon.
Don't miss the Chapel of the Holy Cross, a famous church open to tourists built right into a cliff.
Sedona is surrounded by hiking trails that wind through the red rock canyons and the wooded creeks. You can go off on your own to explore these famous wonders like Cathedral Rock or the Seven Sacred Pools.
Or you can take the guesswork out by taking a guided hike with Trail Lovers that will choose the right hike for you with a guide and also provide backpacks, lunch, water, and transportation to the trailhead for you.
You can also take a ride on an open jeep to the more difficult spots to get to with Pink Jeep Tours, the oldest jeep tour company in the country.
Some of the tours focus on areas where famous westerns were filmed, others on petroglyphs or the canyons surrounding Sedona. Be warned, the tours can be very bumpy and are not recommended for anyone with motion sickness or a fear of heights.
Where to Stay in Sedona
If you've decided to visit Sedona vs Flagstaff, then you're going to need to find a great place to stay in the Northern Arizona town. There are countless great accommodation options in Sedona to choose from that can suit most travel styles and budgets. If you're wondering where to stay, have a look at these great options:
Sky Ranch Lodge — For those looking for a luxury escape in Sedona, this hotel is a great choice for you if your budget allows for something of a splurge. Centrally located in the midst of all of the action in Sedona, they have a range of lovely rooms available and a great bar and restaurant on site. Click here to see their availability
A Sunset Chateau — A smaller more intimate luxury option in Sedona — this plush bed & breakfast is the ideal place to stay in the town. Located close to hiking trails and the shops and restaurants of the city centre, they have a number of great amenities and a great breakfast included in the room rate. Click here to see their availability
Sedona Village Lodge — If your budget doesn't account for the high-end options listed above, then this hotel is an excellent mid-range choice. Located centrally and within easy reach of many hiking trails, they have a range of basic, yet clean and comfortable rooms available, and they come very highly rated. Click here to see their availability
Private Vacation Rental – A private vacation rental is another fantastic accommodation option in Sedona. There are a number of places to choose from such as this lovely private cottage near all the hiking trails. Click here to browse the best private rentals in Sedona.
Not quite what you're looking for? Click here to browse other hotels in Sedona
Flagstaff
Flagstaff is a larger city north of Sedona that has a completely different climate up on the Mogollon Rim. In fact, you'll drive up it on your way from Sedona to Flagstaff — an incredibly scenic, dramatic route you'll never forget. Instead of the red rocks, you'll be surrounded by Ponderosa pines in Flagstaff, and be at a higher, cooler elevation.
Originally a stop on Route 66 and the Santa Fe Railroad to Los Angeles, Flagstaff has been a transportation hub for over a century. Many people stop there to fuel up on the way to the Grand Canyon. It's also a destination for astronomers because of the Fort Lowell Observatory and its Dark Skies City designation.
Flagstaff is a college town, home to Northern Arizona University, and it has the usual amenities catering to students. It has a small, charming downtown with great restaurants, coffee shops, and breweries. It's a town that prides itself on its history and proximity to the outdoors, and locals always embrace the many tourists that stop by with welcome arms.
Accessibility
Like Sedona, you won't be near a major airport, so you will probably want your own car to get to and navigate around Flagstaff.
However, you can take Amtrak there and easily walk around the compact downtown for a great carless trip (you can also take the train to the Grand Canyon). Unlike Sedona, there is a bus system in Flagstaff, and it is also a very bike-friendly city, with many bike lanes and trails.
It is getting harder to find parking in downtown Flagstaff, but it has nowhere near the traffic issues that Sedona does, due to the fact that it is much more spread out. It is also just off a major interstate, I-40. Flagstaff gets some snow in winter, so be prepared to drive in it if you are planning to visit at that time.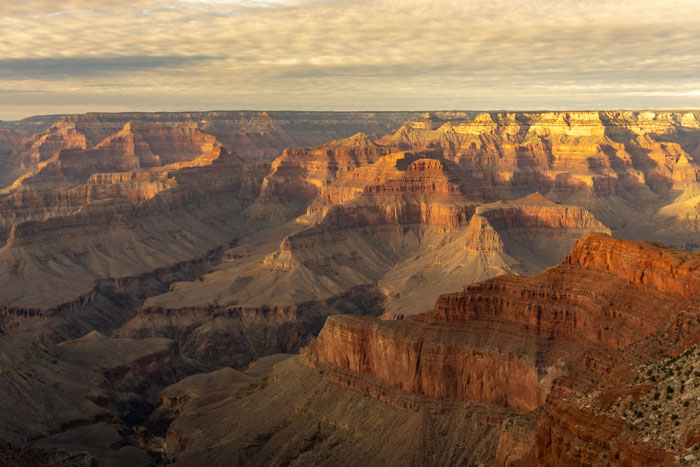 Affordability
Flagstaff can be a much more affordable trip than Sedona, and this might be your deciding factor in whether to stay overnight in Sedona vs Flagstaff since you can easily do a day trip to either city. There are more hotels here to choose from and the rates are a lot lower. Along Highway 180, which used to be Route 66, there are several cheaper old-school motels.
Flagstaff also has more close-in campgrounds and RV parks, as opposed to Sedona. The Fort Tuthill Campground, just south of Flagstaff, is a large, popular place to camp in close proximity to the interstate and several hiking trails.
Due to the fact that the restaurants in Flagstaff cater to students and hikers passing through, you'll find some good deals on food as well.
Check out the Mother Road Brewery for beer and sliders or the eclectic restaurant Toasted Owl for breakfast. Flagstaff has many options like these where you can while away the hours before or after a long hike with great food and great conversation.
Things to Do in Flagstaff
Flagstaff's Snowbowl is one of the only places to go skiing in the state of Arizona, so head up Humphreys Peak, also the tallest mountain in the state.
Even if you go in the summer, you can take a gondola ride up the mountain where you can see as far as the Grand Canyon on a clear day. There are also many hiking trails nearby on Humphreys Peak like Viet Springs and Kachina you will want to check out.
If you have kids, there are some great activities and museums in Flagstaff to explore. The Lowell Observatory, founded over a hundred years ago, is a National Historic Landmark and famous because one of its astronomers discovered Pluto.
The observatory hosts many events, tours, and camps for kids. Also check out several museums that preserve the history of the area including the Museum of Northern Arizona, the Pioneer Museum, and the Riordan Mansion.
If you have a passion for beer, Flagstaff is your town. It is known as Arizona's craft beer city and has nine local breweries located downtown. You can walk the Flagstaff Brewery Trail—print out or pick up a passport, have it stamped at five breweries of your choice, and get a free commemorative pint glass.
Since Flagstaff attracts Arizonans from all over the state in summer trying to escape the summer heat, it offers many events and festivals in the warmer months.
There is a local celebration called Hullabaloo, two beer festivals (one of them beer and blues), a rodeo, the Hopi Festival of Art and Culture, and the Highland Celtic Festival.
Flagstaff is also a great central location to stay if you are planning to visit the national parks and monuments nearby. You can easily take a day trip to the Grand Canyon or east to Petrified Forest National Park from here.
Some other fascinating sites nearby Flagstaff include the Meteor Crater National Landmark, the Sunset Crater Volcano National Monument, and Walnut Canyon National Monument.
Where to Stay in Flagstaff
If you've chosen Flagstaff vs Sedona, then you're certainly going to be looking for a great place to rest your head. There are lots of great accommodation options available in Flagstaff that you're sure to find something that meets your needs. If you're searching for the perfect place to stay in this Northern Arizona city, then have a look at these suggestions:
Little America Hotel Flagstaff — If you're looking for a luxury option in Flagstaff, then this hotel is a perfect place for you! They have a great swimming pool, an on-site restaurant and a number of great, spacious rooms to choose from. There are lots of other amenities that make this the perfect luxury place to stay. Click here to see their availability
Hotel Elev8 Flagstaff — If you're after a comfortable place to stay in Flagstaff on a mid-range budget, this hotel is a great choice. They have a great location close to the downtown area, a range of clean and comfortable rooms on offer, and a great swimming pool and sauna on site! Click here to see their availability
Private Vacation Rental – There are a number of great options for private rentals in Flagstaff such as this stunning cottage in the forest. Click here to browse other private rentals in Flagstaff.
Not quite what you're looking for? Click here to browse other hotels in Flagstaff
Sedona vs Flagstaff: The Verdict
Because of its incredible natural setting and how it caters to tourists, Sedona can be a terrific destination for a couple's trip, a solo spiritual adventure, or a group retreat.
But Flagstaff may be the better option for a big family trip due to its affordability, proximity to national parks, and laid-back scene.
When deciding to stay in Sedona or Flagstaff, it really comes down to the vibe you're seeking out: if you're desiring a mystical, almost other-worldly desert retreat, head to Sedona. If you want a chill mountain vacation, Flagstaff is your city.
Whatever you chose for your Flagstaff or Sedona vacation, you are bound to have a fantastic adventure exploring this truly unique, beautiful part of the country.
Are you wondering whether to visit Sedona or Flagstaff? Have any questions about either city? Let us know in the comments!
Like It? Pin It!