If you're considering a day trip from Madrid and only have time for one, it's likely that you're choosing between Segovia vs Toledo. Both of these lovely cities are within easy reach of the Spanish capital and have a lot to offer visitors. However, they do both offer different things and can appeal to different types of visitors.
So if you're spending a few days in Madrid and are struggling to choose between heading out to Toledo or Segovia for a day trip, then you've found the right guide. Here we will outline what each city has to offer, including the accessibility, affordability and things to do in each town so you can make an informed decision about which will suit you more!
Read on to find out whether you should plan to visit Segovia or Toledo as a day trip from Madrid!
Segovia
Located to the northwest of Madrid, Segovia is one of the most popular day trips from the Spanish capital – and for good reason.
This historic city is home to a number of incredible sites – including a grand cathedral, medieval Alcázar and, of course, a Roman aqueduct – and is an absolute joy to explore.
Accessibility
For those travelling independently, you will find that Segovia is incredibly easy to reach from Madrid. And if you're interested in going via public transport (which is how I would recommend visiting as having a car really isn't necessary in Segovia's centre), you have a couple of options.
The first and most popular option is to take the train. There is a high-speed train that connects Madrid to Segovia in under 30 minutes, which is significant when you consider that the city is located about 90 kilometres outside of the Spanish capital. You can view schedules here.
The train leaves from Madrid's Chamartín station, which is located in the north of the city. The journey time is under 30 minutes, however, the train arrives at Segovia's Guiomar station, which is located a few kilometres outside of the city centre.
Because of this, you need to hop on bus number 11 or 12 (they leave from directly outside the train station, you can't miss it). The bus takes another 20 minutes to reach the aqueduct.
The other option is to take the bus. Buses leave from Madrid's Moncloa station and let off only about five minutes from the aqueduct, so there is no need to hop on another bus to get to the city centre. The journey time is about 1.5 hours. You can view schedules here.
Once in Segovia, you will find that it is incredibly compact and easy to navigate on foot. The city is also not particularly hilly, which cannot be said for Toledo if you're struggling to choose between the two!
Affordability
Is Segovia or Toledo more expensive? If cost is a major determining factor for you when considering one of these day trips, then that is probably something that you're actively wondering about.
In general, the prices within each city for things like entry fees, food and activities are going to be roughly the same, however, there are a few things to consider.
Segovia has three major points of interest and most day trippers are going to want to enter some of these. The Roman aqueduct can be viewed free of charge, however, both the Alcázar and the cathedral charge entry fees. However, none are that steep and it's worth paying to enter if both things interest you.
You also need to consider the costs associated with travelling to or from Segovia vs Toledo. For instance, while the train tickets to both cities cost roughly the same, you also need to consider the fee for the bus between the station and the city centre in Segovia (€2 per person each way). This is not a cost associated with visiting Toledo.
However, there are fewer tourist sites with entry fees in Segovia, so it is also likely that you can end up spending a bit less. How much, though, is really up to you and where your interests lie.
All in all, both Segovia and Toledo are in line with the majority of the prices in Spain and neither is much more expensive than the other.
Things To Do In Segovia
So what kind of things are there to do in Segovia and are they of more interest to you than those in Toledo? That's a question that is very much worth answering.
On paper, Segovia has very similar things to offer to Toledo – Roman ruins, a historic Alcázar, a grand Cathedral and an old Jewish Quarter. But the cities are different places and there are still different things to see and do.
Obviously, one of the most striking landmarks of Segovia is the Roman Aqueduct. This is one of the best-preserved aqueducts of its kind in the world and it is a truly impressive structure to behold.
Another top site in Segovia is its incredible cathedral. The Segovia cathedral is much grander than the one in Toledo and it is absolutely massive. So, if you're a fan of gorgeous Gothic architecture, then make sure to head to Segovia.
Segovia is also home to a tranquil Jewish quarter, which was home to the city's sizeable Jewish population prior to their expulsion (or forced conversion) in 1492. There is a small Jewish museum here, as well, but if you're particularly interested in Spanish Jewish history, Toledo may be a better place to visit.
And finally, no visit to Segovia is complete without heading to its imposing Alcázar. Once home to the Spanish Royals in Segovia, you can tour this beautiful castle and enjoy its incredible Medieval architecture.
Day Tours from Madrid to Segovia
If you want to forgo visiting Segovia independently and would rather head on an organised tour to the city from Madrid, then there are plenty of options to choose from.
For example, this full-day tour includes a stop in the town of Ávila along with a lovely guided tour where you can enjoy all of the highlights of Segovia. You can also book this tour on Viator should you wish.
If you want transport to and from Segovia from Madrid along with a special activity, consider booking this hot air balloon ride that also includes pick-up and drop-off from Madrid.
For those who can't decide between Segovia or Toledo, then this guided day tour is a good option. It includes a morning stop in Toledo before busing you to Segovia for the afternoon. This will be rushed but can be worth it if you're short on time. It is also available on Viator.
And if you want to visit all three of the top day trips from Madrid, this full-day tour will take you to Toledo and Segovia and also includes an optional add-on to Ávila. You can also book this on Viator.
Toledo
Toledo is arguably the most popular day trip from the Spanish capital. Known as the "city of three cultures," there is a lot of history to take in in this small but bustling little city. Absolutely beautiful and packed with sites, it makes for an excellent day trip destination to explore.
Accessibility
Getting from Madrid to Toledo is even easier and quicker than getting to Segovia – mainly because the main train station is within easy walking distance from the Old Town.
The easiest way to reach Toledo from Madrid is by train. There is a high-speed train that arrives in Toledo in under 20 minutes and it leaves from Madrid's Atocha station, which is far more central than Chamartín. The main train station in Toledo is also only about a 15-minute walk from the entrance to the Old Town. You can view schedules here.
The bus is also another great way to reach Toledo. Buses take about 1-1.5 hours and are generally a bit less expensive than train tickets. The main bus station in Toledo is also about 15 minutes on foot to the city centre.
Once in Toledo, your best bet is to get around on foot. It is worth noting, however, that Toledo is an incredibly hilly city – so be prepared to add some extra time when walking between sites! It may also make it a less favourable option to those with some mobility issues.
Affordability
As mentioned in the Segovia section, it's hard to say whether Toledo or Segovia is more expensive or cheaper than the other. Prices for entry to sites, food and other things are relatively the same.
The main thing where Toledo and Segovia can differ price-wise is that Toledo does have a few more popular tourist sites that charge entry. Generally, entry into most sites is around €3 per person, however, if you visit a number of different places, this can all add up.
What Toledo has that Segovia does not, however, is a tourist bracelet that, for a flat fee, grants you access to seven different sites for the cost of entering fewer than three at full price.
Therefore, you can generally spend about the same in Segovia if you opt for this option. You can purchase the tourist bracelet here.
Things to do in Toledo
There are a lot of things to do in Toledo, arguably more than in Segovia, and you can easily be kept occupied for an entire day (or even more depending on how much interests you).
Like Segovia, you can enjoy a cathedral, Alcázar (though the one in Toledo isn't as impressive) and a historic Jewish quarter.
Toledo also has a number of museums and historic sites that are worth visiting. Take in the beautiful bridges over the Tagus River, enjoy the gorgeous city gates and just absorb the views of this incredible skyline.
There are also a number of churches and former religious sites to see in Toledo. These include (but are certainly not limited to), Mezquita de Cristo de la Luz (a former mosque that was converted to a church), the Iglesia de los Jesuitas (which also has incredible views from the bell tower) and the Sinagoga de Santa Maria Blanca in the former Jewish Quarter.
Toledo was also the home to the famed Renaissance painter El Greco. There are some churches where you can view some of his works, and you can also head to the Museo del Greco to learn more about the painter and see more of his artwork.
There is a lot to see and do in Toledo and you could spend quite a bit of time here taking everything in.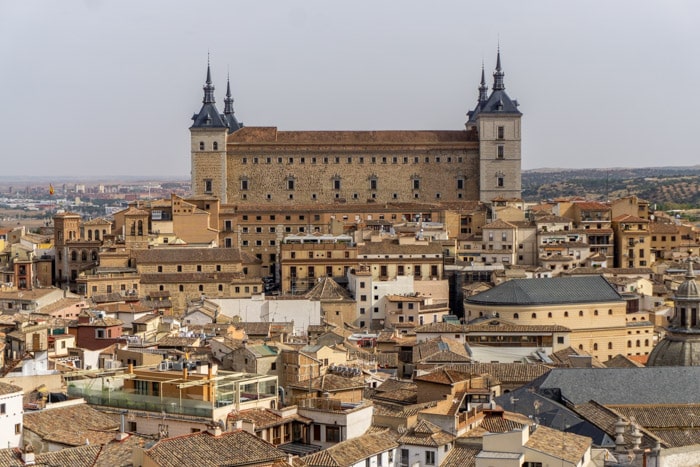 Day Tours from Madrid to Toledo
If you would rather have a guide and not deal with the hassle of train or bus timetables during your day trip to Toledo, then these guided tours are an excellent choice.
For those who simply want to have a guided walking tour and transport to and from the city, consider booking this guided day tour which is also available to book on Viator.
Another great option is this full-day tour from Madrid (also available on Viator) that not only has a guide through the city, but includes entry into a number of sites, as well.
And if you are a fan of historic cities along with wine and food, then this day tour from Madrid is the choice for you. It includes a visit to Toledo before taking you to enjoy a winery in the Castilla-La Mancha region!
Segovia vs Toledo: The Verdict
So should you visit Toledo or Segovia for your Madrid day trip? While both cities are worth visiting, they have different aspects that can appeal to various visitors.
Toledo is a great option if you want a very easy and quick day trip option. The high-speed train leaves from central Madrid and arrives close to Toledo's old town in under 30 minutes. Toledo also has a number of things to do that can keep visitors occupied for an entire day (or more, if they're interested).
Segovia is perfect for those who are interested in excellently-preserved Roman ruins. And while Toledo may be more striking from a city-skyline point of view, Segovia's actual landmarks (the cathedral, aqueduct and Alcázar specifically) are a bit more impressive. It's also slightly more compact and easier to get around on foot.
Regardless of whether you choose to visit Segovia or Toledo, you're sure to have an excellent time on your day trip from Madrid! There really is no bad decision in this equation.
Are you trying to decide between visiting Toledo vs Segovia? Have any questions about either? Let us know in the comments!
Like It? Pin It!