Between its one-of-a-kind red rock formations, breathtaking sunsets, and reputation as a spiritual haven, there's something in Sedona for everyone and planning a Sedona itinerary can be a pure joy.
Nature lovers will enjoy the countless trails offering stunning views, shoppers will enjoy the unique arts markets, and those intrigued by Sedona's long history will enjoy the ancient ruins and historic sites that dot the city. By planning a 2 to 3 days in Sedona itinerary, you can see all this and more.
Plus, the beautiful weather nearly all year long means you can enjoy everything Sedona has to offer, no matter when you plan your visit.
There are so many things to do in Sedona and this itinerary will help you figure out how to make the most of your time in this gorgeous city, from exploring some of the best hikes to discovering the secrets behind Sedona's fascinating past.
How Many Days in Sedona?
There's a reason many people emigrate to Sedona from other states; there's no end to the ways you can fill your time! That said, for those who aren't planning to move to the city, you might be wondering how many days to spend in Sedona.
2 days in Sedona will be enough to see all the major sites, do some hiking, explore the historic sites, go shopping for local art, and catch some sunsets.
That said, if you choose to spend 3 days in Sedona, you'll have a chance to get out of the city a little and explore some of the surrounding beauty.
This 2 to 3-day Sedona itinerary will help you figure out how to enjoy your visit, but who knows? Maybe you'll be the next expat to move in after they visit Sedona!
Getting To & Around Sedona
Located in northern Arizona, Sedona is about a two-hour drive from the capital city of Phoenix and about an hour drive from Flagstaff.
If you are driving to Sedona from Phoenix, there are plenty of interesting places to stop off at along the way. Because of its proximity to the Arizona capital, many treat Sedona as a day trip, however, there is plenty to see and do for 2 or 3 days. Similarly, there is a lot to keep one occupied if driving from Grand Canyon to Sedona.
If you're coming to Sedona from neighboring California on a road trip, the drive from Los Angeles to Sedona is also relatively easy with a number of interesting places to visit on the way, as well.
Sedona is a pretty easy place to get around, assuming you have a car. Not only is driving through Sedona a stunning experience, but the roads are easy to navigate. That said, the highways and the scenic drives can get really backed up, especially on weekends, so patience is a must.
If you need to rent a car for this trip you can browse Rentalcars.com which aggregates prices across a number of companies. Alternatively, check out Outdoorsy if you prefer to rent an RV or campervan.
While having a car is preferable, it's not impossible to navigate Sedona without. The Verde Lynx bus provides services from Sedona to Cottonwood and makes stops at many of Sedona's most popular destinations, including the Tlaquepaque Arts & Shopping village mentioned in this Sedona itinerary. Rides only cost $2 per person, but buses only come every hour, so plan your route ahead of time.
You can also rely on guided tours during your visit to Sedona. There are a number of options such as this half-day tour or this full-day tour that will cover a number of attractions in this itinerary.
2 to 3 Days in Sedona Itinerary
This 2 to 3-day Sedona itinerary will walk you through some of the best spots in Sedona and help you determine how to spend your time.
If you're just spending 2 days in Sedona, this itinerary will have you wandering through some of Sedona's best hikes, exploring the best historic artifacts, shopping at a local art market, and enjoying the best scenery Sedona has to offer.
For those who choose to spend 3 days in Sedona, this itinerary will offer two beloved destinations outside of the city limits to expand your trip. Either way, Sedona is a stunning place to spend a couple of days, and you're bound to enjoy every minute of it.
Day 1 – Devil's Bridge, Heritage Sites, Tlaquepaque & Airport Mesa Viewpoint
Devil's Bridge Trail
Stretch your legs and take in Sedona's beauty with the first stop of the day: the Devil's Bridge Trail. This out-and-back trail takes about an hour and 40 minutes to complete and takes you to one of the most scenic views in the city.
Not only will you be able to stand atop the red rocks and gave upon Sedona's sprawling landscape, but you can get your Instagrammable photos atop the Devil's Bridge, a rock arch that visitors like to stand upon with the endless beauty of Sedona stretching out behind you.
The hike is about 4 miles long and includes a good amount of climbing to reach the bridge, but even so, it's a fairly doable hike for anyone with a bit of hiking experience.
We recommend starting your trip with this hike not only because of the gorgeous views, but because it's best to beat the crowds and the heat when hiking in Sedona.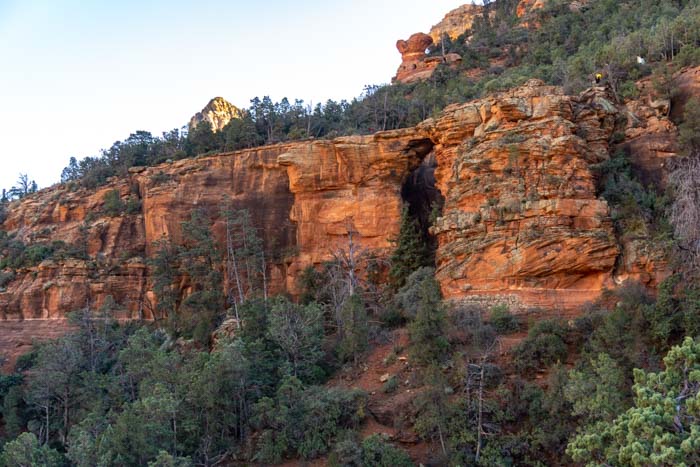 Honanki and Palatki Heritage Sites
From the Devil's Bridge Trail, a short drive outside of the city will take you to the Honanki and Palatki Heritage Sites. From 1150 to 1350 CE, these sites were home to the largest cliff dwellings in the Red Rock Country.
The sites are open every day of the week and, while there, you can see cave paintings, ruins from the old dwellings, and more gorgeous views of the city and the surrounding red rocks.
The site is managed by the US Forest Service, and there's always an on-site ranger who can provide you with a ton of interesting information about the history of the ruins.
It's highly recommended that you make reservations, since the number of visitors allowed at a time is limited to about 12. The tours themselves are free, but you will need to purchase the Red Rock Pass for entry.
Tlaquepaque Arts & Shopping Village
After you've gotten your fair share of Sedona's red rocks and ancient history, head over to Tlaquepaque Arts & Shopping Village to enjoy the more modern offerings of the city.
This sprawling outdoor shopping center features a variety of local shops, from locally crafted indigenous jewelry to local artist galleries and beyond.
Whether you're looking for small souvenirs to throw in your carry-on or pieces of art or furniture to ship back to your home, you'll find it at Tlaquepaque. Plus, there are tons of cafes and restaurants in the village, so you can take your time moving from the shops to the eateries and back again.
While you're there, make sure to check out The Chai Spot for a taste of India in the middle of Arizona. With a menu featuring multiple flavors of masala chai and a bakery display full of traditional Indian treats, The Chai Spot is the closest you can get to authentic Indian masala chai and snacks without traveling to Asia.
Airport Mesa
End the first day of your Sedona itinerary with a sunset view from Airport Mesa.
Known as "the" sunset spot in Sedona, plan to get there early to ensure you claim a good viewing spot. You can drive straight to the viewing spot via Airport Road. It's a great spot for a picnic too, so bring your dinner and show up a bit early to make the most of this Sedona must.
Those who are interested in the energy vortexes around the city will be excited to learn that the Airport Mesa is also considered to be an energy vortex.
It's a 3.5-mile hike to access to actual vortex complete with stunning views and trees with unusually twisted trunks. And if you want to hike to more of Sedona's vortexes, consider heading over to the Boynton Canyon trail or alternatively, hop on a guided tour of the vortexes.
Day 2 – Cathedral Rock, Montezuma Castle, Red Rock Scenic Byway & Bell Rock
Cathedral Rock
For day 2 of your Sedona itinerary, we're once again starting with a hike so you can enjoy the views before the crowds and hot weather make it less enjoyable.
The Cathedral Rock Trail is one of the most popular hikes in Sedona and at 1.2-miles, it only takes just over an hour to complete this out-and-back trail. This may sound easy, but the trail is still considered challenging due to the 740 feet of climbing involved.
If you're willing to brave the climb on this hiking trail, your reward will be some of the best views of the red rocks Sedona has to offer. Take your time, hydrate, and enjoy the breathtaking views from the top. If you're not much of a hiker, consider joining a half-day tour to see some more highlights of Sedona.
Montezuma Castle National Monument
After your hike, take a break as you make the 30-minute drive to Montezuma Castle National Monument. This 20-room high-rise apartment built entirely out of limestone is carved into the cliff.
These dwellings were built by the Sinagua people between CE 1100 and 1425. Today, they continue to be well-preserved and are maintained as a monument to the ingenuity and architectural skill of the indigenous people that populated the area centuries ago.
The monument is open from 8:00 AM to 4:45 PM every day of the week and costs $10 USD to enter (it's free for children under the age of 15).
About 11 miles from the Montezuma Castle, you can visit the Montezuma Well. This well has a long and storied history as an important water source in the area and is entirely free to visit.
Red Rock Scenic Byway
On your way back into the city proper, take a drive along the Red Rock Scenic Byway.
This 7.5-mile drive starts at exit 298 (off Interstate 17) and is arguably the most beautiful drive in all of Red Rock Country. The drive alone is worth your time, but many enjoy taking their time up the route to stop at some of the various attractions that dot the roadway.
Worthwhile stops on the Red Rock Scenic Byway include the Village of Oak Creek, Oak Creek Canyon, the Chapel of the Holy Cross, and Bell Rock, which we'll get to next.
The drive is easy and the roads are well maintained, but be aware that it can get pretty backed up during tourist season (meaning that the best time to visit Sedona can be outside of these times). It's still worth it, but prepare to drive slowly.
Bell Rock
Much like the Airport Mesa, Bell Rock is both a stunning spot to watch the sunset and a chance to explore another one of Sedona's energy vortexes.
This bell-shaped rock rises up with a gentle, meandering sloped trail. A few minutes of walking up the trail will bring you to a flat mesa about halfway up the rock. Find a comfortable place to get situated and enjoy the view as you wait for the sunset to stretch across the sky.
Many visitors report experiencing the energy vortex at all levels of Bell Rock, so whether you stop at this mesa or keep climbing, take some time to sit with your eyes closed and see what you feel.
If you are only spending 2 days in Sedona, Bell Rock is a great way to wrap up your time in this gorgeous city. For those planning to spend 3 days on your Sedona trip, you can consider joining a nighttime stargazing & UFO tour.
Day 3 – Red Rock State Park & Jerome
Red Rock State Park
Our 3-day Sedona itinerary consists of two distinct options: Red Rock State Park and the city of Jerome.
For those who are interested in getting up close and personal with the towering red rocks that make Sedona so unique, Red Rock State Park is a perfect choice. The park is full of trails you can hike and offers guided nature walks every day at 9am.
The park is open from 8:00am until 5:00pm most days and costs $7 USD for those above 14 (it's $4 USD for kids aged 7-13 and free for those under 7).
The Town of Jerome
If you've had enough hiking for your trip and would rather explore a cute local town, Jerome is the perfect option. The town of Jerome is home to 416 people and a ton of history.
What was once a mining town, then a ghost town, has since become a thriving hippie and artist community.
Head to the Mine Museum to learn more about Jerome's origin story, grab a bottle of wine at Caduceus Cellars, and check out the bumper-sticker-covered VW van!
Jerome State Historic Park & The Douglas Mansion
Before leaving Jerome, head over to the Jerome State Historic Park.
The main attraction of the park is the Douglas Mansion, a sprawling desert mansion that once belonged to the owner of the Little Daisy Mine, James S. Douglas.
What was once a luxurious home for the Douglas family is now a museum dedicated to the history of the area and the family that once lived there. Inside, you'll find historical exhibits featuring photographs, artifacts, and more.
If neither of these options sound particularly good to you, consider spending a day in the Verde Valley and exploring the Verde Valley wine trail!
Alternatively, you could spend more time in Sedona itself – perhaps going on some more hikes or heading out on a Pink Jeep tour!
Where to Stay in Sedona
Sky Ranch Lodge – A great mid-range hotel that has rooms suitable for couples and families. There is a bar, hot tub and swimming pool for guests to enjoy. Click here to see their latest prices
Casa Sedona Inn – A luxury option for guests looking to enjoy their time in Sedona in style! There are a range of double rooms available with an on-site restaurant and hot tub available. Click here to see their latest prices
Private Vacation Rental – There is a range of options for private rentals available in Sedona such as this peaceful cottage close to the main town. Click here to see the best private rentals in Sedona!
Sedona Village Lodge – A great budget option in Sedona that is pet-friendly and offers a range of double rooms. Click here to see their latest prices
Not quite what you're looking for? Click here to browse other hotels in Sedona!
Sedona is a beloved destination for many reasons. Not only is the natural environment truly unique, but there are plenty of ways to explore the beauty on foot or in the car. In addition, the city has done a great job of preserving its ancient history while making space for the contemporary art scene to thrive.
Whether you're looking for gorgeous hikes, intriguing history, local shopping, or a spiritual connection, you'll find it in Sedona.
Are you planning a trip to Sedona? Have any questions about this itinerary? Let us know in the comments!
Like It? Pin It!