The Sedona to Grand Canyon drive, a route between two of the most popular places to visit in the state of Arizona, is a short trip but full of some great places to stop along the way.
If you are planning to visit the state, you will want to hit up both of these amazing destinations for their incredible natural beauty.
And while it can be tempting to just visit the Grand Canyon as a day trip, it's worth taking your time and making a road trip of it as a lot of these places will be a lot less crowded than both Grand Canyon National Park or the Sedona area!
Planning a Sedona to Grand Canyon Road Trip
The drive from Sedona to the Grand Canyon will be an easy one if you are going to the South Rim. It's a short drive, and the road conditions should be good in summer, although crowded. There will be plenty of gas stations and restaurants in Flagstaff and Williams.
If you are going to head north towards the North Rim, which is a much longer drive, you'll be travelling through some stretches of desolate desert, so be sure to gas up and plan ahead for where to stop. Two places that will have some amenities are Cameron and Tuba City.
If you need to rent a car for this trip, you can browse Rentalcars.com for deals across many companies. Alternatively, you can rent an RV or campervan from Outdoorsy if combining this road trip with others in the area such as from Grand Canyon to Zion, from Sedona to Phoenix or from LA to Sedona.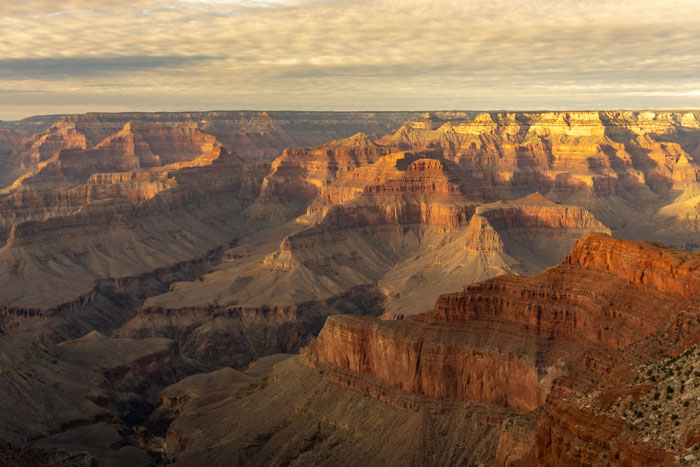 How Far is Sedona to Grand Canyon?
The distance from Sedona to the Grand Canyon is 114 miles with the total drive time being around 2 hours on the route through Williams on I-40 and Highway 64, taking you to the South Rim.
However, you can also go up Highway 89 to the eastern leg of 64 for a more scenic route, which will extend your drive time to two and a half hours.
If you are going to the North Rim, expect that drive to take four hours. Regardless of which route you take, you should plan to spend a full day on this drive if you plan to make some fun stops on the way.
You may also want to stay overnight in Flagstaff or Williams if you want to see more of those areas, or perhaps camp at Vermillion Cliffs to see more of some spectacular sites in Northern Arizona.
Best Stops Between Sedona and the Grand Canyon
Grasshopper Point Swimming & Picnic Area
Arizona can be notoriously hot in the summer when a lot of tourists are coming to see its most famous destinations, and natural water is hard to find.
You may want a fun spot to cool off on this little road trip, especially if you get a late start. Grasshopper Point, in the Coconino National Forest, is a popular spot for swimming, picnicking, and hanging out just north of Sedona on Route 89A.
The red rock cliffs make this area a cool oasis great for relaxing, so bring your picnic gear and some food, although picnic tables may be taken quickly. There are also three trails: Allen's Bend goes both north and south and connects with Casner Canyon Trail and Huckaby Trail.
To picnic or swim at Grasshopper Point, you will have to pay a day-use fee.
Slide Rock State Park
Another great swimming hole further up Route 89A is at Slide Rock State Park. In fact, this has often been named as a top-secret swimming hole on best-of lists.
This stretch of Oak Creek sits at a dramatic spot near some steep red rock formations and just north of Oak Creek Canyon. The algae on the rocks are slippery, hence the name, so you should watch out when wading through the creek.
Slide Rock State Park has some other things to do besides see the famous swimming hole, which might be packed with people. The park was originally a homestead with an apple orchard. There are several short trails that go by the orchard, a barn, farming implements, and up the cliff over the swimming area.
Slide Rock State Park is one of the most popular state parks in Arizona, so it may be difficult to get into during busy times of year. There is a fee per car to enter, and if the lot is out of spots, you are out of luck. Walk-ins are not allowed.
Flagstaff Arboretum
Down a gravel road on Route 231 just west of where I-17 and I-40 meet is the Flagstaff Arboretum, a great place to stop on a road trip.
This 200-acre arboretum has about 750 species of plants on the property, which was originally owned by Frances McAllister, who had a summer cabin there. All of the plants are native to the Colorado Plateau or are adapted to the high-desert environment.
The arboretum has tours, wildflower walks, art classes and more. There are also sometimes kids' activities and special events at certain times of year. You can always hike the walking trails on your own and visit the gardens.
Flagstaff Breweries
Flagstaff has a charming, historic downtown with many restaurants, breweries, and bars that may be just what you're looking for if you want a bite to eat or a great glass of beer on your drive.
If you have a passion for beer, don't miss stopping in Flagstaff, known as Arizona's craft beer city, because it has nine local breweries located downtown.
If you have the time and are staying overnight, you can walk the Flagstaff Brewery Trail—print out or pick up a passport, have it stamped at five breweries of your choice, and get a free commemorative pint glass.
If you only have time for one brewery, stop by Mother Road Brewing Company, named for Route 66 that goes through the town . Besides its award-winning beer, it also has terrific barbeque and sliders.
If you are not a beer drinker, there are lots of other fantastic restaurants to choose from. A favorite breakfast and lunch spot with locals is the Toasted Owl.
Grand Canyon Deer Farm
Between Flagstaff and Williams is the Grand Canyon Deer Farm, although it has a lot more than deer.
There are five species of deer including sika deer, reindeer, and coues deer, along with many other animals like wallabies, llamas, bison, porcupines, and coatimundis. Besides viewing the animals, you can feed and pet most of them.
The Grand Canyon Deer Farm is open year-round, and admission is $16. You can picnic right outside the farm, but food is not allowed inside.
For an extra-special experience for kids, the farm offers a behind-the-scenes zookeeper program for an extra charge, and there is also an interactive program for guests of all ages in order to spend more time up close with the animals.
If you have an animal lover in your family, this should be a must-see on your itinerary. History buffs may want to head east from Flagstaff rather than west to Williams. here you can find the Walnut canyon national Monument, where you can see the ancient cliff dwellings of the Sinagua people.
Route 66
Historic Route 66 goes through Flagstaff and Williams on this drive. You can cruise it when it splits off from I-44 at Parks before Williams. The city of Williams takes a lot of pride in its location on Route 66. Walk down the route through Williams' historic downtown and you'll see classic cars lined up and many historic signs outside its older businesses.
There are also lots of historic motels along the main drag that have that classic Route 66 look. Stop by Cruiser's Route 66 Café, a classic roadside diner for something to eat at an intersection famous for its Route 66 memorabilia.
In the parking lot of the Circle K across the street is a famous Route 66 mural—a great place for a photo op and to fill up.
Sunset Crater Volcano
You may not realize that you can visit a volcano on the way to the Grand Canyon, but you can do exactly that if you take the northern route past Flagstaff on Highway 89. Turn right at Loop Road to get to Sunset Crater Volcano, a National Park Site. A thousand years ago, this part of Arizona was full of active volcanoes, and you can see a well-preserved crater here.
The site has many short trails to see the crater and learn about the volcano, including Lava Flow Trail, Bonito Vista Trail, Lenox Crater Trail, and Lava's Edge Trail. You can also take a longer discovery hike with a ranger to learn more about the Bonito Lava Field.
You can picnic at Sunset Crater but there is no camping allowed. There is an admission fee per car and the site is open all year. You can also use your pass at Wupatki National Monument.
Wupatki National Monument
Further up Loop Road, which curves around back to Highway 89, is the Wupatki National Monument, where you can learn about the indigenous history of Northern Arizona. At this National Park Site is a pueblo almost a thousand years old that once had about a hundred rooms in it.
Today you can visit the ruins of this pueblo built by the Wupatki people as well as a kiva and a ballcourt. Besides the Wupatki Pueblo, you can also see other pueblos here, like the Wukoki, Citadel, Nalakihu, Lomaki, and Box Canyon Pueblos.
There are several trails in and around the pueblo and you can take a guided tour at Wupatki. Like Sunset Crater, there is an admission fee per car and it also includes admission to the other site.
From Highway 89, it is a short drive to the South Rim of the Grand Canyon by turning left on Highway 64. There are many scenic spots to pull over and view the canyon on this route as you drive along, so you may want to plan some extra time if you are taking this route.
You can also take this way back for a very scenic drive from the Grand Canyon to Sedona.
Vermillion Cliffs
If you are going to the North Rim, you'll want to stop by Vermillion Cliffs. The vast, unspoiled natural area managed by the Bureau of Land Management is a hidden gem. In fact, you may want to plan in an extra day or two to explore this area before you make it to the Grand Canyon.
You'll want to stop first at the Navajo Bridge, a great photo op right before Vermillion Cliffs, and the Cliff Dwellers Lodge for a bite to eat. If you want to try one of the serious hikes, you'll have to drive around to the Utah side of the area via Lake Page.
Coyote Butte South and Coyote Butte North require entry lotteries in order to get a permit. It's well worth it to enter so you get a chance to see the Wave, a famous swirling red and white sandstone formation.
Another site to explore in Vermillion Cliffs is Buckskin Gulch and Paria Canyon, one of the longest slot canyons in the world, which you can hike through all 15 miles of. No permit is required to hike it, making it a great Plan B for those who can't get permits to see the Wave.
There are also other shorter, spectacular hikes at Vermillion Cliffs like White Pocket and Sun Valley Mine Trail. There are several scenic views along Highway 89 to pull over and get some great shots.
Just past Vermillion Cliffs before you head south on Highway 67 to the North Rim is Jacobs's Lake. This is a great spot to fill up and get something to eat before you head into the Grand Canyon.
Where to Stay on a Sedona to Grand Canyon Drive
This drive is a short one, especially if you're visiting the South Rim of the Grand Canyon, but it can be worth it to stop for the night if you want to take advantage of some of these amazing stops along the way.
The city of Flagstaff makes for an excellent place to rest for the night before continuing onto the Grand Canyon.
Flagstaff
Little America Hotel — If you're looking for something with a bit more luxury, then this hotel is a solid option. They have a number of plush rooms available, a great restaurant on site, and a wonderful swimming pool to splash around in.
Hotel Elev8 — This hotel is a great option for those travelling on a more mid-range budget. They have a range of clean and comfortable rooms available that can suit all kinds of travelers and even have a swimming pool on site.
Not quite what you're looking for? Click here to browse other hotels in Flagstaff
Sedona
Sky Ranch Lodge — This luxury hotel is a great choice if you're looking to splash the cash in Sedona. Situated in a great, central location, they have countless wonderful, plush rooms available and countless other fine amenities to ensure you have a fantastic stay.
Sedona Village Lodge — If you're looking for a slightly more affordable option in Sedona, this hotel is a great choice. Centrally located close to all of Sedona's top attractions, they have a number of clean and comfortable rooms available. 
Private Vacation Rental – Finding a private vacation rental is a great option in Sedona or really anywhere on the drive up to the Grand Canyon. There are a number of places to choose from such as this lovely pet-friendly cottage near all the hiking trails.
Not quite what you're looking for? Click here to browse other hotels in Sedona
Whether you are going to the North Rim or the South Rim on your trip to the Grand Canyon, this scenic drive can be an incredibly memorable trip of its own.
Are you driving to the Grand Canyon from Sedona? Have any questions? Let us know in the comments!
Like It? Pin It!