There is no denying that we love travelling in Eastern Europe. And as the years progress, this underrated area of the continent is getting more and more popular with potential visitors being excited by lower prices and fewer tourist crowds. But what are the best cities in Eastern Europe to visit? Well, luckily, we've been around this area of the world enough that we thought we could weigh in.
Though we know that "Eastern Europe" is a loaded geographical term and many of these cities listed in this article are, in fact, located in Central Europe, the Balkans, or the Caucasus, we do find that using the term Eastern Europe is a great way to group all of our favourite cities together. This list is also in no particular order, nor does it include every Eastern European country — we haven't yet been to Russia, Belarus, Moldova or Ukraine so we can't weigh in on cities in those countries!
However, if you're on the hunt for the best places to visit in Eastern Europe, Central Europe, the Balkans or the Caucasus, then look no further. These 34 cities are some of the favourites we've visited throughout the years and think that you're sure to love them, too!
Tirana, Albania
Tourism in Albania has started to grow over the last decade, however, this has been heavily concentrated on Albania's Adriatic Coast, which offers spectacular beach destinations at a fraction of the cost of its geographic neighbours.
Albania's capital, Tirana, has remained one of the least visited cities in Eastern Europe with its lack of conventional tourist sites hurting its ability to attract visitors. There is an undeniable character in the city that catches many travellers off-guard when they visit Tirana. Locals are determined to shake off Albania's undeserved reputation and Tirana is simply one of the best cities in Eastern Europe to hang out in for a few days, enjoying the delicious Mediterranean and Balkan influenced food and people watching at one of the many outdoor cafes.
Berat, Albania
One of the highlights of visiting Albania is seeing Berat, known colloquially as the town of a thousand windows.
Berat is one of three UNESCO sites in Albania and has been very well preserved from the Ottoman era. The Old Town of Berat is a joy to explore, with Berat Fortress offering spectacular views over the city and the cobbled streets are delightful to walk through while exploring the small shops.
Berat is also a great Balkan city for nature lovers, with there being a range of hiking opportunities in the nearby mountains. Berat is one of the best small Balkan cities to visit and offers a unique experience of Albania not found in underrated Tirana or the beautiful Adriatic coast.
Yerevan, Armenia
Armenia's capital city, Yerevan only gets a fraction of the visitors that it deserves. Boasting wide, walkable lanes and a streetside café scene that would make even cities like Vienna jealous, if you're looking to visit Armenia or just want an alternative city break, you absolutely cannot go wrong with Yerevan.
There are lots of things to do in Yerevan that are sure to keep you occupied for a few days including scaling the incredible Cascade complex, taking in its interesting, brutalist architecture, and visiting the Armenian Genocide memorial and museum to learn more about this horrific part of Armenia's history.
If you want to explore more of Armenia, Yerevan is also the perfect jumping-off point for a number of day trips to get to know the country in more depth.
Gyumri, Armenia
Only receiving a fraction of the foreign tourists that already under-visited Yerevan gets, including Gyumri on a trip through Armenia is an excellent choice.
Though it isn't a place that you would typically expect to find on a list of the best Eastern European cities to visit, Gyumri is a fascinating place to include on any trip to Armenia. The country's second-largest city will give you a great glimpse into how life is in the country beyond the capital while also allowing you to learn a bit about Armenia's more recent history.
Gyumri was severely damaged by an earthquake in 1987 and the city is still rebuilding and recovering from it. After losing anywhere form 25,000-50,000 people, Gyumri is bouncing back from its tragic past and is really worth visiting for a day or two when in Armenia.
Baku, Azerbaijan
You can't even think of visiting Azerbaijan without planning to spend time in its grand capital city of Baku. This city is a mish-mash of a number of different things and is quite possibly one of the most eclectic and bizarre places to visit in all of Eastern Europe.
On one hand, Baku can give one the feeling that they are strolling through a grand, European city like Paris or Budapest with its wide walkways and beautiful public spaces. Venture a bit further from the city centre, and you will be greeted with ultra-modern buildings and skyscrapers that will have you thinking you're in Dubai. And on top of that, head to the UNESCO-listed walled old city to feel as if you've stepped back into the time of Persian shahs.
Baku is full of history, culture, and style and it is truly one of the most unique and interesting cities in Eastern Europe, if not the entire world.
Sarajevo, Bosnia & Herzegovina
Sarajevo is one of the most historic, dynamic, and heartbreaking cities to visit in all of Europe and it truly earns its place on this list. Sitting at the crossroads of history and cultures, Sarajevo is a truly fascinating place to visit if you're interested in learning more about the Balkans or about European politics in the 20th century.
Yes, Sarajevo is packed with history — both horrific and positive — however, it is also an incredible cultural destination with many great things to do that are sure to keep you occupied for at least a couple of days.
You can travel through so many time periods in Bosnia's dynamic capital and it has so much to offer visitors that we would strongly encourage you to take a step out of your way and make sure not to miss a visit to Sarajevo.
Mostar, Bosnia & Herzegovina
If you visit any other city in Bosnia & Herzegovina other than Sarajevo, then make sure its Mostar. This small city in the south of the country was one of the most heavily bombed areas of the Balkan Wars of the 1990s and the city still remains deeply divided today. However, it is also breathtakingly beautiful and incredibly historic and it is well worth spending a day or two to explore Mostar to its full potential.
The most iconic landmark in the city is, undoubtedly, the Stari Most, or old bridge. An Ottoman-era bridge was originally erected in the 16th century that was destroyed in a bombing in 1993. Having been completely rebuilt to its original glory in 2004, the bridge is famous for its divers, who jump the whopping 30 metres into the icy Neretva River below.
Mostar has many other interesting historical sites and great museums to visit, as well, and its compact centre means it is the ideal place to explore on foot.
Sofia, Bulgaria
Sofia is one of the oldest cities in Eastern Europe meaning it's packed with cultural and historical sites that blend in seamlessly with the contemporary parts of the city. Wandering through Sofia, it is amazing to see Byzantine-era ruins right next to a metro station where thousands of people pass each day.
The cuisine will also leave a mark when you travel to Sofia as the foodie scene is slowing starting to gain momentum in the Bulgarian capital. There is a wonderful mix of traditional local food influenced by all of its geographic neighbours as well as fantastic international food that seems to be getting more and more popular with the rise of hipsters in this city.
Plovdiv, Bulgaria
Plovdiv might be the younger brother of Bulgaria's underrated capital, Sofia, however, as the oldest continuously inhabited city in Europe, it one of the best small Balkan cities to visit with its rich history and modern culture. Aesthetically, Plovdiv is more beautiful and picturesque than Sofia, and its simple charm can be put down to the wonderful fusion of old and new that is evident throughout this small Balkan city.
As you visit Plovdiv, you will be amazed at how effortlessly ancient ruins have been incorporated into the modern city's design. A visit to Plovdiv is not complete without spending some time in the trendy neighbourhood of Kapana (which means 'the trap' in Bulgarian), with its plethora of quirky eateries and cool bars which only adds to making Plovdiv one of the best cities to visit in Eastern Europe!
Zagreb, Croatia
Croatia is one of the hottest tourist destinations in Europe, however, as people swarm to the beautiful Adriatic Coast, many skip the Croatian capital, Zagreb. There are many things to do in Zagreb including seeing majestic buildings like the National Theatre, visiting quirky museums like the Museum of Broken Relationships or sampling some of the world-famous nightlife where locals will ensure that you are dancing until the early hours of the morning.
Zagreb has the beauty of some of Europe's most well known majestic cities but without the same number of visitors, which makes this one of the best cities to visit in Eastern Europe.
Split, Croatia
While undoubtedly one of the most popular cities to visit in Croatia, Split is certainly still worth adding to any list about the best cities in Eastern Europe.
The city offers visitors a number of interesting things to do including exploring the remanents of Roman times, enjoying delicious local seafood or getting active by hiking in Marjan park.
One of the best things about visiting Split is that the city is the perfect base for exploring more of the Adriatic Coast. There are a number of great day trips from Split including Trogir, Sibenik, Omis and it's even possible to visit the majestic Plitvice Lakes as a day trip.
Pula, Croatia
The Istrian region of Croatia is blessed with many great places to visit with Pula being arguably one of the best places to stay in the region.
It boasts arguably the most impressive attraction in all of Istria, with the famous Pula Arena being an excellently preserved Roman colosseum. There are also a number of interest museums to visit including the Museum of Olive Oil and Zerostrasse which are a series of tunnels underneath the city.
Staying in Pula will also allow you to explore a lot of Istria, whether it be visiting other beautiful cities like Rovinj or stunning mountain towns like Motovun & Groznjan or even taking a ferry to the nearby Brijuni Islands.
Olomouc, Czechia
Olomouc offers travellers an opportunity to see a beautiful historic Old Town in the Czech Republic with a fraction of the tourists that exist in Prague.
Olomouc is a great city to visit with no agenda as you'll undoubtedly whittle a few hours away in the open squares or Turkish tea houses as well as enjoying the cheap local and international food available.
The city is also surrounded by parks and lovely Botanic Gardens for enjoying the sun on a clear day, while there are also a number of historical sites such as a Cold War Bunker to explore if you're feeling more active.
Tallinn, Estonia
If this was a list of the most beautiful places in Eastern Europe, then Tallinn would easily make the top of that list. Estonia's capital looks like something out of a fairy tale, with a beautiful medieval Old Town and incredible charms on the Baltic Sea.
Many people only visit Tallinn as a day trip from Helsinki or as a stopover on a Baltic cruise, but we would encourage you to spend at least three days in the Estonian capital because the city just has so much to offer beyond the old town. There is the trendy Teleskivi Creative City, the hip and charming Kalamaja neighbourhood, the fantastic Balti Jaama Turg market, the Seaplane Harbour Museum and so much more.
Tallinn is also the perfect destination for those who are interested in learning about the former Soviet Union or seeing some abandoned Soviet relics. There is also a burgeoning food scene and the craft beer industry is one of the best in the world.
Tartu, Estonia
When so very few visitors to Estonia fail to spend more than a day trip exploring Tallinn, even fewer take the time to head a bit further inland to the country's second-largest city of Tartu. This is a real shame and Tartu is an incredibly charming and refreshingly hip city that is very much worth visiting.
Boasting a cute and compact old town, you could easily spend one day exploring the sites around that area and another taking in the alternative sights in the trendy Karlova neighbourhood and the repurposed Soviet widget factory.
Tartu is quaint and compact and somehow, ultra-cool, as well, and it is an essential stop on any trip through Estonia.
Tbilisi, Georgia
No list of the best cities in Eastern Europe would be complete without including the bustling, dynamic, and eclectic capital of Georgia: Tbilisi. There is a chance we are biased about how amazing this city is as we've made it our home, but there is no denying that Tbilisi has a certain magic to it that is sure to charm all who visit.
There are countless things to do in Tbilisi that can keep you occupied for a number of days, however, you can get a good feel for the city in around two or three full days. Take the time to wander through the old town, take the cable car up to the Narikala fortress, stroll around the lush botanical garden, explore the street art and trendy vibes of Marjanishvili, and browse for unique souvenirs at the Dry Bridge market.
Tbilisi also has one of the best restaurant scenes in the world, with Georgian cuisine being absolutely delicious. Make sure to check out Tbilisi's fantastic restaurants and world-class wine bars while visiting, as well.
Kutaisi, Georgia
While Tbilisi is undoubtedly the most famous city to visit in Georgia, no trip to the country is complete without spending at least a few days in the country's third-largest city – Kutaisi.
Kutaisi boasts having one of the best markets in all of Georgia with the local Green Bazaar housing multiple vendors selling all types of food from delicious local snacks like churchkhela to daily staples like fruit, meat and cheese.
There are a number of historical sites in the city itself with landmarks like Bagrati Cathedral and the Colchis Fountain worth visiting. Kutaisi also makes an excellent base to explore the Imereti region of Georgia which makes it one of the best offbeat cities to visit in Eastern Europe.
Sighnaghi, Georgia
If you want to visit somewhere small and absolutely charming that is within super-easy reach of Tbilisi, then you absolutely cannot go wrong with Sighnaghi. This small, walled, hill town in the beautiful Kakheti region of eastern Georgia is commonly referred to as the "city of love" and it is one of Georgia's most beautiful towns.
Situated in the heart of Georgia's top wine-producing region, this is also the perfect place to visit if you want to tour some wineries and cellars and learn more about how traditional Georgian wine is made. You will even find a number of family-owned cellars within the walls of Sighnaghi itself where you can sample homemade wine fresh from the qvevri.
Sighnaghi also has some of the best restaurants in all of Georgia, so it's also one of the best places to visit for an all-around fantastic gastronomic experience in the Caucasus.
Budapest, Hungary
No list of the best cities in Eastern Europe would be complete without the Hungarian capital of Budapest. Filled with incredible history, some of the best nightlife in all of Europe and amazing attractions there is certainly something from everyone to enjoy in Budapest.
Spend your days in Budapest soaking in some of the city's famous thermal baths, exploring Buda Castle, getting lost in the Jewish Quarter or learning more about the history of the city on one of the many tours available. Make sure to also not miss the city's famous ruin bars which make for a unique night out not possible anywhere else in the world!
Pécs, Hungary
If you want to experience a different side of Hungary, it's worth exploring Pécs – Hungary's undiscovered gem. Pécs is a student town, located a three-hour train ride from Budapest and offers travellers an opportunity to experience a side of Hungarian culture that can sometimes feel missing in the thriving metropolis of Budapest.
There are more than enough things to do in Pécs to keep you occupied for a few days including exploring the Old Town, hiking to the nearby TV Tower, enjoying an affordable set menu lunch and relaxing in one of the many student cafes and bars.
Prizren, Kosovo
Prizren is one of the best smaller cities to visit in Eastern Europe with its beautiful Ottoman-influenced architecture making it an absolute delight to wander through the streets of the Old Town.
You will encounter few other tourists when you visit Prizren which makes this a great city for relaxing with a coffee or beer in one of the many outdoor restaurants and getting swallowed up by the slow pace of life here. A visit to Prizren is a must to experience a side of the Balkans that you simply don't get if you stay in the larger cities.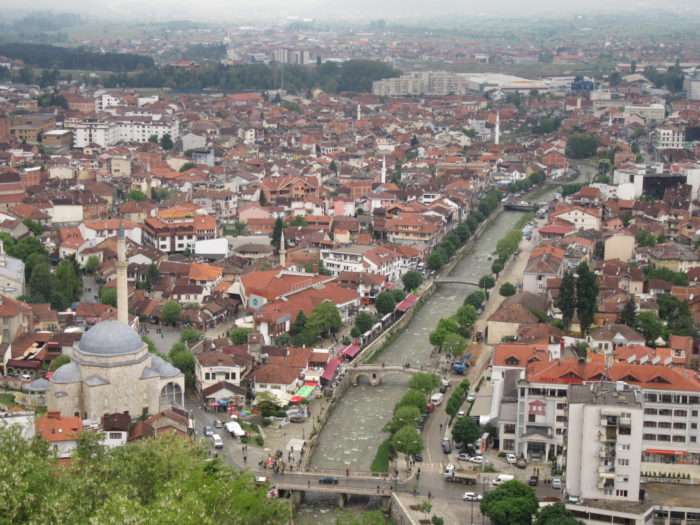 Riga, Latvia
Riga is one of the best cities to visit in Eastern Europe for travellers looking to explore the region for the first time. Not only does the ease of travelling here (along with the rest of the Baltics!) compare with most places in Western Europe but there is simply so much to do in Riga!
You can spend your days exploring the medieval Old Town, the Art-Noveau city centre, eat your way through the Central Market (one of the largest in Europe!) or learn more about Latvia's history in places such as the Museum of Occupation of Latvia or the Ethnographic Open-Air Museum. It's also worth taking a day trip to nearby Jurmala if you fancy a day on a Baltic beach!
Liepaja, Latvia
All three Baltic nations have the unfortunate problem of tourists flocking to their capital cities and ignoring the towns that lie outside of them, and Latvia is no different. While Riga is gaining in popularity as an affordable city break destination, very few people take the time to venture outside of the capital to see what more Latvia has to offer. However, if you find yourself eager to explore more of this underrated Baltic country, then make sure to head to Liepaja.
As Latvia's third-largest city, Liepaja lies on the Baltic coast a few hours southwest of Riga. It is a great destination year-round and offers a number of fun things to do, however, it is best known for its expansive white sand beach making it the perfect summer destination. In fact, it may well be one of the best beaches in Europe.
So, if you're looking for an alternative seaside destination in Europe, please consider visiting Liepaja — you won't be sorry!
Vilnius, Lithuania
Subject to some aggressive and controversial marketing campaigns, Lithuania's capital of Vilnius is trying to bill itself as the ultimate alternative city break in Europe — and it's not wrong to do so. Vilnius is an absolutely charming and interesting city to visit and it has a lot to offer visitors.
Boasting one of the largest old towns in Europe and even its own "independent republic," Vilnius is a unique and eclectic place to visit and it is well worth including on any list of the best cities in Eastern Europe.
There are countless historic sites to visit, cool cafes to hang out in, and an incredible, hyper-localised food scene to explore along with a burgeoning craft beer culture as well. All in all, you can't go wrong with a visit to Vilnius.
Kaunas, Lithuania
Lithuania's second-largest city, Kaunas gets none of the recognition that it deserves, however, it is a cool and edgy alternative city to visit in Eastern Europe and you are sure to enjoy yourself if you spend one or two days exploring this Lithuanian city.
Home to a fantastic street art scene, a great cafe culture, some world-class restaurants, and one of Europe's longest pedestrianised streets, Kaunas has something to offer everyone and you're sure to enjoy any time spent here. There are a number of interesting museums to visit if you're keen to learn more about the city's history or you can go back in time while touring the medieval Kaunas castle.
If you do one thing, make sure to head to the Sugihara Hosue museum to learn about the man who is known as the "Japanese Schindler." Chiune Sugihara was a Japanese diplomat in Kaunas during WWII and signed countless transit visas that ended up saving thousands of Lithuanian Jews from the Nazis.
All in all, Kaunas is a fantastic destination to visit in Lithuania and be sure to consider a stopover in this charming and artistic city.
Klaipeda, Lithuania
Lithuania has a lot to offer visitors beyond its capital of Vilnius and if you want to explore more of the country, then you can't miss a visit to its third-largest city of Klaipeda. Often looked at as the jumping-off point for the incredible Curonian Spit, Klaipeda itself is also well worth exploring.
An important and historic ice-free port on the Baltic, Klaipeda has a vast and interesting history that is worth learning about. The old town is instantly charming and there are a number of small, locally run museums to visit and some great restaurants and cafes.
There are some great beaches to visit, as well, and it is the perfect place to base yourself if you're interesting is exploring the wild nature and sand dunes of the beautiful Curonian Spit. So if you want to visit a charming small city in Lithuania and are looking for one of the best places to travel in Eastern Europe, please consider heading to Klaipeda.
Kotor, Montenegro
Arguably, one of the best places to visit in Montenegro, Kotor is a UNESCO historical site with plenty to offer visitors. The city is blessed to be surrounded by stunning mountains and a beautiful seafront making it ideal for travellers who want to enjoy a number of fantastic hikes in the area.
There is also plenty to explore in the Old Town with historical churches, cobblestoned streets and plenty of alleyways to explore while enjoying a coffee outdoors. Kotor also makes for an excellent base to explore other cities in Montenegro such as Perast.
Ohrid, North Macedonia
Ohrid has a lot to offer travellers with its beautiful lakeside setting and mountain landscapes a joy to experience — it is truly one of the most beautiful places in Eastern Europe.
Aside from being a hit with nature lovers, Ohrid also has plenty to offer for the history buffs, with several interesting churches such the Church of Saint John the Theologian and Saint Sophia worth exploring.
Whilst Ohrid is firmly on the tourist trail in the Balkans, there are still plenty of opportunities to have the place to yourself. A simple 10-minute bike ride away from the main boulevards will let you enjoy the lake in serenity and solitude.
Wroclaw, Poland
The student city of Wroclaw offers travellers a relaxed atmosphere enabling you to soak in Polish culture without as many tourists as you might find in popular destinations such as Krakow.
There are plenty of cool things to do in Wroclaw including going hunting for dwarf statues, gazing at street art, enjoying the local cuisine and relaxing in the beautiful Old Town or one of the city's many parks. Wroclaw has one of the youngest populations in Poland which means this is a thriving city with always something going on!
Cluj-Napoca, Romania
Romania is full of fairy-tale-like towns, imposing mountains, and medieval castles, but if you were to ask us about our favourite place to visit in this historic country, it would have to be Cluj-Napoca.
Cluj is Romania's fourth-largest city and is the unofficial capital of the Transylvania region. Situated roughly equidistant between Bucharest, Budapest and Belgrade, the city sits at a crossroads of cultures and influences making it a very interesting place to visit, indeed.
Cluj boasts a charming old town and a dynamic and artistic vibe that makes it a great alternative city break destination. There is a fantastic cafe culture, a good nightlife, and a young and vibrant energy that is sure to leave you wanting to explore it in more detail. So if you're looking for a cool and trendy place to visit in Romania, please consider heading to Cluj-Napoca.
Belgrade, Serbia
Gritty, vibrant, dynamic and inimitable, Belgrade is one of the most interesting and best Eastern European cities to visit, if not the entire world. Incredibly historic and boasting a vast and heartbreaking past, this Serbia's capital certainly isn't instantly beautiful, however, it holds a certain charm that can take you by surprise and leave you longing to return.
Known as one of the best nightlife destinations in Europe, Belgrade is a city that never sleeps. However, it has so much more to offer than that. Its old town is a beautiful melange of architectural styles and influences, its historic fortress is one of the best city parks in the world, and its cafe culture is one of the best in Europe.
Belgrade is an excellent destination for history buffs, architecture geeks, party animals and everyone in between. It is constantly changing and evolving and has a certain energy that is guaranteed to steal your heart if you take the time to get to know it.
Novi Sad, Serbia
If you want to see another side of Serbia away from its capital, it is worth visiting Novi Sad, which is one of the best Eastern European cities in the Balkans.
Locals in Novi Sad are proud of their laid back lifestyle compared to people in the capital and that is evident as you explore this city. At the slightest hint of sunshine, people will swarm to the Old Town; filling the outdoor squares as they meander away an afternoon with a beer in hand.
Novi Sad has some interesting sights as well with the Petrovaradin fortress — home of the famous EXIT music festival — worth dedicating some time to, with its glorious views and small artist studios.
Ljubljana, Slovenia
If you were to ask what the most charming city in Eastern Europe was, then Ljubljana is almost certain to be the most common answer. Slovenia's capital is a beautiful and compact city that is sure to charm all those who visit.
Situated on the banks of the Ljubljanica River, Ljubljana is both classic and trendy, hip and traditional. It boasts a completely pedestrianised old town lined with riverside and streetside cafes and inviting alleyways that just beg to be explored. If you're interested in an alternative side to the city, then there is also the eclectic Metelkova city, which is highly reminiscent of Christiania in Copenhagen or Uzupis in Vilnius.
There are a number of things to do in Ljubljana that are sure to keep you occupied for a couple of days and it is also the perfect base to explore many other areas in Slovenia, such as the iconic Lake Bled. If you are a sucker for classic, Austro-Hungarian architecture and beautiful Central European charms, then you can't go wrong with visiting Ljubljana.
Maribor, Slovenia
Slovenia's second-largest city, Maribor is all too often overlooked by visitors to this nation. However, despite its lack of popularity, it is still one of the best Eastern European cities to visit.
Located about an hour north of Ljubljana closer to the Austrian border, Maribor is situated in the Slovenian Styria region and is nestled in the heart of some beautiful wine country. In fact, viticulture is very important to Maribor's identity and there are countless wine-centric attractions to visit in this lovely city.
Home to the world's oldest grape-producing vine at a place called the Old Vine House, you can opt to do a degustation here of Slovenian wines before browsing the small museum and learning about wine cultivation in Maribor. If you want to get more active, take a hike up the grapevine lined Pyramid Hill to get fantastic views over the city. Or, if you'd rather go below the ground, make sure to tour the subterranean Vinag Wine Cellar which winds its way below the Old Town.
There are many things to do in Maribor and, with only a fraction of the tourists of Ljubljana, it is the perfect destination to visit if you're trying to avoid the crowds.
This is by no means an exhaustive list of the best cities in Europe, however, they are some of our favourite places to visit in the region and we encourage you to get out and visit them when you get the chance!
Are you looking for the best places to go in Eastern Europe? What do you think the best places to visit in Eastern Europe are that didn't make the list? Let us know in the comments!
Like It? Pin It!